WIN! Two Tickets to Baku on Air Arabia
Explore the beautiful destination with Air Arabia and Aaraish
Closing date: Thursday, 9 March 2017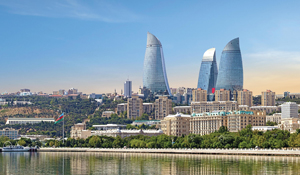 One of the most awaited exhibitions of the year Aaraish will hold its 12th edition in Dubai on February 18 at Yassat Ballroom, Roda Al Murooj. The exhibition will showcase collections by noted Bollywood designer Vikram Phadnis along with TV personality Roshni Chopra and other brands including Madison, Trupsel, SAVVY POP UP by Aamir Mazhar etc.
This time there is a treat in store for readers. Air Arabia in association with Aaraish and Masala! is giving away two tickets to the beautiful destination of Baku, the capital and the largest city of Azerbaijan. According to Lonely Planet's ranking, Baku is among the world's top 10 destinations for urban nightlife and is also the scientific, cultural and industrial centre of Azerbaijan.
The winners of the competition will get a couple return ticket with Air Arabia, valid for travel to Baku from Sharjah. Accommodation is not included. Other terms and conditions apply.
This competition has ended and no more entries are being accepted.
The winners for this competition are listed below:
Mrs.Siddiqa Akhtar, United Arab Emirates
If you are a winner and we have not contacted you yet, please be patient and a member of the team will be in touch shortly. Due to the large number of competitions we run, there may be a short delay before your details can be processed, but you will receive an email with instructions on how to claim your prize in due course.
If you have any queries, please feel free to contact us at Read our Privacy policy & Terms of use