WIN! Five Lucky Winners Can Win Breakfast Vouchers worth Dhs150 at the celebrity-favorite American Brasserie, Sugar Factory in Dubai Festival City
Sugar Factory welcomes UAE's early risers with a brand new breakfast menu served every day from 9am to 12pm on weekdays and until 1pm on weekends.
Closing date: Wednesday, 22 February 2017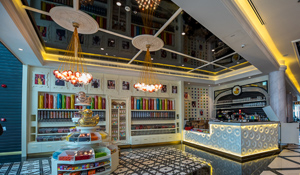 The new breakfast menu includes an array of hearty portions of American styled mains, such as the 'Grilled NY Strip Steak & Eggs' known for its béarnaise sauce and 'Breakfast Burrito' famous for its explosive taste. For the egg lovers, there is a choice for everyone with varied and delicious benedict options to choose from. In addition, the menu features a list of delectable artisan pancake wraps and omelet wraps. Those who like to have it their way, one can create their own wrap or rolled omelet packed with proteins, vegetables or cheese.
There is fresh and energetic 'Fresh Fruit Bowl with Granola' and freshly squeezed juices to kick start your morning. Included in the new breakfast menu, are innovative seafood options which include the 'Seafood, Pepper and Potato Frittata' with a mix of shrimps, scallops and smoked salmon and 'Lobster Mac n Cheese' all loaded with lobster claw meat, macaroni, Velveeta cheese and rocket leaves. For our little diners, an array of pancakes, waffles and French toast as well as the Strawberry Rainbow Ice Cream Sandwich will entice them to sit still at the breakfast table.
The new rich breakfast food offering can be paired with a variety of specially brewed coffee, teas, fresh juices plus other cold beverages. Also all items on the menu are served with unlimited black tea or coffee. Sugar Factory is open on Level 1 in Festival Bay area of Festival City Mall
This competition has ended and no more entries are being accepted.
The winners for this competition are listed below:
Mrs.Nasha Mobed, United Arab Emirates
isra Mohamed, United Arab Emirates
Mrs.Caroline Müller, United Arab Emirates
Mrs.Nicola Wood, United Arab Emirates
Navid Ahmed, united arab emirates
If you are a winner and we have not contacted you yet, please be patient and a member of the team will be in touch shortly. Due to the large number of competitions we run, there may be a short delay before your details can be processed, but you will receive an email with instructions on how to claim your prize in due course.
If you have any queries, please feel free to contact us at Read our Privacy policy & Terms of use