WIN! A Chance to Experience Italian Cuisine Like Never Before and Dine At Ricetta, Four Points, By Sheraton
Answer 3 simple questions to win a voucher worth Dhs250 for 2, Lunch or Dinner
Closing date: Wednesday, 15 February 2017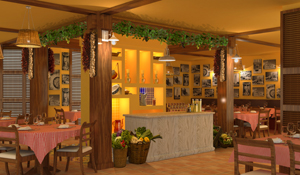 To an Italian, Ricetta means recipe; the heart of every good meal, a recipe is a story told over many years and shaped by generations of mothers, grandmothers and food lovers.
Ricetta-Italian Restaurant is located at the Four Points by Sheraton Bur Dubai. At Ricetta, we have The Right Recipe; our Italian chef reaches into his family history and blends the old with the new in a pleasant trattoria style location.
Ricetta is the perfect recipe for a great meal served with one final key ingredient; a warm welcome and genuine hospitality.
This competition has ended and no more entries are being accepted.
The winners for this competition are listed below:
Yvette Graham, United Arab Emirates
If you are a winner and we have not contacted you yet, please be patient and a member of the team will be in touch shortly. Due to the large number of competitions we run, there may be a short delay before your details can be processed, but you will receive an email with instructions on how to claim your prize in due course.
If you have any queries, please feel free to contact us at Read our Privacy policy & Terms of use