WIN! A NIGHT'S STAY FOR TWO AT SALALAH ROTANA WORTH DHS 5,379
Stay at the luxurious property and enjoy the best of Salalah
Closing date: Friday, 24 February 2017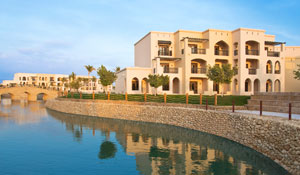 The luxurious Salalah Rotana Resort in Oman is where you will be embraced by the traditional warm and friendly Omani hospitality. Set along the shores of the Indian Ocean, Salalah Rotana Resort is a scenic 20km drive from Salalah Airport.
The 5-star waterfront resort's 400 rooms and suites are built around the lagoons, water features and manmade canals. In-room furnishings including beds, tables and sofas have been integrated into the main walls with Arabesque geometric designs constructed using traditional techniques.
There are enough dining venues including a place to enjoy cocktails at the beach, a lobby lounge and an informal All Day Dining zone. There are also well-equipped conference rooms and ballrooms, a fitness centre, a lovely swimming pool and a spa. Discover Salalah during the Khareef (Monsoon) season and experience its misty rain and cooler temperatures for an ideal staycation.
On offer for this competition is a free night's stay in the 'Classic' Room inclusive of breakfast, airport transfers and free wifi.

*Terms and Conditions
1) Participants must like Masala! and Salalah Rotana on Facebook.
2) Validity of prize voucher cannot be extended.
3) Flight tickets are not included. Winner is responsible for purchase of tickets.
4) The winner will need to make reservations before arrival to ensure availability via email (res.salalah@rotana.com) or call
968 2327 5700.
5) Check in time is from 2pm and check out is at 12 noon.
This competition has ended and no more entries are being accepted.
The winners for this competition are listed below:
MissMeg Cooper, United Arab Emirates
If you are a winner and we have not contacted you yet, please be patient and a member of the team will be in touch shortly. Due to the large number of competitions we run, there may be a short delay before your details can be processed, but you will receive an email with instructions on how to claim your prize in due course.
If you have any queries, please feel free to contact us at Read our Privacy policy & Terms of use