Celebrities
Cindy Crawford Enjoys A Luncheon With Her Mother And Daughter Kaia Gerber
Cindy Crawford was a supermodel in 1980s and the 1990s and is still relevant. Her daughter supermodel Kai Gerber has also followed her footsteps.
Cindy Crawford recently enjoyed a happy girls time out with mother Jennifer Sue Crawford and daughter Kaia Gerber as the three attended Women's Guild Cedars-Sinai Luncheon in Los Angeles. Cindy Crawford, the 52-year-old ex-supermodel, was dress in a black silk halter top with a camel color pencil skirt. Her sophisticated silk blouse was secured on the neck with three beads. Wearing strappy black heels, Cindy Crawford twinned with daughter Kaia Gerber who was also wearing a similar design but with higher heels.
Kaia Gerber looked minimal and angelic in a white button-down dress leaving her short hair open. Cindy Crawford's mother Jennifer Sue Crawford could be seen happy and radiant as she rested her arm around her grand daughter's waist. Jennifer dressed in an emerald green dress with a silk scarf. The trio posed outside their home before heading out for the main event.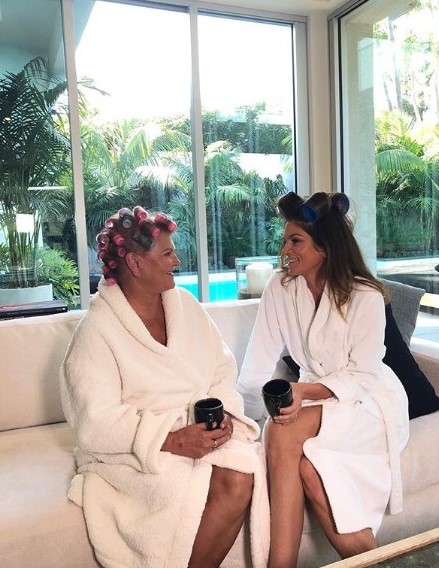 Jennifer Sue Crawford and Cindy Crawford
Cindy Crawford also shared an endearing post where both she and her mother can be seen chilling in white robes with rollers on their head as they enjoy some chilled out moments with a cup of coffee.
Cindy Crawford and Kaia Gerber were also spotted together a few days ago at an evening supporting the organization A Sense of Home,  Beverly Hills. Kaia Gerber wore black pants with a silk top while Cindy Crawford dressed in a grey dress with black print. Cindy Crawford set her hair in her signature blow-dried look and kept her makeup nude like daughter.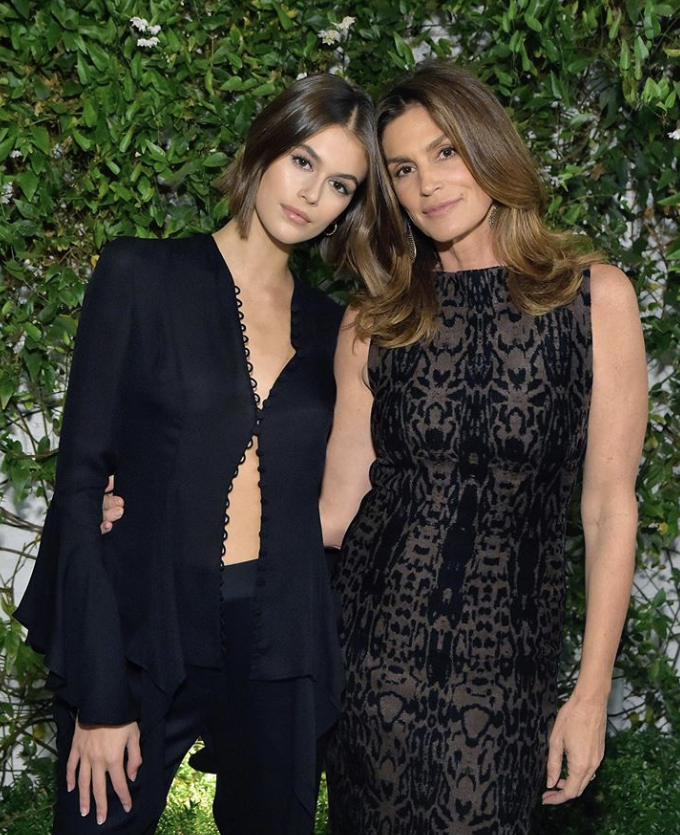 Kaia Gerber has followed the footprints of her famous mother Cindy Crawfords who was a top model of the 1980s and 1990s. Cindy Crawford was frequently featured on the covers of various famous magazines like Vogue, Harpers Bazaar, Elle, Cosmopolitan, Allure and many others. She has walked the runways for all big names like Chanel, Versace, Dolce & Gabanna, Dior, Calvin Klein, Ralph Lauren, Michael Kors, Valentino, and many others. Cindy Crawfords' both children, Kaia and Presley Gerber, are into modeling. Her husband Rande Gerber also used to be a model before he became a businessman.