Bollywood News
Check This Out! Neetu Kapoor Gifts a Diamond Bracelet to Deepika Padukone
Deepika Padukone had bonded with her ex Ranbir Kapoor's mother Neetu Kapoor, on a recent visit to New York
Deepika Padukone has been given a diamond bracelet as a gift from Neetu Kapoor, her ex Ranbir's mom. The gorgeous accessory  was designed by Ranbir's elder sister Riddhima. This sweet gesture has taken fans by surprise as it shows how fond Neetu Kapoor is fond of Deepika. She used to get along well with the actress, even when she was Ranbir's girlfriend.
Deepika too, on her part, uploaded the picture on her Instagram profile as a story and shared it with her followers. Deepika Padukone, "With blessings and good wishes..." and also tagged Neetu Kapoor and her daughter Riddhima Kapoor Sahni.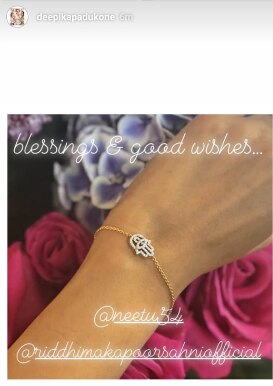 The meeting happened as the actress was in New York for her appearance at the Met Gala 2019, after which she visited Rishi Kapoor who has been battling cancer for a few months. Rishi and Neetu are both in New York and will return after Rishi's treatment is over.
Neetu Kapoor took to her social media to share some heart-warming pictures with the actress on her social media and wrote, "Such a fun evening with an adorable @deepikapadukone...gave lot of love n warmth (sic)."