News
Champions: Shooting Begins in KSA for Film Starring Yassir Al Saggaf
Champions, produced by Oscar-winning producer Andrés Vicente Gómez, is the remake of Spanish movie Campeones. It seeks to highlight the lives of people with intellectual disabilities
The films and entertainment industry is growing rapidly in the Kingdom of Saudi Arabia. Shooting has commenced in Jeddah for Champions, a new feature film being directed by Manuel Calvo and produced by Oscar-winning producer Andrés Vicente Gómez. The film stars Yassir Al Saggaf, the popular host of The Voice (MBC) talent show, in the lead role, along with Fatima Al Banawi, who is known for Barakah Meets Barakah. It will be shot over seven consecutive weeks in various locations in Jeddah, Dubai and Spain, with a film crew of 90 people.
Champions, a remake of Spanish top-grossing movie Campeones, is based on the story of Khaled, an assistant coach in KSA's top football league, who loses his job due to his bad attitude and is sentenced by a sports court to coach a group of players with intellectual disabilities, who have never played before as part of a professional team. The 90-minute film has been adapted by Saudi scriptwriters Wael Al Saeed and Maram Taibah, and is backed by  Al Maha Al Arabi Production (KSA) and Creative Media Solutions (UAE).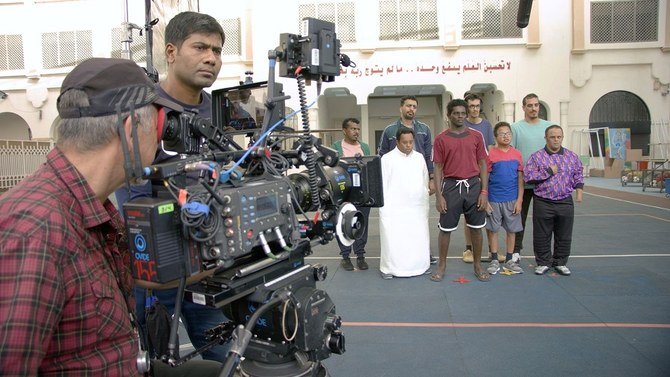 The film seeks to highlight positive messages about people with special needs, showing them as unique and capable human beings who are able to lead fulfilled lives and achieve great things. The film features several Jeddah-based people with intellectual disabilities. Some of them have recruited for Champions from the Help Centre there, via the centre's director Maha Al Juffali.
According to a press release, the filmmakers decided to remake this film in the Kingdom not only due to its commercial success in Spain but also to highlight the real life story of the Intellectual Impairment Saudi Football team, which has won the International Intellectual Impairment tournament for four consecutive years.