Bollywood News
Chamber of Film Journalists Slams Kapil Sharma's Abusive Behaviour
Kapil leaked out the number of the journalist he has been in a feud with
Kapil Sharma has recently been entangled in controversies galore that just don't seem to end. Anyone who is aware of the comedian and his recent wayward behaviour, will know that he is suffering from depression which led to his recent public meltdown. From cancelling his shows to having showdowns with journalists, Kapil has been totally off the rail. He most recently hurled abuses at a journalist, Vickey Lalwani from Spotboye.com, eventually filing a complaint against him. The complaint cited the fact that there was fake news being circulated by the journalist through his entertainment portal. Kapil didn't only trash the editor and his website, but also shamed the latter's family with a string of abuses that shocked the world. 
While Kapil filed a complaint, the entertainment website released a telephonic conversation between Vickey and Kapil where the comedian can be heard making extremely uncharitable remarks. This also led to sympathy from some quarters for Kapil with many people suggesting that he should get the help he requires to get back on track. To top it, came the news that his show Family Time with Kapil Sharma was being yanked off Sony TV for a revamp.
However, Kapil shows no sign of letting up. Now, he has posted the 3-page long complaint against Lalwani on his personal Twitter account, which also had the number of the journalist listed on it. Predictably, Kapil's fans started calling Vickey, who was at the receiving end of a lot of wrath!
Check out the report: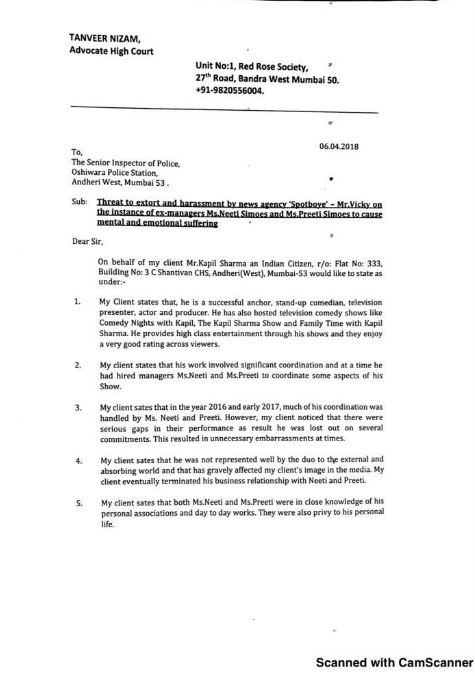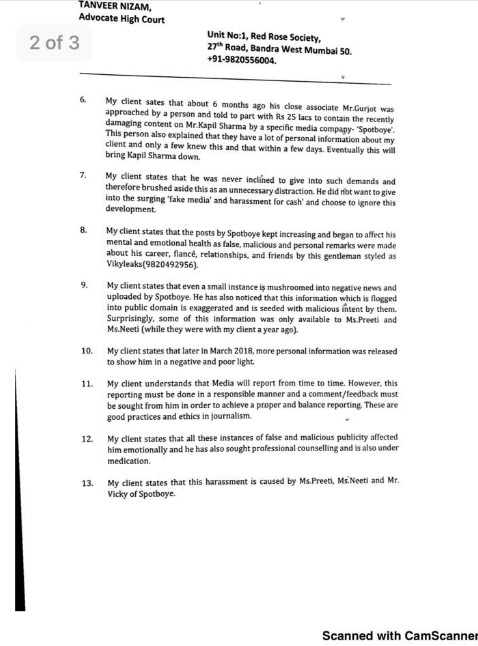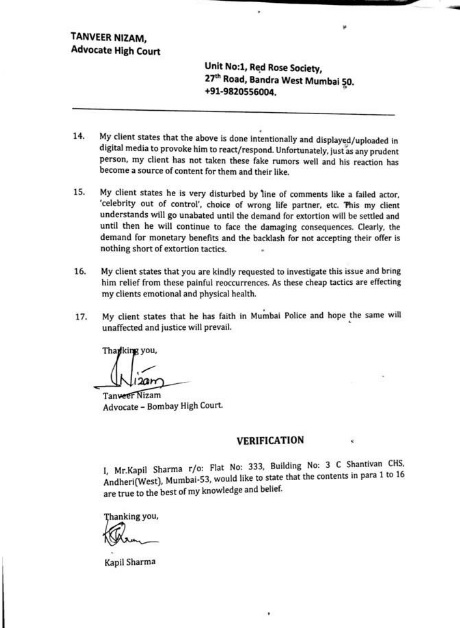 Following Kapil's appalling act, the Chamber Of Film Journalists has now slammed the comedian for his disrespectful behaviour! Here's the statement:
"We at CHAMBER OF FILM JOURNALISTS (CFJ), strongly condemn the misbehaviour of Kapil Sharma towards senior film journalist Vickey Lalwani. As reported by Vickey, he was badly abused by Kapil. Now Kapil has started gaining notoriety for his misbehaviour towards his co-stars and media persons too. Ups and downs are part of life and one must handle them with maturity. Kapil must realise that his such act will take him nowhere. Secondly, he used bad words for Vickey's daughter. This is an unpardonable act. This reflects his state of frustration and this is not good for Kapil himself. May good sense prevail upon him."
Additionally, filmmaker Hansal Mehta also tweeted: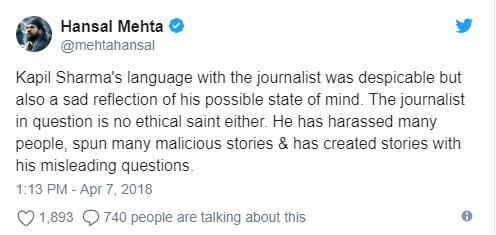 The comedian is clearly going through a rough time in life, and by the looks of it, it's only going from bad to worse. We wonder what more is left to unfold in the comedians freefalling career!
The journalist community is itself up in arms against Kapil.  As Huffpost India journalist Ankur Pathak tweeted…