Celebrities
Cardi B Plans to Join Politics, But She Wants to do This First
Cardi B is a huge name in the music world and one of the most celebrated rappers. The artists recently expressed her desire to enter US politics soon
Rapper Cardi B isn't one to shy away from speaking her mind and expressing what she feels. In a recent set of tweets, she shared that like many other Hollywood celebrities, she too wants to get into politics some day. And why would that be a surprise? The current US President Donald Trump was a celebrity before he got elected to hold office. But instead of going directly to the White House, Cardi B will first try her hand her at the local government or something along the same lines before moving forward.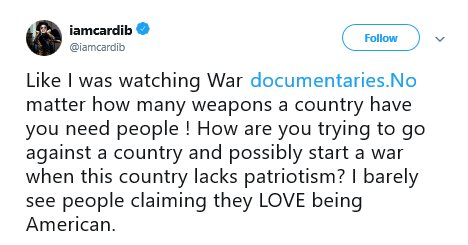 The rapper tweeted, "I think I want to be a politician. I really love the government even though I don't agree with it." She continued, "So I was watching war documentaries and no matter how many weapons a country has, you need people! How are you trying to go against a country and possibly start a war when this country lacks patriotism? I barely see people claiming  they love being American." And it seems like with this tweet, the singer is talking about the conflict that is currently taking place between the US and Iran.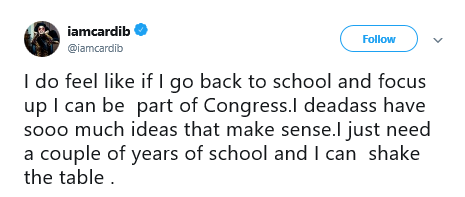 But Cardi B didn't stop there. She went on to explain, "I will have to explain a lot so I will have to do a video or a live talking about it. So I'm going to come back to my last two tweets another day. I'm going to talk about them another day." However, she also added, "I do feel like if I go back to school and focus up, I can be part of Congress. I have so many ideas that make sense. I just need a couple of years of school and I can shake the table." Now we certainly don't doubt that Cardi B. And good thinking about going to school first!