Cannes 2019: Abhay Deol's Starrer 'Jungle Cry' Seem Reminiscent to Shah Rukh Khan's Film 'Chak De! India'
The trailer and poster of Abhay Deol's starrer 'Jungle Cry' was launched at the 2019 Cannes Film Festival. The film is based on underdog team who go onto win the junior World Cup in London
The trailer of Jungle Cry, starring Abhay Deol in the lead role, was released on May 19, at the 2019 Cannes Film Festival. The poster and the teaser of the film was launch at the prestigious film festival. Jungle Cry is a biopic based on rugby coach Rudraksh Jena. In the film, Abhay Deol will be seen playing the role Rudraksh of the Kalinga Institute of Social Sciences (KISS) that tells the story of boys from rural Odish who learn to play rugby from scratch and within a span of four months go on to win the junior World Cup in the UK in 2007.
Directed by Bheja Fry films' Sagar Ballary, the film also stars Emily Shah, who essays the role of a physiotherapist.
Though the trailer of the film seem reminiscent of Shah Rukh Khan's film Chak De! India, Jungle Cry is based on a true story. Inspired by the real story of the rugby team of Kalinga Institute of Social Sciences (KISS), the film also features some of the rugby players from the institute. Dr Achyuta Samanta, Founder of KIIT University and KISS had sent 12 tribal boys under the age of 13-year-old in KISS Rugby Team to participate in the World Cup in London.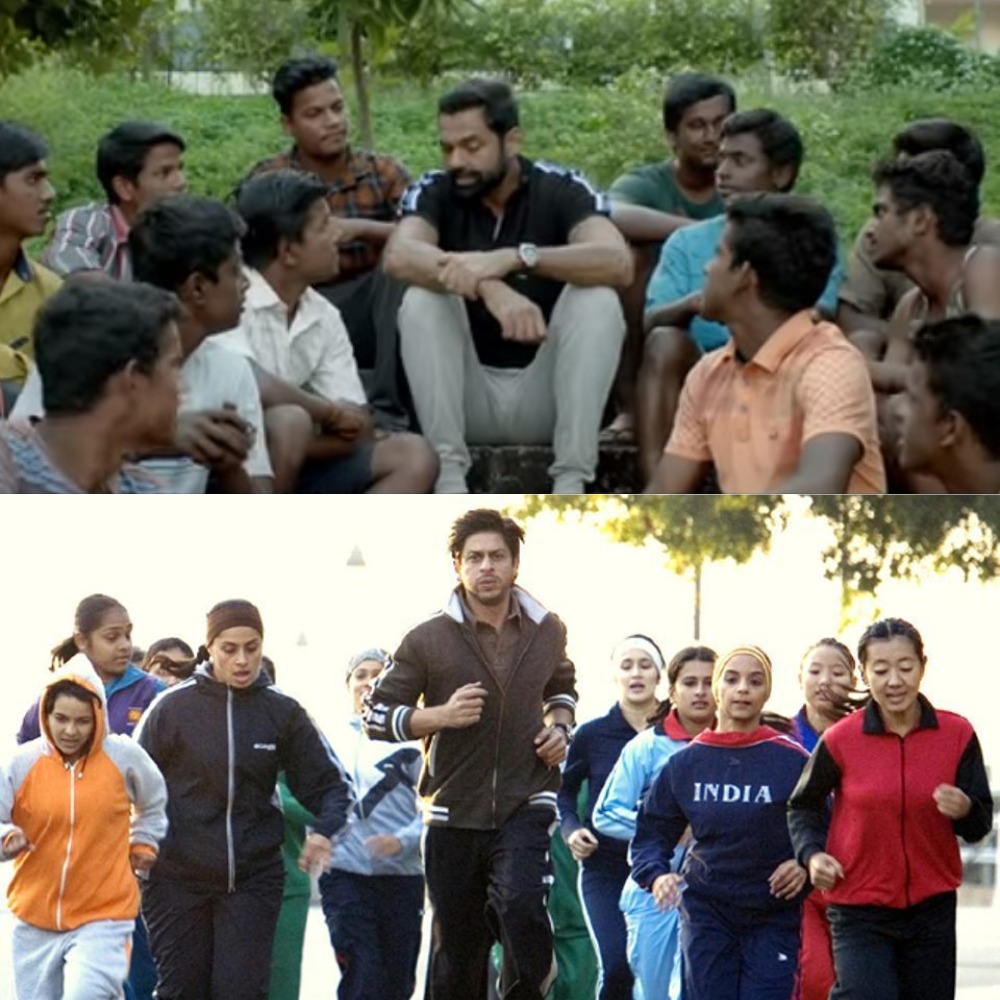 Still from Jungle Cry and Chak De! India
After winning the Championship trophy, the KISS rugby team not only gained the recognition but also attracted special attention on social media across the globe.
Taking to his Instagram handle, Abhay Deol shared the poster of Jungle Cry and wrote in the caption, "Very excited about this film of mine! Here's the first look poster, based on the true story of a bunch of tribal kids who were football players but got trained in Rugby and went on to win the under 14 Rugby World Cup in the UK in '07. And all they had was 4 months to train! #junglecry"
Produced by Prashant Shah and Shbbir Boxwala, Jungle Cry was shot in different parts of India and London. Rugby players from KISS stayed in England for a month during the shooting schedule.
Rajesh Shah, who plays one of the players in the film, expressed his excitement in an interview with Time Now. "Rugby has instilled a lot of confidence and mental strength in me. This wonderful game of rugby is yet to gain popularity in India. With Bollywood movies having a wide audience I am sure this film will help popularise the game in addition to the inspiring message the movie carries," he said.
Watch the trailer here: