Bollywood News
Boney Kapoor on Mr India, Mom and the Reason He's Making a Tamil Film
In a wide ranging chat with Masala! Boney Kapoor talks about cinema as he loves it
Filmmaker Boney Kapoor is in a nostalgic mood these days. His magnum opus, the evergreen classic, Mr India released 32 years ago to this day and social media has been celebrating its anniversary in a big way. For those who grew up in the 80s and 90s, this is a film that defined their childhood. Its quirky characters, the unforgettable songs and dialogues, the comic sequences and of course, the special effects that involved the antics of an invisible man, bring a smile to your face even today.

Giving fillip to the social media chatter around it a few days ago were the memories and pictures shared by director Shekhar Kapur and actor Anil Kapoor among others. While fans go into a nostalgic frenzy, Boney can't help but join in the fun. He gives full credit to the cast and crew for creating such a masterpiece that redefined Hindi cinema and gave it some of its most unforgettable characters (Mogambo and Calendar, anyone?). "Mr India remains fresh even today because it was made with such technical finesse. There was nothing shoddy about it, it was a textbook example of opulent filmmaking," he says, the pride evident in his voice even today. "The romance as subtle, we had the most iconic sensuous song (Kaate Nahi Katte) without an iota of vulgarity and there was some excellent comedy," he explains, going down memory lane and reliving the moments of its shoot.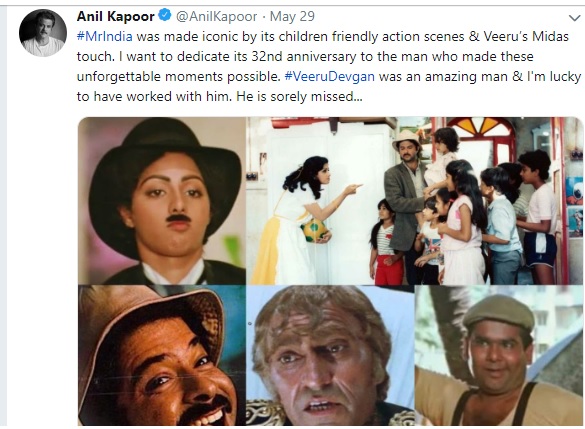 Since a few months, there has been conversation around a remake of the film but Boney would rather call it a reboot. He is still kicked by the idea of contemporarising it and if possible, with the old team, but insists that he would go ahead only if he is completely convinced about the script. "Some classics shouldn't be touched. I had initially thought of making a 3D version but after a similar experiment with Sholay didn't yield good results, I decided against it. So yes, unless the idea is great and I am sure that it will work with the audience, I won't go ahead (with remaking or rebooting Mr India)," he says.
Still from Mr India 
While Mr India can wait, there are plenty of other projects that is keeping Mr Kapoor busy. Currently, he is quite chuffed about the fantastic box office results of Mom in China where it was released recently. As per latest reports, the late Sridevi revenge saga has earned a very respectable INR 111 crore in China becoming one of the highest grossing films there. Needless to say, it's a film that is close to Boney's heart, being the late Sridevi's 300th movie. Mom did pretty well in India too and more importantly, showcased the range that the phenomenal Sridevi was capable of, aptly fetching her the Best Actress National award posthumously. Boney says he was sure the movie would fetch a great response. "It's amazing, isn't it? For a film released in 2017, it's making noise nearly 20 months after it hit the theatres. I remember we had gone to LA where, during the Golden Globes, media people from across the world were shown the film and they had a lot of praise for it. It's very satisfying to see it reach so far and wide. Credit again goes to the cast and crew… AR Rahman's score won an award, the performances fetched awards…it's a wonderful feeling."
Still from Mom
Aside from the release of Mom in newer markets, Boney's kitty is full. The prolific filmmaker who has never been short of ambition or passion when it comes to following his heart, is looking South, East and Westwards for his next few films. Right now, his lens are trained on the south, especially the Pink remake in Tamil, starring Ajith. "This could be a game changer," he predicts. Then, he has the rights to make Badhaai Ho in Telugu and is looking at a film in Malayalam as well. In Hindi, he is doing a project with Ajay Devgn on a biopic of football coach Abdul Rahim Hakim. He is even open to making films in Punjabi or Bengali ("I have a Kolkata connection, I used to assist director Shakti Samanta once," he says). As we said, there is a never a dull moment and he is gung-ho about each venture.
Back in the 80s and 90s, Boney's films were associated with grandeur and scale. Think Mr India and Roop Ki Rani Choron Ka Raja, to name just a few of them! He never hesitated to experiment though he stumbled quite a few times. Old timers will remember the hype around Roop Ki Rani… in particular and the noise it created when it failed. Today, Boney looks back at it matter-of-factly. "It had all the trappings of commercial cinema, we built huge expectations around it which perhaps was its undoing. Another reason was also that by the time it released, the trend in music changed. Nadeem Shravan and then AR Rahman had taken over with melody ruling the roost," he analyses. 
However, whatever be the way Bollywood remembers a Mr India or Roop Ki Rani… credit must go to Boney for introducing marketing tactics that can be considered way ahead of its time. For instance, back in the day when the economics of promotion and strategies of distribution were nowhere as sophisticated as it is today, Boney had introduced tie-ups, merchandise and other measures to promote his films. For instance, the line-up of Mr India pencils and erasers or Roop Ki Rani… dolls that hit the market. Then there were the media and cricket tie-ups (anyone remembers Anil Kapoor, in Mr India get-up, in the commentary box in Sharjah with Sunil Gavaskar during a match?) – all tricks and treats that would be considered smart PR and marketing strategies these days. How did he do them all those years ago? "We just did what we felt would work," he laughs.
Boney credits his children who update him on the latest trends in cinema and web series. This makes him pragmatic enough to understand what works and what doesn't with the present audience. "Today is the era of good content. More than stars, it's the subject that matters. Look how well Bareilly ki Barfi, Andhadhun and Badhaai Ho performed. The world has shrunk and the audience has matured. So as a filmmaker, one has to be on one's toes and keep oneself relevant by being aware of these things," he says. Well, for someone who is as passionate about Hindi films, its history and its future, as Boney Kapoor is, making content that capture the audience's hearts - of whatever age - shouldn't be a problem!