Bollywood News
BLOG: Why No One Say 'No' to Karan Johar… And What Makes Him So Powerful
Decoding the power that Karan Johar exerts on Bollywood and television…
It's well known that Karan Johar is one of the most popular and powerful personalities in Bollywood. But just how powerful is he? To understand that, you should attempt to write a negative story about him. By the term "negative story", in journalistic parlance, we mean an article where we write something that doesn't show a particular person in good light.
This is what happened when I approached a reputed producer friend of mine with this subject. The subject being – was Karan Johar, the filmmaker and talk show host, a friend or a foe in disguise?
"Excuse me, what are you writing about?"
"It's about Karan Johar's ability to stir controversies and emerge out of it unscathed"
"Seems like a negative story, no?"
"Depends on how you look at it."
"That's okay. Let's talk about him but don't quote me, okay?"
"Why?"
"Don't be a fool. Karan is the most powerful producer in Bollywood today. He belongs to all the camps yet he doesn't belong to any. There are several directors working under him. I cannot be seen speaking against him. I will tell you what you want to know, just quote me anonymously. You have the option to quote a 'source', no?"
That was the summary of most of the conversations I had with a handful of prominent film personalities about Karan Johar's show Koffee with Karan. They were willing to talk so that they could honour our long-standing friendship. But they wanted to remain anonymous as they didn't want to spoil their image in front of Karan Johar.
To put everything into context, Karan is perhaps the most powerful filmmaker who hobnobs with the three Khans – Aamir, Shah Rukh and Salman - with equal ease. Individually, the Khans are three powerful camps in Bollywood.
Karan also has a small camp of his own -- these are the actors and actresses who he has launched or mentored in Bollywood. These names aside, he has the die-hard support of childhood friends like Aditya Chopra who have grown up with him.
Everything taken together, Karan commands a pull that perhaps nobody in Bollywood can match. There is nobody in Karan's phonebook who won't answer, if he calls. If you remember the episode of Salman Khan in Koffee with Karan (where he famously claimed that he was a virgin), Bhai also wondered when Karan would make a film with him.
That's Karan Johar. Everybody loves KJo. And KJo loves everybody.
Undoubtedly, Karan is a talented filmmaker but he surpasses his peers in Public Relations. Few people have been able to maintain such good relations with everyone (including those who may be warring with one another) than Karan. They might not talk to each other but everybody talks to Karan Johar.
The same influence extends to the media too. Karan reportedly has a large number of senior Bollywood journalists (most of them in responsible positions) who are very friendly with him. He has even admitted on his shows that he had started a few gossipy items in the media. Hence, the media too loves KJo.
As a result, there are few stories published about Karan that actually show him in a bad light. Time and again, people associated with Karan Johar have landed in trouble but interestingly the filmmaker himself has emerged from all the controversies, perfectly unscathed.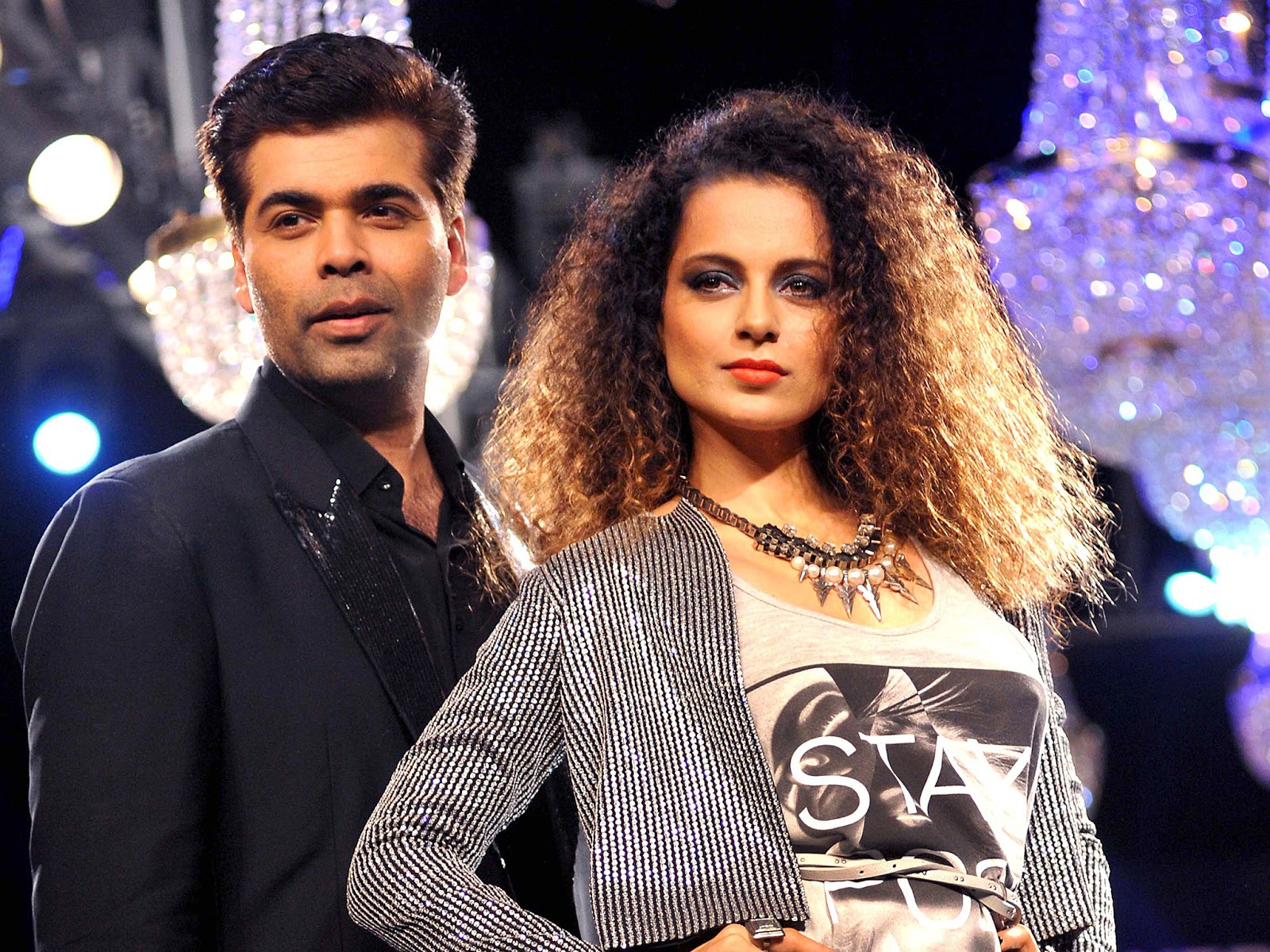 Karan Johar and Kangana Ranaut
Last year, Kangana Ranaut called Karan a "Bollywood mafia" and "flag bearer of nepotism" in his show. Months after that controversy, Karan made fun of Kangana Ranaut on stage at an award show he was hosting, along with Varun Dhawan and Saif Ali Khan. There was an immediate backlash. Varun Dhawan apologised almost immediately and then came an apology by Karan himself to the entertainment editor of a TV channel.
The same happened this time too after Hardik Pandya and KL Rahul were recently suspended after making disparaging remarks on his couch. The episode was re-aired and ultimately resulted in the suspension of both the players. But there were very few voices that rebuked Karan for asking those questions and not correcting them.
Weeks later, Karan reappeared in a similar fashion, said sorry to a TV channel during an interview, at a foreign location. He said he didn't understand that the comments were disparaging in nature and none of his team members did either. When there was a tremendous backlash, there was no reaction from him till recently because he didn't know what to do. He said he didn't care about TRP and his show's popularity didn't matter because he was primarily known for making movies.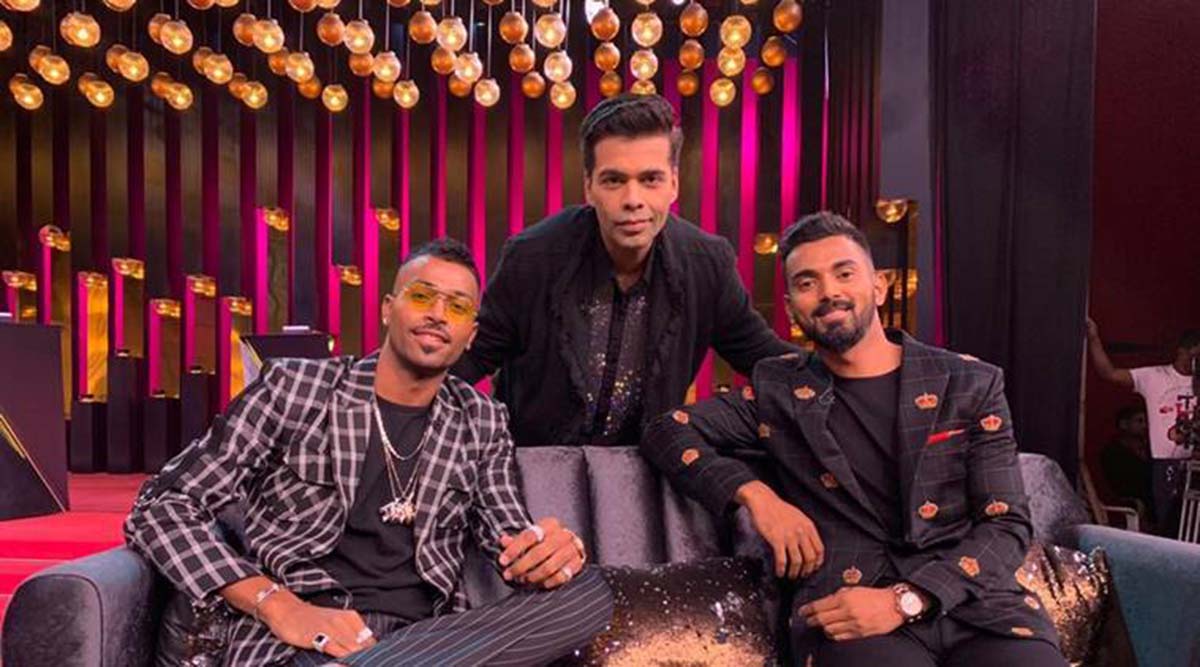 Hardik Pandya and KL Rahul with Karan Johar on Koffee With Karan
But is that true? Karan has a roaring career on television as a talk show host, talent reality show judge and constant appearances on other genres of shows including award nights (those are TV shows too). Think about it, has there been a time on television where Karan Johar has not been on one channel or the other? Yes, you get my point. No matter how Karan may talk about the films he directs or produces, Karan Johar, the person, is a huge TV personality. So, apart from Bollywood, Karan exercises considerable pull in the television sector as well.
So now you have got a picture of the Bollywood paradox about why everybody has to remain friends with him despite some of them getting burnt in the process.
Just for the time being, imagine you are a young Bollywood star. You have acted in some films and you are on your way to the top. Then one day, you see a call or a message from Karan Johar or his team on your mobile. Will you be able to ignore the call or message?
No. You will get back in touch with him. When you call him back, he may ask you to appear on his show where, consciously or sub-consciously, he might put you in an embarrassing situation.
You can be evasive but you cannot say 'no' to him. You can postpone but you cannot say 'no' to him. You can say you are sick for a few days but you cannot say 'no' to him.
That's the way power equation works in Bollywood. Karan Johar is really high up in the ladder when it comes to the power equation. There's only one person who openly defied Karan Johar.
That was Kangana Ranaut. But that's another story.