Bollywood News
Bitcoin Scam: Raj Kundra Allegedly Names Sunny Leone and Neha Dhupia Among Other Bollywood Celebs
Raj Kundra was interrogated for over 9-hours in the on-going Bitcoin case
Raj Kundra has had a rather vexatious day at the Enforcement Directorate's (ED) office where he was summoned yesterday in connection with the Bitcoin scam amounting to more than Rs. 2,400 crore. Shilpa Shetty's flamboyant husband was reportedly interrogated for over nine hours about his alleged dealings with Amit Bhardwaj who is known everywhere as the kingpin of the cryptocurrency market. Bhardwaj was arrested two months ago in Delhi and a criminal case filed against him under the Prevention of Money Laundering Act.
At the time, Kundra was being interrogated, sources said he revealed the names of several Bollywood celebs who helped him promote the ponzi scheme GainBitcoin for its founder Amit Bhardwaj in Dubai. About 8,000 investors lost over Rs. 2,000 crore by transacting in this scheme. The names given out by Kundra to ED officers include those of Sunny Leone, Prachi Desai, Aarti Chhabria, Sonal Chouhan, Karishma Tanna, Zareen Khan and Neha Dhupia.  It is almost certain all of these Bollywood starlets will also be interrogated by the ED for their role in the Bitcoin scam.
Meanwhile, Kundra just released a statement in which the businessman says: "This is to clarify that I have no connection or involvement in the Bitcoin scam whatsoever. I was summoned by the Enforcement Directorate merely as a witness. An inquiry is underway and I am cooperating with the law enforcement agency as Amit Bhardwaj is an acquaintance and protocol is being followed. Amit Bhardwaj was to buy a team in Match Poker League and had got into contact with us and I have come as a witness to the same." Kundra is said to own the Match Poker League in which a number of city teams have to play for the title.
He took to Twitter to speak up on the same and wrote: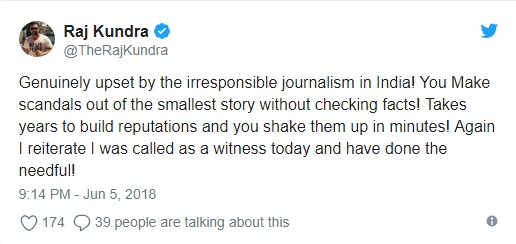 However, an ED source reportedly told the media, "We suspect certain Bitcoin transactions between the main accused Amit Bhardwaj and Raj Kundra. And we are investigating Kundra to ascertain if he has gained anything from it. Kundra and Bhardwaj might have some links in Hash mining for Bitcoin in China." The FIR registered in Delhi mentioned that Bhardwaj's company duped hundreds of investors in a ponzi scheme. The case was filed after he was arrested by Pune Police at Delhi Airport following a complaint registered against him in the Pune Police's Cyber Crime Cell by one Bhimsen Agarwal.
Watch this space for more updates on the case.
Note: This article is reproduced with permission from Peepingmoon.com