TV/Streaming Reviews
Bigg Boss Season 13: Sidharth Shukla Upset With Shehnaaz Gill, Shilpa Shetty Enters the House
In Bigg Boss Season 13, Sidharth refuses to speak to Shehnaaz and Arti after they question his decision to save Paras over them while Asim adds oil to the fire
As the episode begins, Rashami Desai is seen talking to Asim Riaz, convincing him to try to win the task, but he refuses, saying that Sidharth will win anyway.  As the next bell rings, Sidharth gets the key and frees Paras Chhabra again.  Later, Asim talks to Arti Singh, consoling her that she won't leave the house this week and Arti cries.  Shehnaaz Gill taunts Asim about his questionable loyalty to Arti, saying he didn't even like her.  As the final bell goes off, Sidharth gets the key and gives Paras immunity.  Bigg Boss announces Paras as the winner of immunity and Arti, Shehnaaz and Mahira Sharma are the nominated contestatns. 
Sidharth tells Paras that he had to pay him back and Paras thanks him.  Sidharth apologizes to Rashami for hurting her in the task, but Rashami continues talking about it, irritating Sidharth.  He tells Rashami to play the woman card outside as the cameras in the house are all watching her.  Sidharth talks to Arti, asking why Asim didn't play for her if he actually cared and Arti says she expected it from Sidharth.  Sidharth says that he couldn't choose between Arti and Paras. 
A new task is announced with Rashami, Asim and Arti vs. Sidharth, Paras and Shehnaaz.  The teams will take turns trying to get a reaction out of the other team.  Sidharth, Paras and Shehnaaz work hard to make Asim, Rashami and Arti smile by making statements about Himanshi and Arti's wedding.  Arti smiles almost immediately, but Rashami and Asim hold on.  When it's the turn of the switch, Shehnaaz laughs and Sidharth gives a smile, but the "sanchalak" Mahira refuses to acknowledge it.  Sidharth's team is announced as winner by Mahira. 
Shehnaaz is seen crying after the task and Rashami and Arti console her.  Later, Arti and Rashami talk about Sidharth's decision to choose Paras and Rashami expresses her dislike for his choice.  Shehnaaz fights with Sidharth over his choice to save Paras.  Paras defends Sidharth's choice and says that Shehnaaz has never stood for their group and has never shown loyalty.  Shehnaaz says that she never expected Sidharth to support her, but she did expect him to support Arti.  Arti chimes in and says that she always supported Sidharth, but he says that he always supported her and she never supported him.  Shehnaaz tells Arti that Sidharth has always supported her and Sidharth turns on Shehnaaz too.  Arti asks the two not to fight and while Shehnaaz begins defending Sidharth to Asim, Sidharth tells her to stop telling him what to do. 
Shehnaaz hugs Sidharth and tries to make up, but Siddharth asks her to go away, calling her dirty and says he doesn't want anything to do with her.  She asks him to be normal, but he says he doesn't have time for her antics and asks her to keep her self-respect and stay away from him.  Mahira talks to Asim about Himanshi and asks if he's serious about her and he say he will marry her if she agrees. 
Paras sees Asim and Mahira talking and gets jealous.  When Mahira comes to him, he asks her to leave and tells her to go talk to Asim.  She says she was only talking to him for two minutes and he shows her attitude.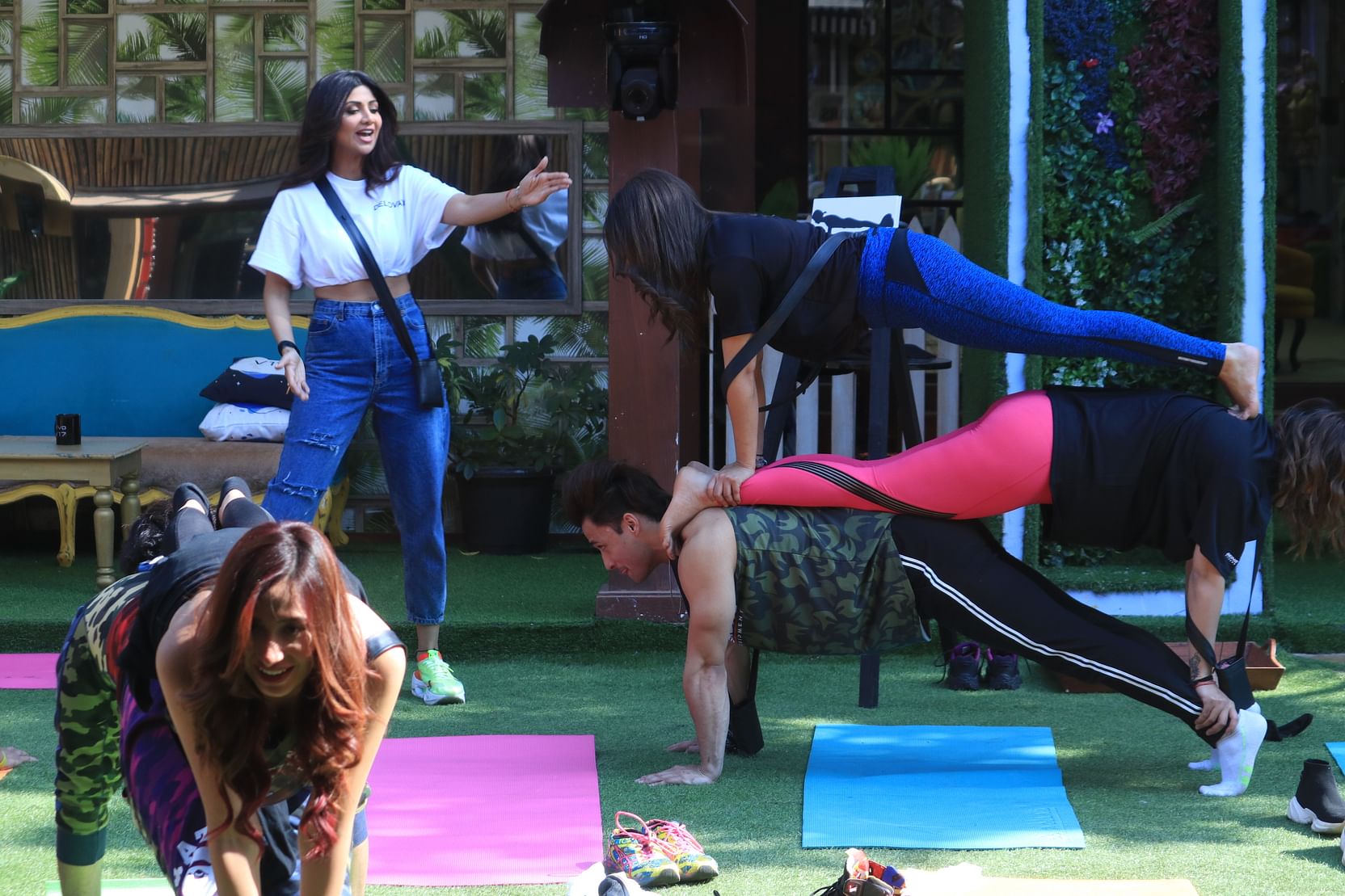 A new day begins and the same fights continue. Shehnaaz tells Sidharth that she is mad at Mahira and Paras for speaking about loyalty and Sidharth tells her to keep crying. She says to go cry to Mahira and Paras and Sidharth leaves.  Shilpa Shetty enters the house and dances with the housemates.  She says that only Asim is seen working out in the house and talks about wearing this microphone after 12 years. The housemates do yoga with Shilpa and they perform in pairs.  Shilpa asks the housemates to state what they will miss about the house.  Paras says entering the house was his best memory, while Mahira says telling Shehnaaz she was her friend is her worst memory.  Shehnaaz says that she got all the attention she wanted from this house.  Sidharth says his best memory was seeing Shehnaaz miss him after his eviction.  Asim talks about his best memories being with Sidharth and Himanshi.  Rashami says she regrets her words against Mahira, because she likes her while Arti says that her panic attack in the house was her worst memory.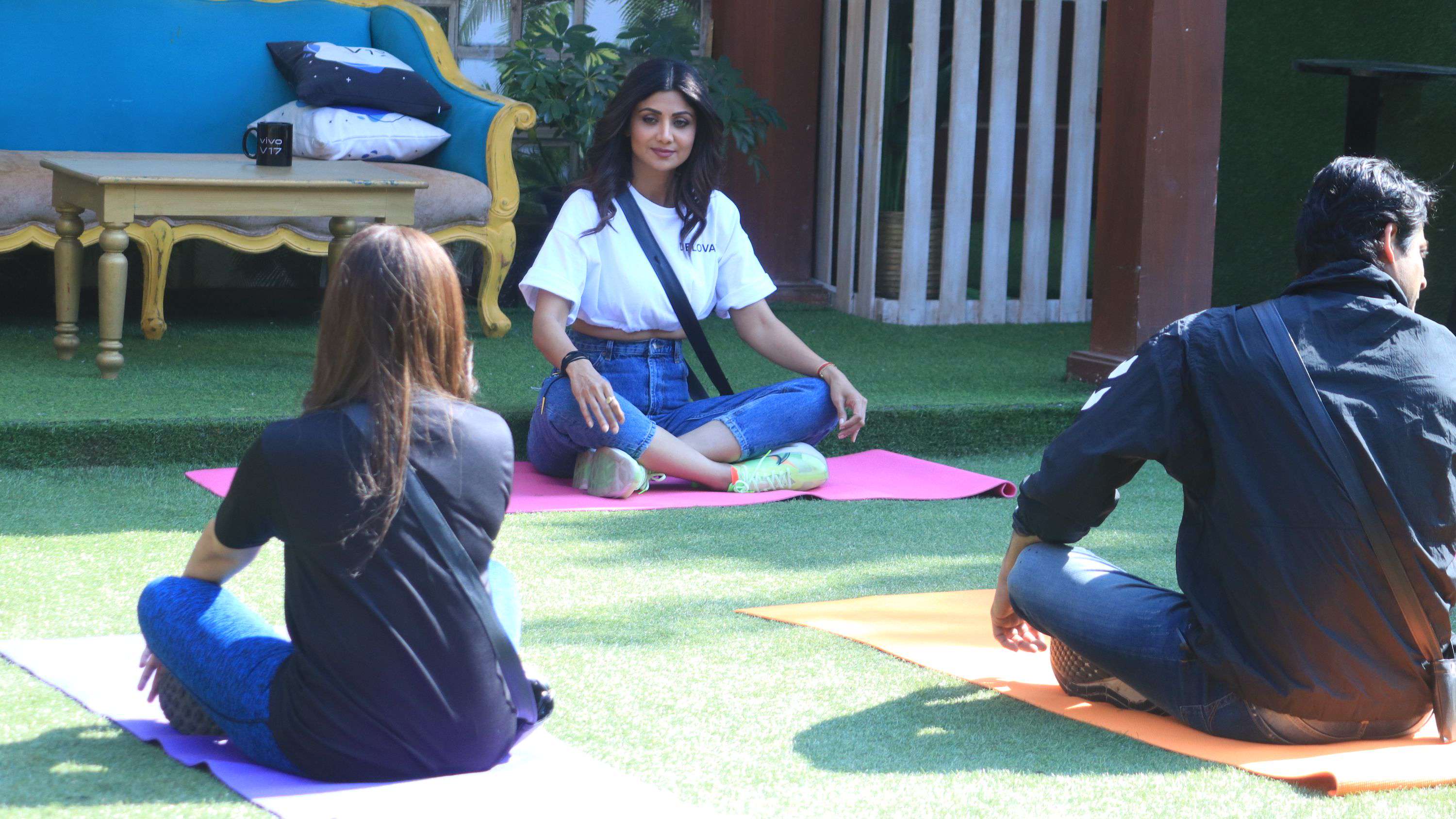 The contestants are asked what they would gift to each other if they could.  Sidharth gives his grey shorts to Shehnaaz.  Paras gives a bracelet to Mahira.  Shehnaaz gives her lipstick to Sidharth.  Rashami gives Asim her hairdryer and Arti gives her shalwar kameez to Rashami.  Asim gives his perfume to Rashami.  Shilpa promotes her upcoming film Nikamma before leaving the house. 
In the upcoming episode, the housemates will be seen being grilled in the courtroom by the host of Aap Ki Adaalat, answering tough questions about their journey.