TV/Streaming Reviews
Bigg Boss Season 13: Sidharth Shukla Talks about His Equation with Rashami Desai and Shehnaaz Gill
In Bigg Boss Season 13, Rajat Sharma questions the housemates and Paras Chhabra is given a secret task to make the contestants believe the Bigg Boss house is haunted
The episode continues where the previous one left off with Rajat Sharma questioning Sidharth Shukla on his aggressive behavior.  Sidharth attempts to defend himself as Rajat questions him on his refusal to do housework.  Mahira Sharma, Paras Chhabra and Shehnaaz Gill make excuses for him, saying he chops and cleans the bedroom while Rashami Desai and Asim Riaz say he doesn't work hard, only performing easy chores.  Rajat states that Sidharth does the least amount of work and it's visible and he only gets those duties because others are afraid of making him work.  Rajat continues with the next allegation that he commands others to which Sidharth replies that everyone respects him.  Rajat points out how Sidharth abused Asim's father and abused Rashami.  Sidharth says that Asim pushed him and gives further clarification on Rashami.  He says that he respected Rashami as an actor, but as they worked together, articles with fake information came out painting Sidharth as a troublemaker when the problems were Rashami's.  He states that they stopped speaking, but later became friends.  He says they stopped talking because Rashami was dishonest and he couldn't handle her lies.  Rashami clarifies that her background and Sidharth's background are different and they don't understand each other.  Sidharth states that he just wants them to be civil with each other while Rashami says they have trust issues.  Sidharht says they are co-existing and should be okay once they leave the house.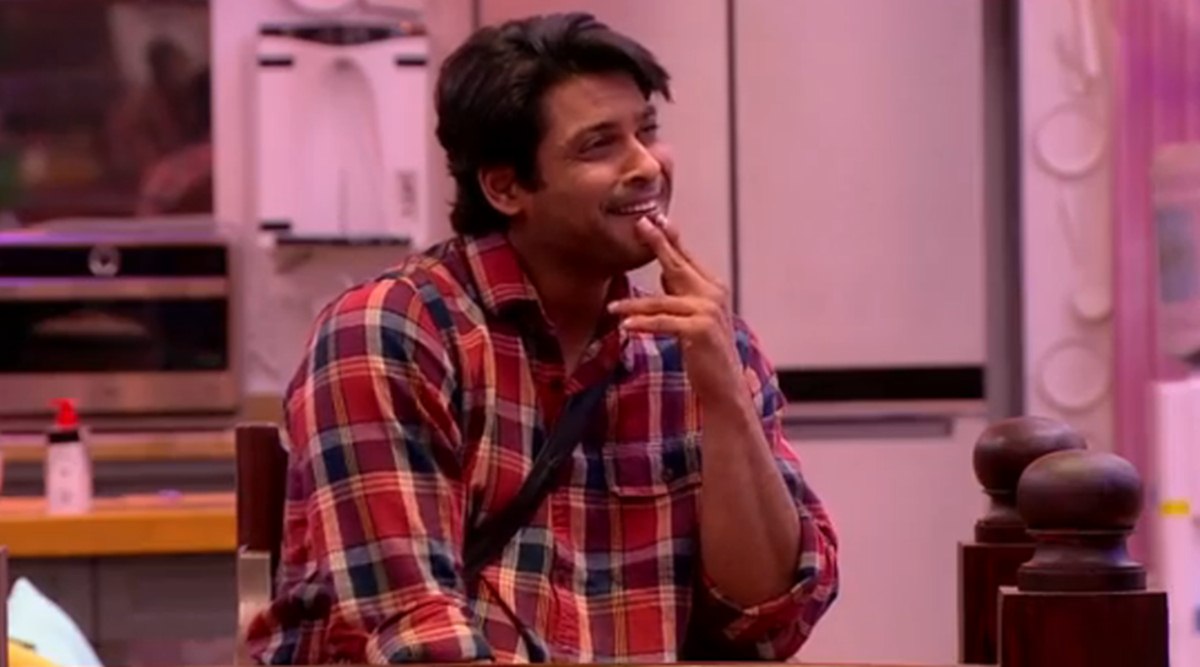 Rajat asks Sidharth about his equation with Shehnaaz and he says that they have a good bond and are comfortable with one another.  Rajat jokes that he's met her father and brother, so what are his plans?  He says they spend a lot of time in the house, but won't have time once they leave.  Rajat asks Sidharth if he's the flipper as he saved Paras over Shehnaaz.  Sidharth says he was repaying a favor while Rajat asks if he did it because Shehnaaz is his competition.  Sidharth calls her a friend and Rajat asks if he'll answer her calls outside.  He answers that he won't have time and Shehnaaz says it only takes two minutes to take a call.  Rajat thanks Sidharth and says he should forgive Asim and keep in touch with Shehnaaz. 
Arti Singh is next and Rajat says she's all over the place to which she replies that she's friends with everyone.  He asks about her equation with Sidharth and she says he's a support in the house and she finds his sense of reasoning to be sound, so she follows him.  She says Rashami has others to support her and she has said personal things in the house.  Rajat teases Arti about Sidharth and Arti says Sidharth is a nice boy, but their personalities and temperaments are too different.  Rajat says that despite being confused, she's in the finale and Arti responds that she wasn't confident before. 
Shehnaaz Gill is next and Rajat teases her that she likes being praised to which she agrees.  He states the first allegation is that she plays the game and Shehnaaz says they're all in the house to play the game but she only started playing after two months.  Rajat asks why she's a "flip" and she says she tries to follow who she believes is right.  She's questioned about SidNaaz and she says they are comfortable and he tolerates her, so she will see how he is outside.  She jokes that she would talk to the crows when Sidharth wouldn't talk to her.  She answers questions about Sidharth and Paras.  Rajat asks her why she justifies Sidharth choosing Paras over her and then gets upset with Asim for not supporting her?  Shehnaaz says she felt unsupported.  Rajat talks to Shehnaaz about the allegation that she's ruining her image.  A clip is shown of Shehnaaz hitting herself to which she responds that she gets upset.  A clip is also shown of Shehnaaz chasing after Sidharth, saying she is possessive, saying I love you, slapping him and so forth.  Shehnaaz says she found the clip cute and Rajat asks Sidharth if he's scared of Shehnaaz.  Shehnaaz says both are possessive of each other and will see how it goes outside.  Shehnaaz sings a song on Rajat's request.
Mahira Sharma is next and Rajat tells her that she is Paras's shadow and is never seen playing on her own.  Mahira says they are friends.  Rajat says that even her mother told her that she doesn't speak up for herself and Mahira says her mother told her she is a strong player.  Rajat says Mahira will give the trophy to Paras if she wins and Mahira says yes.  Rajat asks why people would vote for her then?  Rajat asks if her relations with Paras will continue outside the house and she replies that their friendship will. 
Rajat talks to the housemates about the show and what viewers are saying about Bigg Boss's bias towards certain contestants.  The housemates deny it and say they don't feel Bigg Boss favors anyone.  Rajat wishes them well and leaves the house. 

Sidharth approaches Rashami to discuss further and says that she was the one who sent out that article.  Rashami denies it, asking why she'd do such a thing?  Rashami says she never spoke badly of him and he says he saw her doing it today.  Rashami says when they leave the house, she will give the names of the people who did this, but she can't do it in the house.  Sidharth discusses Asim with Paras, Mahira and Shehnaaz and while Paras and Mahira agree with Sidharth that Asim was wrong in saying Sidharth doesn't listen to others, Shehnaaz neutrally states that hurting others is not part of a defense strategy.  Sidharth gets angry and tells her to go to the other team and sit with Asim.  Sidharth and Shehnaaz fight and Asim asks Rashami why Sidharth is using his name when he hasn't said anything? Shehnaaz asks why Asim is being dragged into it when Sidharth tells Shehnaaz that Asim will fill her ears that Sidharth is using her. Asim gets angry and tells Sidharth to stop indirectly taking his name. Sidharth says he's talking directly.  Asim tells the two to stop putting him down and Shehnaaz says Himanshi and Asim tried to do the same to her, but Himanshi left the house and kicked him to the curb.  Asim says that's why Shehnaaz begged Himanshi for forgiveness. Shehnaaz says not to come in between her relationship with Sidharth and Asim says strengthen the relationship first.  Shehnaaz says she'll learn how to do it from Asim. Paras tells Sidharth to ignore Asim, while Sidharth says Shehnaaz just talks in circles. 
Shehnaaz and Sidharth make up. A new day begins and Shehnaaz is talking to Sidharth, but he is ignoring her.  Arti asks what he's doing and Shehnaaz replies that he's thinking about Rajat's allegations.  Sidharth appears concerned. Paras is given a secret task where he's asked to make the housemates believe the Bigg Boss house is haunted.  He is told that he can include Sidharth in the game.  Paras comes out and Mahira asks what happened, to which Paras replies that he's feeling ill. 
Paras tells Asim that he thought someone was in the luggage room, but Asim says there's no one there.  Paras approaches Sidharth to inform him, but Sidharth initially doesn't believe him.  Paras tells the housemates that he saw a figure in the bathroom.  Sidharth asks if he's feeling okay, but Paras says there was a shadow and it's a full moon outside.  The housemates begin comparing notes, Arti saying someone pulled her blanket while Sidharth says he heard some noises from the kitchen.  Later, Paras talks to Asim about something being wrong. Shehnaaz asks Sidharth if he thinks this is real and Sidharth says people who die early have to be somewhere.  Paras tells Shehnaaz that black crows are a bad omen and points out that Vishal had bad dreams after seeing a black crow. 
Preview of Tonight's Episode
With Paras's prank continuing into the next episode and Vicky Kaushal paying the housemates a visit, it's possible that a mid-week elimination will take place.