TV/Streaming Reviews
Bigg Boss Season 13: Sidharth Shukla, Shehnaaz Gill and Arti Singh Fight Over The Immunity Task
In Bigg Boss Season 13, Sidharth Shukla argues with Arti Singh and Shehnaaz Gill after they continue to question his decision to save Paras Chhabra from the nominations
As the episode begins, Shilpa Shetty talks to viewers about her feelings towards Bigg Boss and her time in the house.  She also says she's making dessert for Salman Khan.  Salman makes his entrance on stage and announces that the show will be ending on February 15.  He enters the house through Me TV and asks the housemates what happens if they reject the final task.  They laugh and he talks about how this is the last Weekend Ka Vaar.  He says to pretend that the show has been extended until 2070 and has the contestants enact being in the house for 50 years.  Sidharth Shukla and Rashami Desai play a scene with Rashami making Sidharth parathas. Asim Riaz and Sidharth pretend to be old and trying to eat apples without teeth.  Paras Chhabra and Sidharth play being Karthik Aryan and Gautam Gulati with Shehnaaz Gill in 50 years.  Arti Singh pretends to be a ghost, scaring the housemates after shes' gone.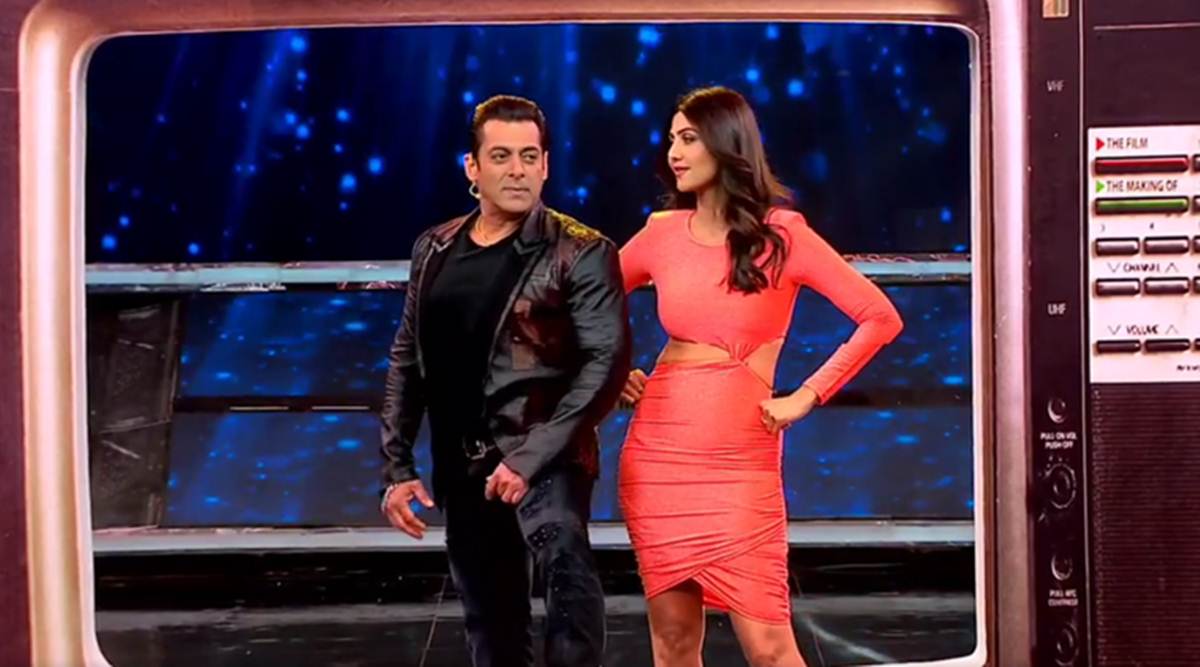 Salman talks to Shehnaaz and Sidharth about their relationship and Salman teases her about calling Sidharth her husband. She also talks about her time in the press conference, saying she was hurt by what was said and cried about it.  Salman says that they will be announcing the winner of Bigg Boss next week and asks the contestants to rank themselves.  Shehnaaz feels that she might leave today and Salman asks her to be optimistic.  Salman asks the housemates to mutually decide a top 5 and leaves. 
Asim says Asim, Sidharth, Rashami while Paras says Paras, Sidharth, Rashami, Shehnaaz and Mahira.  Rashami asks for more time to decide, but Arti tells her to do it, scolding her.  Rashami says Rashami, Sidharth, Paras, Asim and Shehnaaz.  Arti gets angry that Rashami didn't take her name and complains to Asim and Paras.  She also asks why Rashami didn't rank Asim at number two if she believes he'll win.  Salman is joined by Shilpa Shetty on the stage and she gives him the dessert she made.  They talk about the Bigg Boss house and her fitness exercises with the housemates.  Shilpa's costars in the film Nikamma join her on stage and they promote their film before leaving. 
Salman re-enters the house through Me Tv.  He asks for their ranking and they decide on Paras, Sidharth, Asim, Rashami and Arti.  Salman asks why Shehnaaz isn't in the top 5 and she says she believes she might leave.  Asim says they voted based on majority and Salman still questions why Shehnaaz isn't there.  He promotes a new show and then re-connects to the house.  Salman asks about Sidharth saving Paras and Asim says he did it for the game, though Arti is his friend.  Arti says he supported her in the past, so it's fine, but both she and Shehnaaz felt it.  Sidharth says he wanted to repay Paras, but Shehnaaz asks why it's negative when she does the same.  Salman announces that no one will be leaving the house today.  The caller of the week asks Asim why he likes Shehnaaz only when she's against Sidharth.  Asim says that he recognizes that Sidharth and Shehnaaz's bond is strong, but he also does not use her and thinks she's a good person.  Salman leaves the house and the contestants discuss Sidharth saving Paras again.  Rashami explains that Arti was her priority, but Sidharth played his game.  Shehnaaz talks about why she was hurt and Sidharth says he used her and Sidharth, Shehnaaz and Arti get into a fight.  Shehnaaz talks to Arti about the fight and says he was playing safe.  Sidharth joins in and says that Arti has always had his support and what has she done for him?  They fight and Arti shouts that she wants respect now?  Arti says that had Rashami saved her, she would've heard about it for years. 
Sidharth continues to fight with Arti over the chess task, asking why she's acting like she did him a favor.  Arti says she asked a question and she would've saved him if given the choice. Arti says Sidharth doesn't know how to talk while Sidharth asks what kind of manners she has.  Arti says she was asking nicely, but Sidharth curses at her aggressively. 
In the next episode, it's shown that Rajat Sharma will question Salman Khan, as well as the housemates regarding their journeys in the house.