Celebrities
Bigg Boss Season 13: Sidharth Shukla And Asim Riaz's Fight Gets More Violent
In Bigg Boss Season 13, Sidharth Shukla and Asim Riaz's fight intensifies and relationships in the house are seen changing in an unexpected way
Bigg Boss season 13 has been a rollercoaster ride from the first episode. While the season had a kick-start in drama and action inside the house with two groups forming within the first week, it's ironic that now those same relationships are changing. With the friendship between Sidharth, Asim, Arti and Shehnaz taking a negative turn, the group of four are no longer "four strong." With Sidharth and Asim's fight taking an ugly turn in the last episode, with #WeSupportAsimRiaz and #StayStrongSidharthShukla trending, their fight only progresses in the latest episode.
In Wednesday's episode, as the previous day's task continues, Sidharth Shukla and Asim Riaz are seen getting into yet another fight over which fruit to serve to Shehnaz's "family."  All the contestants get involved, trying to stop the two men from fighting as Asim and Sidharth curse at each other.  Shefali Jariwala and Arti Singh later have a discussion about the fight and Arti expresses that the fight has gotten too messy ("raita phail gaya") and it may not be possible to contain it now, insinuating that Asim and Sidharth's friendship may be over.  As Sidharth discusses the argument with Paras, Asim is standing nearby and listens to his words.  This causes another fight and the two boys are seen almost getting physical with one another and Hindustani Bhau (Vikas Phatak) intervenes, standing between the two.
During this commotion, Arti remains level headed and becomes upset with the housemates for taking advantage of the situation and furthering misunderstandings. With her wrath directed at Paras Chhabra and Mahira Sharma, two contestants who have never gotten along with Sidharth or Asim, Arti tells them that they are instigating Sidharth against Asim for their own advantage. Bigg Boss gets involved with Asim and Sidharth get aggressive once again after Asim uses insulting words for Sidharth. Paras comes in between the two and Arti, once again, calls Paras out, asking him why he is interfering and telling him to stay out of their fight.
Devoleena Bhattacharjee is seen saying that Paras and Mahira are taking advantage of this fight and getting in close with Sidharth Shukla. On the other end, Shehnaaz Gill is seen instigating Sidharth against Asim, asking him why he defended Asim when he knew he was wrong. Sidharth says that he has always seen Asim as a kid and would defend him because of it. Now Shehnaz tells him to no longer speak to Asim. Sidharth continues discussing Asim with the housemates, ironically with several housemates that do not get along with him.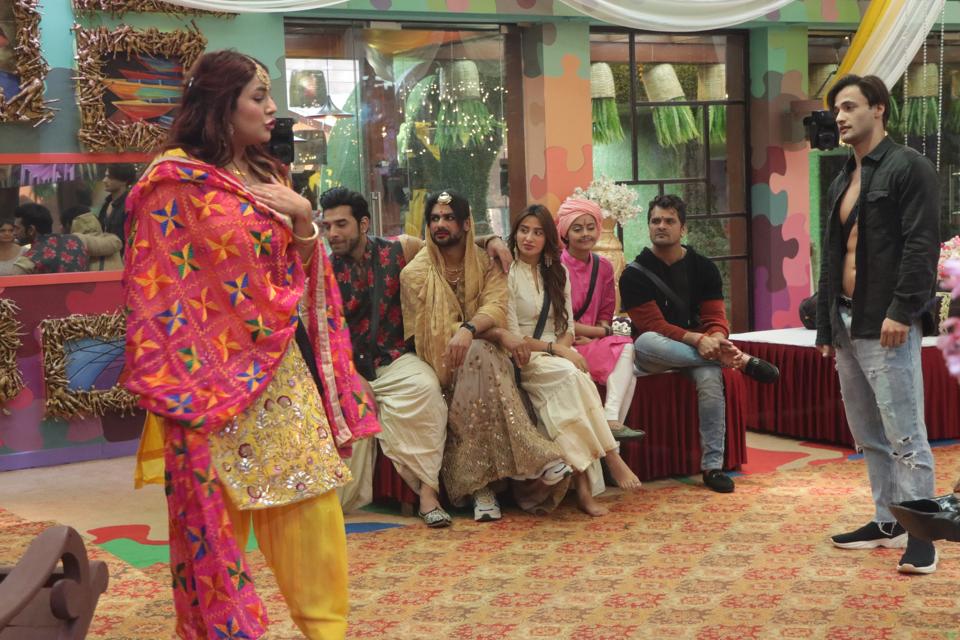 Shehnaz Gill made the contestants mention the bad qualities in the other family during the task
Shehnaz discusses new groups in the house with Paras and Mahira, pointing out that Rashami Desai and Devoleena have seemingly formed a new group with Shefali, Himanshi, Khesari and Bhau. When Shefali discusses the fight with Asim, Asim willingly admits that Sidharth is not all bad and has supported Asim a lot. However, he tells Himanshi and Shefali that Sidharth ices out people when they do not listen to him. They also discuss future captainship, saying that Bhau should be the next captain as he will be able to make the housemates all work.
Sidharth gets wind that Vishal stated that his game has finally begun after Sidharth and Asim's fight. He confronts Vishal, but Vishal denies it and conveniently places blame on others, stating that Rashami and group are taking advantage of Sidharth and Asim's fight. Bhau quietly advises Himanshi and the other girls to stay away from the Asim and Sidharth fight as it's too messy and not worth taking sides. Devoleena and Paras are seen doing a 180 by defending Sidharth and talking about Rashami, saying that she did the wrong thing by defending Asim when Sidharth was right.
The task continues with a few hiccups. Shefali makes a comment on Mahira's lips, which causes Mahira to explode in anger. Later, Paras, Devoleena and Rashami are discussing breaking Sidharth's mandap, but the girls stop Paras. Shehnaz overhears and decides to take action herself. She breaks Sidharth's mandap, invoking the anger of the other team and they call her names. After this, Shehnaz declares Paras the winner and Shehnaz and Paras exchange "maalas" to begin the "marriage."
This episode proves that relationships in the Bigg Boss house are fickle and can change in an instant. Friendships which have lasted the entire season have broken overnight and animosities have been overcome to the surprise of viewers.