TV/Streaming Reviews
Bigg Boss Season 13: Shehnaaz Gill and Arti Singh Fight Over Sidharth Shukla - Highlights of January 22
In Bigg Boss Season 13, Sidharth saves Arti from nominations, angering Shehnaaz and the two ladies fight; Mahira Sharma and Rashami Desai get into a fight over kitchen duties
In Bigg Boss season 13, the housemates have been at their bickering best lately.  Whether it's Sidharth's heated fight with Asim, Shehnaaz's fight with Sidharth, Arti's fight with Shehnaaz or Mahira's fight with Rashami, the contestants are all geared up to fight and argue their way through the final month.  After the elite club task creating commotion, the nomination task began yesterday and Shehnaaz Gill was seen upset as the episode ended. 
The episode begins and after Sidharth Shukla chooses to save Arti Singh instead of Shehnaaz Gill, Shehnaaz gets upset and locks herself in the bathroom.  Arti follows her there, but despite Shehnaaz asking her to back off multiple times, Arti continues trying to speak to her.  The two end up in an intense fight and Arti is seen defending Sidharth's decision to save her.  Arti tells her that she's just trying to get attention and says she will stay away, because she doesn't want to give her footage.  Shehnaaz becomes infuriated and begins throwing things around the house. 
Outside, Shehnaaz cries while Mahira Sharma and Paras Chhabra console her while inside, Arti vents to Rashami Desai and Shefali Jariwala about Shehnaaz's possessive nature.  The nomination task continues and Vishal Aditya Singh moves to save Shehnaaz. Asim Riaz also saves Shehnaaz. Shehnaaz sticks to her original plan and saves Sidharth, but is left feeling torn regarding her place in the house.  Arti also saves Sidharth.  Rashami is seen talking to Vishal and Asim about Shehnaaz's way of playing, saying that with Sidharth, Shehnaaz is nothing and he is her game plan.  Rashami, despite this, still chooses to save Shehnaaz from nominations.  Shehnaaz is saved from the nomination. 
Asim and Vishal are seen having fun with Shehnaaz, cheering her up, but Paras is later seen talking to her about her stand in the house.  He tells her that she should stick to Sidharth, because everyone roots for #Sidnaaz and does she want to break it at this point.  She tells him that it's already broken.  When the task continues, Shefali chooses to save Mahira.  In the end, the two saved from nominations are Sidharth Shukla and Shehnaaz Gill.  Everyone else in the house is nominated.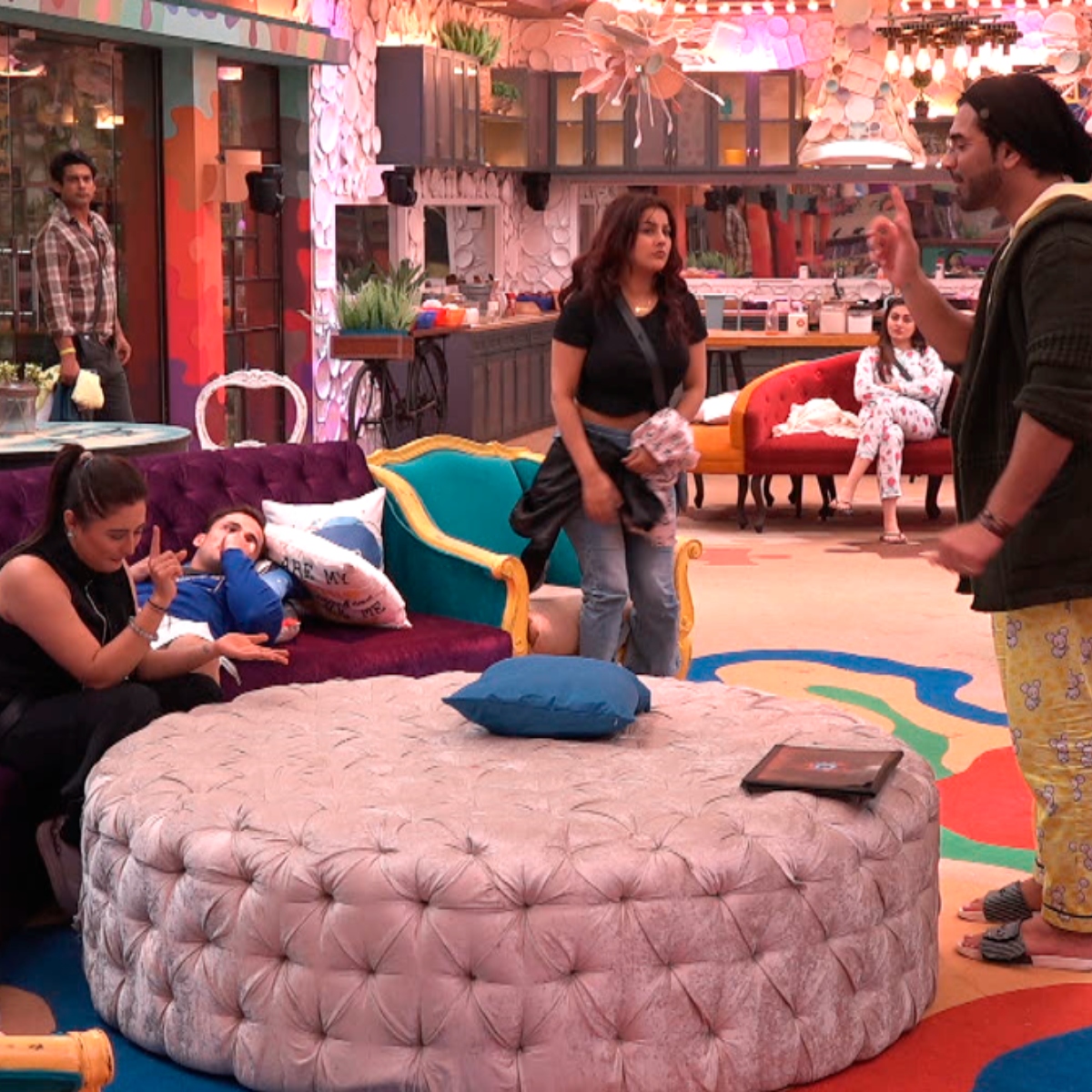 A fight breaks out between Rashami Desai and Mahira Sharma when Mahira states that no one  will make lunch, as there are leftovers from the previous day.  Rashami gets irritated and the two fight over who has kitchen duties and Rashami tells Mahira to stop interfering.  The girls get into a heated fight and Sidharth intervenes and tries to explain the situation to Rashami, but Rashami continues arguing with Mahira.  Paras tries to explain that Mahira was helping him cook rice and that's why she was in the kitchen, but Rashami does not accept this.  Later, Rashami goes to clear things with Paras again and the discussion erupts into a fight between Paras and Mahira and Mahira tells Paras that he's not worthy of being called a friend.  Paras approaches Rashami again and tells her that he's not her assistant and will ask whoever he wants to help him in the kitchen. 
Shehnaaz and Mahira are seen talking about Sidharth and Shehnaaz tells her that it bothers her to even look at him now.  Rashami is seen talking to Shefali about the fight and while she tells Shefali she doesn't like eating food that's old, Mahira overhears and tells her that her food is never leftover, insinuating that her food is better than Rashami's while Shefali tries to quiet her down.  Mahira continues screaming loudly and Rashami loses her temper.  This results in another blowout when Paras also joins Mahira in attacking Rashami. 
Shehnaaz approaches Sidharth, trying once again to talk to him, but he refuses to have any part in it.  Sidharth tells her that he's not Himanshi Khurrana, so she should not instigate him.  She doesn't give up, but Sidharth turns around and begins talking to Shefali instead.  At night, to annoy Shehnaaz, he holds Shefali's hand.  Arti sleeps in the bathroom at night and Shefali tells Paras that this is her game as the fight with Shehnaaz was unnecessary.  Shehnaaz heads to the bathroom to talk things out with her and both put their point of view across.
The atmosphere in the house is at an interesting point where all relationships are changing as the finale is now less than a month away.