TV/Streaming Reviews
Bigg Boss Season 13: Salman Khan Blasts Sidharth Shukla and Asim Riaz - Highlights of January 26, 2020
In Bigg Boss Season 13, Salman Khan has harsh words for Sidharth Shukla and Asim Riaz regarding their performance during the week and their fight
As the episode begins, Salman Khan makes his entry on stage and discusses how the contestants are confused in the house and confusing viewers as well, as we don't know who is doing the poking.  He says that Himesh Reshammiya went into the house and spent time with the contestants.  "Aashiqui Mein Teri" is playing as the housemates wake up and they see Himesh there who tells them he's there to promote his film.  When Himesh asks for tea, Mahira is unable to find the tea leaves and Himesh tells Rashami to get the tea she hid.  When she brings it, Sidharth, Mahira and Shefali get irritated and ask her why she does this. 
Himesh asks the housemates to sing with him and they all hold their noses and sing.  He has the contestants play a game in two teams where they make juice from sugarcane.  One team gets 4 glasses while the other gets 5.  Sidharth's team wins and they get jalebi as a prize.  As soon as Himesh leaves, Sidharth begins questioning Rashami's behavior and asks why she stole the tea.  Rashami and Asim defend her actions.  Sidharth begins fighting with Shehnaaz and Shehnaaz tells him that she doesn't want to fight with him, but he makes a remark about her father and walks away.  Later, Sidharth taunts Asim by telling Shefali that Parag Tyagi will have a good time with Asim once they leave the house and they will get everything out of Asim after they are out of the show.  Asim tells Sidharth to keep barking and says that he will see him outside the house.  Paras says Asim is just barking and Shehnaaz asks Paras why they think no one can do anything to them once they leave the house?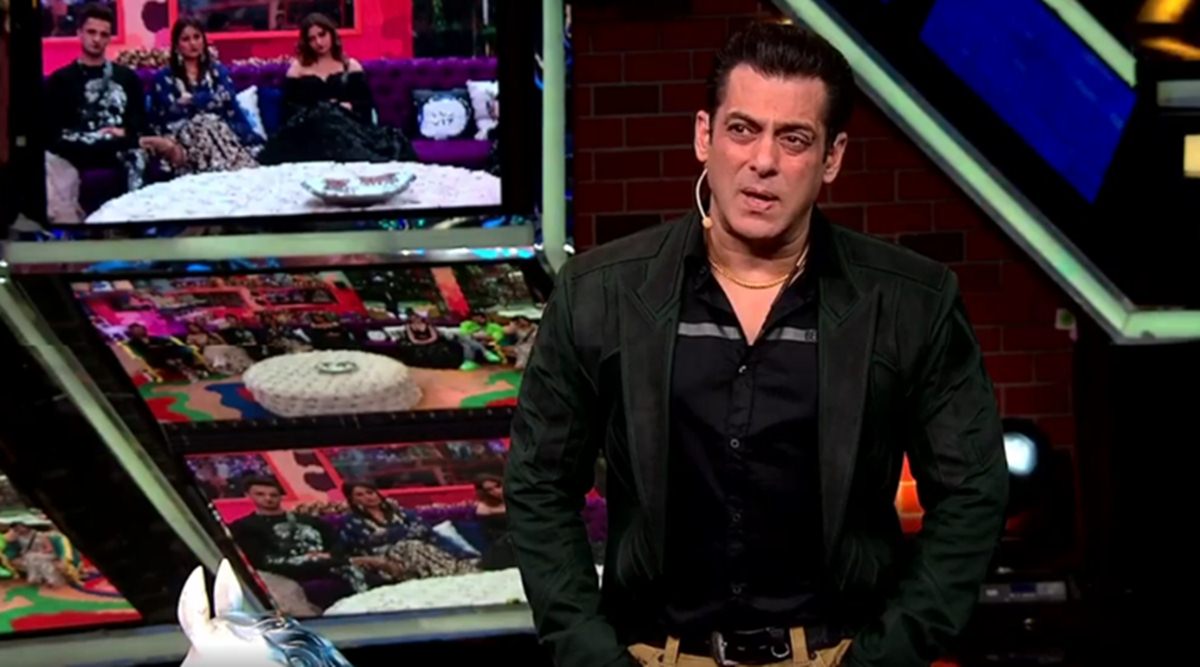 Back on stage, Salman welcomes Himesh and Himesh jokes that he made a blooper by asking for tea.  The two sing "Tere Naam" together and Salman fondly remembers Himesh being 14 when he first came to him with a composition.  The two chat and Himesh leaves the stage.  Salman talks about the week's issues and then connects to the contestants through Me TV.  Joking with the housemates initially, Salman moves on to the task and asks Asim about his decision to keep Vishal in the game.  Asim says he didn't see Vishal get down from the horse, but Vishal admits that he did.  Salman tells Vishal that he should've been honest and this drama began with the lie and moved into the task when Vishal couldn't stick to his decisions.  When asked, Rashami admits that Vishal is weaker than she is and Vishal agrees that she's strong.  When Vishal is asked about Asim, Vishal says it might be a tie and Asim agrees that Vishal is a strong player.  Salman tells Vishal that he's safe from eliminations.  He also tells the housemates that Vishal only had 3 more votes than Rashami, so she needs to buck up. 
Salman turns his attention to Asim and Sidharth, saying these two contestants desperately want to leave the house and keep saying they want to go outside to have a violent session.  Salman says they can't have violence in the house, so they will open the door and the two can go fight and then come back in.  The doors open and Sidharth starts walking towards them.  Asim says that he doesn't want to fight, but Sidharth tells him that he's been wanting to.  Asim clarifies that Sidharth is always threatening him and while Sidharth doesn't care about his future, he does.  Salman tells the two that they are looking like villains.  While Asim clarifies his stance, saying Sidharth is always taunting and dragging in his father, Sidharth tells him to come outside so he can fight with him.  Salman tells Sidharth to sit down.  Salman questions Sidharth about his statement regarding Asim's father and brother.  While Salman scolds Sidharth for his words, he also points out that Asim said negative things about Paras's family as well.  He tells the boys that they would be shocked to see themselves outside the house.  Salman tells the boys that he will throw them out next time or he will be gone himself.  He says everyone is wrong in the house except for Arti and she is playing well.  Salman also gives Asim a verbal thrashing over his use of the word "nalla" on Parag Tyagi.
Salman asks Asim about "fixed deposits" and he says that he refers to Sidharth's friends as that.  While Sidharth says Shehnaaz started saying this, Rashami clarifies that Vishal started it.  Vishal says that it's meaning is referring to those who are loyal to Sidharth.  Sidharth starts taunting Asim while Paras and Shehnaaz bicker and Salman calls him out.  Asim says that he's poking me in front of you.  Sidharth gives a bad meaning to the word "Fixed deposit" and Salman clarifies that it's not a negative meaning.  He tells Asim that if he uses these words with a bad attitude, people will take it that way.  He tells the housemates that they speak badly against girls and no one wants to watch them like this. 
Arti clears the air with Rashami, saying Shefali and Paras told her it was a negative word, so she reacted.  Sidharth and Shehnaaz argue and Sidharth tells her to stop speaking to him as he's a gutter person.  Shehnaaz continues trying to speak to him, but he continues insulting himself and her and she says she's ashamed of herself for approaching him, saying she no longer has expectations from him.  Asim is seen talking to Vishal about his morale while Sidharth and Paras talk about their journey. 
Salman Khan invites Saif Ali Khan and Alaya, Pooja Bedi's daughter, onto the stage to promote their new film "Jawani Hai Deewani."  The two talk to the contestants through Me TV and Mahira tells Saif that Kareena is her inspiration.  Saif asks Sidharth and Asim to drink bottles of lassi, but Asim can't finish.  Salman asks Vishal to decide who won, joking that he will change his decision 15 times.  Saif declares a tie.  The contestants play other games with Saif and Alayna before leaving the stage. 
The caller of the week asks to speak to Shehnaaz and says that if she sides with Asim and Vishal while they're instigating Sidharth, why should he support her?  Shehnaaz clarifies that he also chose Arti over her while Asim saved her.  The caller continues to claim she is disloyal while Sidharth has been loyal and ends the call by saying "I love you" to Sidharth.  Salman declares that Mahira and Asim are both safe. 
Shehnaaz tells Rashami that they will no longer talk about Sidharth.  Shehnaaz talks to Shefali and Arti about her answer to the caller of the week and Shefali tells her that her answer was not clear.  Shefali tells her that she was supporting Rashami, so why would Sidharth support her?  On the other end, Mahira and Paras discuss Shehnaaz and Mahira says she's disloyal  Sidharth asks Arti why Shehnaaz is talking to them and Shehnaaz tells Arti to stop talking to her because Sidharth doesn't like it. 
With Varun Dhawan entering the house tomorrow to entertain the housemates and promote his film "Street Dancer," the environment promises to be a fun one – and it will be seen who will leave the house.