Bollywood News
Bigg Boss Season 13: Paras Chhabra's Budding Romance With Shehnaaz Gill Could Not Stand The Test of Time
Bigg Boss Season Season 13 first "Nomination Ka Vaar" began and it was clearly a moment of truth for Paras Chhabra, Shehnaz Gill, and Mahira Sharma
The first day of week two at the Bigg Boss House kick-started with its very first Nomination Ka Vaar. Usually, the elimination process starts right in the first week at the Bigg Boss House but this time the host of the reality television show Salman Khan skipped the elimination process in the first week. Salman Khan allowed breathing time during the first week and gave them time to settle down and get to know each other better in the Bigg Boss house. During this time, the ardent fans of Bigg Boss could see Paras Chhabra developing a soft corner for Shehnaaz Gill and a budding romance was on its way.
Followers of the show had started rooting for Paras and Shehnaaz to end up together, Shehnaaz, on the other hand, thinks Paras has equal feelings for Mahira which she did not approve of. As most of the followers of Bigg Boss House know that Mahira Sharma and Shehnaaz Gill ended up having a heated argument over Paras, at the end of which he chose Shehnaaz as he feels they have a stronger connection. Since Mahira Sharma was also very clear about her equation with Paras Chhabra which was more of being friends than anything else, which should have ended the debacle but, unfortunately, it wasn't the case.
During the first day of the second week, we see Dalljeit Kaur and Arti Singh trying to make him understand his connection with Shehnaaz Gill. While Shehnaz talks to Siddharth and Asim about her connection with Paras. We see Mahira and Shehnaaz sorting out their differences in an amicable manner over Paras Chhabra. During this time, Paras comes in between while they are talking and Mahira asks Paras to clear all the other misunderstandings too. Later on, Arti Singh tries talking to Paras about Shehnaaz. The growing differences between Paras and Shehnaaz have become visible to almost everyone. Later on, Shehnaaz says that she wants to stay away from Paras as he brings trouble. Abu, Shefali, and Paras have a conversation about the same.
Now it's time for Nomination Ka Vaar, the task is slightly Hatke than others. This week puts the girls in a tight spot yet again. This time around, the much-dreaded nomination process gets a fairy-tale touch where two female contestants are made to stand before nomination window while the third contestant who stands down shares who does he like, these two contestants are given a chance to impress the third contestant but ultimately it's in the hands of the third contestant to decide on nomination. Out of 14 contestants, five of them who get a maximum number of nominations go to the eviction nomination list.
It was clearly a tough call for Paras Chhabra, Shehnaaz Gill, and Mahira Sharma as they were the first ones to stand in pairs against the window. During the task, Mahira says that Paras can count her as his loyal friend and someone he can lean on throughout the season, Shehnaaz on the other hand, exclaims that she doesn't appreciate Paras' friendship with other girls. She also says she had made it pretty clear on the first day that she is not here to be loyal. Paras gets upset about the same and slams the window behind which Shehnaaz is standing. Paras counters Shehnaaz's point of view by saying that even she did not respect their bond and has been ignoring him since morning. Paras then nominates Shehnaaz by closing her window. However, both of them get emotional later on and hug each other.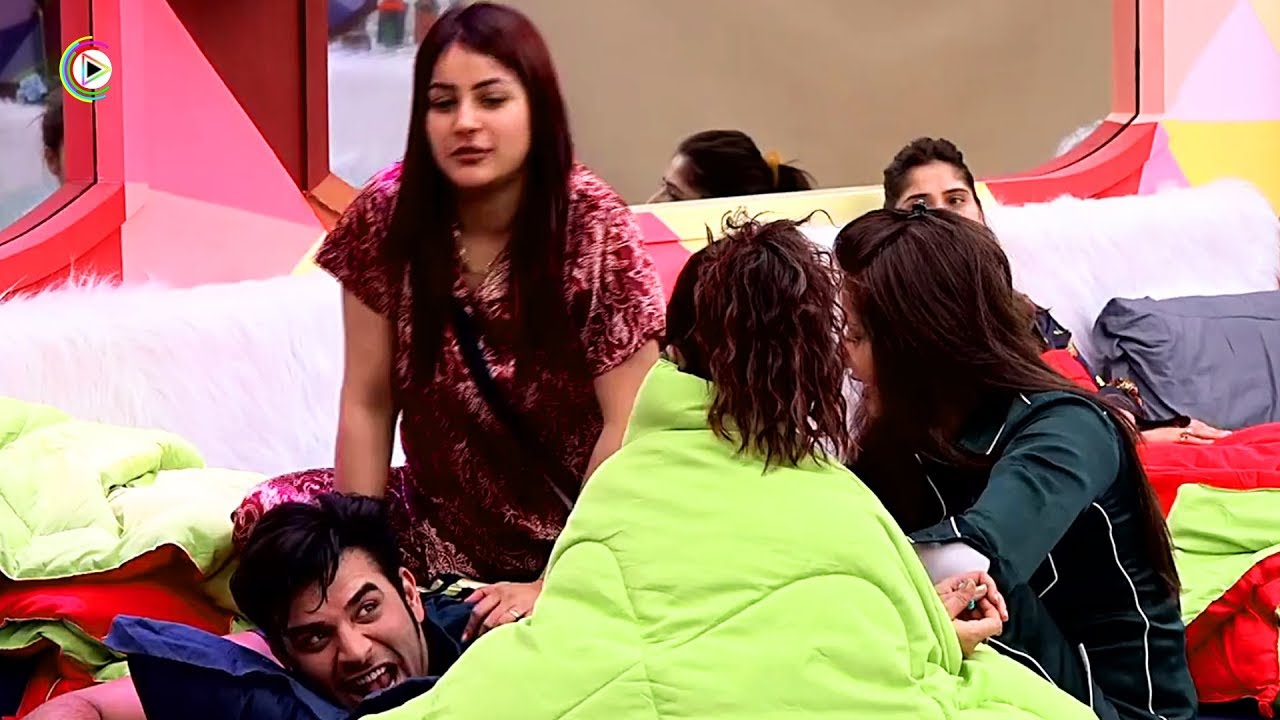 The Nomination Ka Vaar, in short left both Paras and Shehnaaz, disappointed, broken and in tears and their budding romance could not stand the test of time. Female Inmates other than Shehnaz Gill who were nominated were Rashmi Desai, Dalljeit Kaur, and Koena Mitra based on the contestants' explanations. Mahira or Shehnaaz, Rashami or Arti, Shefali or Dalljiet, Devoleena or Koena, who will get nominated this week? Well, stay tuned to find out!