TV/Streaming Reviews
Bigg Boss Season 13 Finale: Sidharth Shukla Takes the Trophy
In Bigg Boss Season 13, Asim Riaz and Sidharth Shukla fight it out for the trophy and Sidharth Shukla takes home the prize, bringing another season to its end
After several months in the house, the grand finale of Bigg Boss season 13 is finally here.  The battle between the housemates has been stiff this season with several housemates fighting it out for a position in the finale.  However, only a few achieved positions in the top 6 and Sidharth Shukla, Asim Riaz, Shehnaaz Gill, Rashami Desai, Paras Chhabra and Arti Singh made it to the finale.  With the end of the show officially here, all eyes are on the grand finale to see who will take the coveted Bigg Boss trophy home.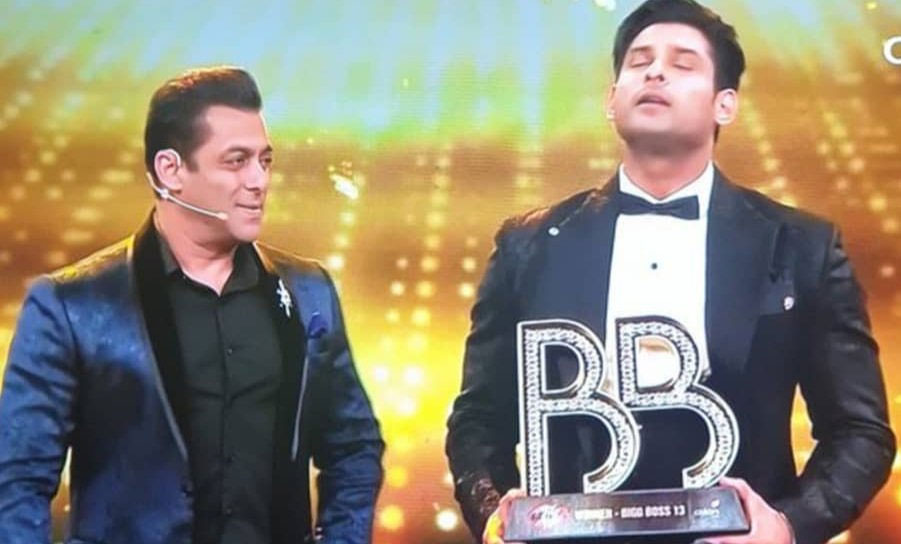 Sidharth Shukla and Salman Khan at Bigg Boss Season 13 grand finale
As the show opens, Salman Khan jokes about keeping his calm throughout the show, followed by clips of his anger displayed.  He dances to several songs, including Munna Badnaam Hua and Kuch To Honay Laga. Salman introduces the top 6 and Sidharth, Asim, Arti, Rashami, Shehnaaz and Paras join him to dance to "Allah Duhai Hai" from Race 3 and then makes his entry on stage.  Salman introduces the ex-contestants of the show before the cameras move back into the house as the contestants are getting ready.  Sidharth Shukla and Shehnaaz Gill are seen bickering once again.  
The contestants gather in the garden area and Bigg Boss congratulates them on their time in the house, saying they have won many hearts and now is the time to celebrate.  They drink champagne and Sidharth, Paras, Rashami, Shehnaaz, Asim and Arti's mothers give messages for their kids, talking about their personalities and their performance in the show, giving uplifting comments.  Salman talks to the contestants and shows them their parents at the finale.  Rashami becomes emotional seeing her mother and Asim interacts with his mom and dad.  Salman talks about expectations and Shehnaaz Gill says that she wants to win – but if she doesn't, she would want Sidharth to win.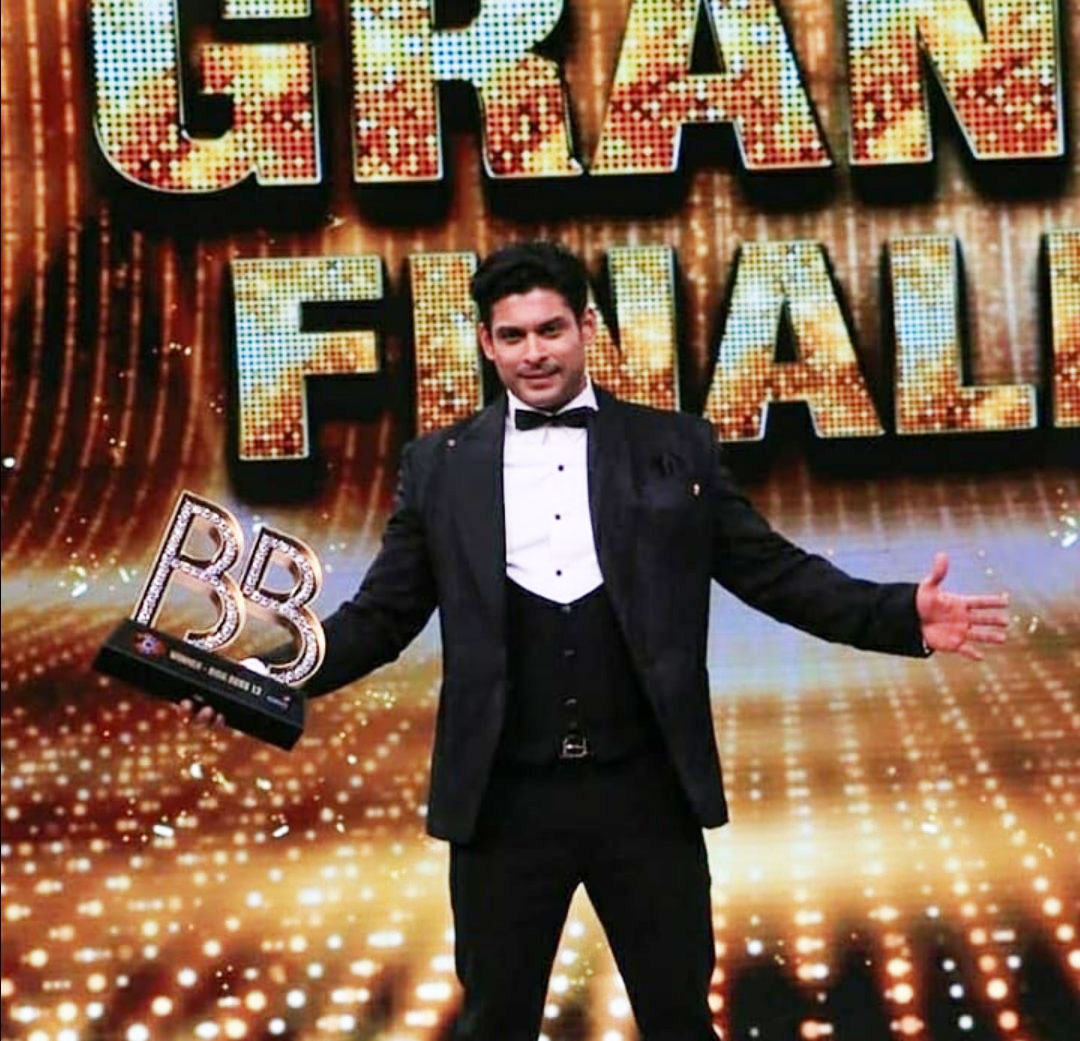 Sidharth Shukla at Bigg Boss Season 13 grand finale
Salman talks to Shehnaaz and Paras about their upcoming show.  Shehnaaz says that they will be supportive to each other and focus on the others in the house.  Paras worries what kind of girls will be there while Shehnaaz says if they like someone, fine, otherwise she will "flip."  The ex-contestants are given focus and they cheer for their favorite housemates.  Vishal Aditya Singh says that Arti will be eliminated first and Devoleena Bhattacharjee agrees.  Himanshi Khurana states that Paras will go and Salman teases Himanshi about her relationship with Asim's parents.
Bipasha Basu and Varun Dhawan talk about their favorite contestants and Sunil Grover performs, imitating the housemates.  Salman takes a selfie with the contestants.  Salman tells the 6 contestants that they are all winners and they have had a great journey.  He says that one contestant can leave without being empty handed, offering 10 lakh to the contestant that presses the buzzer.  Paras Chhabra presses it, though his mother seems displeased by his decision.  Paras joins Salman on stage and says that he wanted to enter and leave on his own terms which he has done now.  He also says he has another show and talks about the kind of girl he would want.  He hugs his mother and Mahira.
The performances begin and Shehnaaz and Paras dance to "Jaani Teri Naa," which is followed by Mahira and Paras dancing to "Dheeme Dheeme."  Himanshi and Asim dance to "Mere Sohneya" in matching outfits and Asim proposes at the end, representing their relationship in the house.  Harbhajan Singh and Muhammed Kaif enter the house to promote their new show.  Harbhajan dances with Shehnaaz and they interact with the housemates before leaving.  Another elimination is announced and Arti's mother enters the house to take her away.  Arti joins Salman on stage and says that she wants either Rashami or Sidharth to win, but believes Sidharth will win.
Guthi enters the house (Sunil Grover) and interacts with the contestants.  Vishal and Madhurima Tulli dance to Dhating Naach with a pan and a slipper.  Rohit Shetty joins Salman on stage and promotes Khatron Ke Khiladi before heading into the house to bring another contestant out.  The remaining four contestants are asked to play a task involving putting their faces in boxes with rats.  After doing so, though Shehnaaz screams and tries to run away, Rashami Desai is the eliminated contestant.  She joins Salman on stage and says she thought she'd have left early on, so she's happy with where she ended on the show.  She talks to the contestants in the house through Me Tv and shares some banter with Shehnaaz and Sidharth.  Sidharth says Rashami is looking different now.  Rashami says she thinks Asim will win.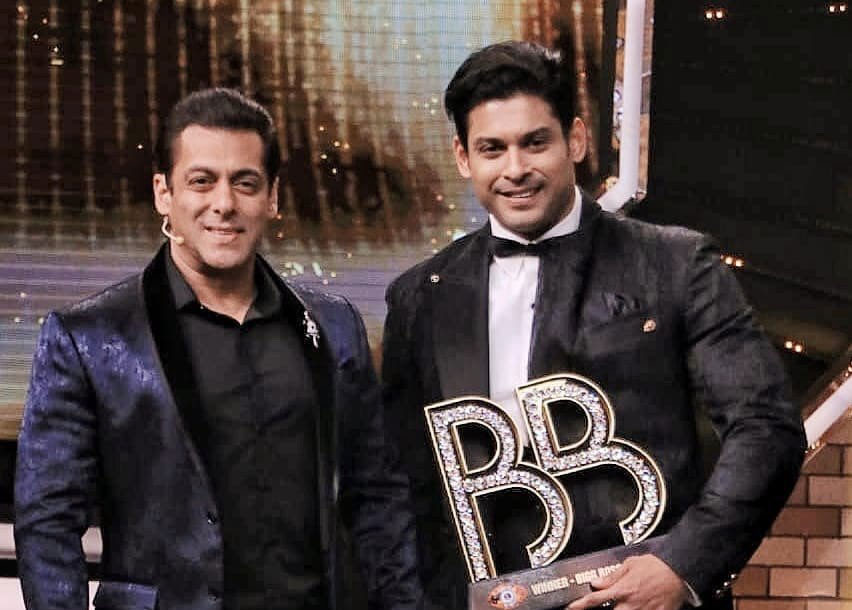 Sidharth Shukla and Salman Khan at Bigg Boss Season 13 grand finale
Rashami and Sidharth's performance is shown to Ang Laga De, which goes back and forth between romance and anger with the two imitating their fights in the house in the middle of the dance.  Salman goes back into the house and says nice words about the three remaining contestants and their struggles.  Shehnaaz is announced as the next eliminated contestant.  She joins Salman on stage and talks about her upcoming show and her relationship with Sidharth.  The two dance to Dil Diyyan Gallan and Arti joins in, dancing to Jaane Kyun.
Asim and Sidharth perform and after their performance, Salman asks the two to turn out the lights of the Bigg Boss 13 house and exit the house.  The two look back at the house emotionally and exit, joining Salman Khan on stage.  Sidharth Shukla is announced as the winner of Bigg Boss season 13, but Salman gifts Paras, Asim, Rashami and Shehnaaz trips to Dubai.  The contestants all gather around and congratulate Sidharth. Another season of Bigg Boss has come to an end and fans, as always, have opinions about the results.  However, one thing is for certain – Bigg Boss has a strong fan following and the contestants of this season will be missed!  Now here's waiting for season 14…..