Bhushan Kumar: 'Sometimes Songs Cost a Crore to Make, so Obviously, There Has to Be a Business Angle to It'
By Lekha Menon Monday, 09 September 2019
In conversation with the Chairman and Managing Director of T-Series Bhushan Kumar on music, films and why he doesn't have any personal favorites.
Bhushan Kumar is calm, cool and collected when you meet him. But beyond the crisp, business-like aura he gives off, lies a brain that is sharp, ticking and forever on the ball. He doesn't waste a single minute. Like every successful CEO, he multi-tasks and is constantly looking for newer horizons to conquer, doing whatever it takes to stay ahead in an ultra-competitive industry. In the last few months, the head honcho of T-Series has much to be proud about. His company now officially has the world's largest YouTube channel and it recently reached another milestone of 100 million YT subscribers.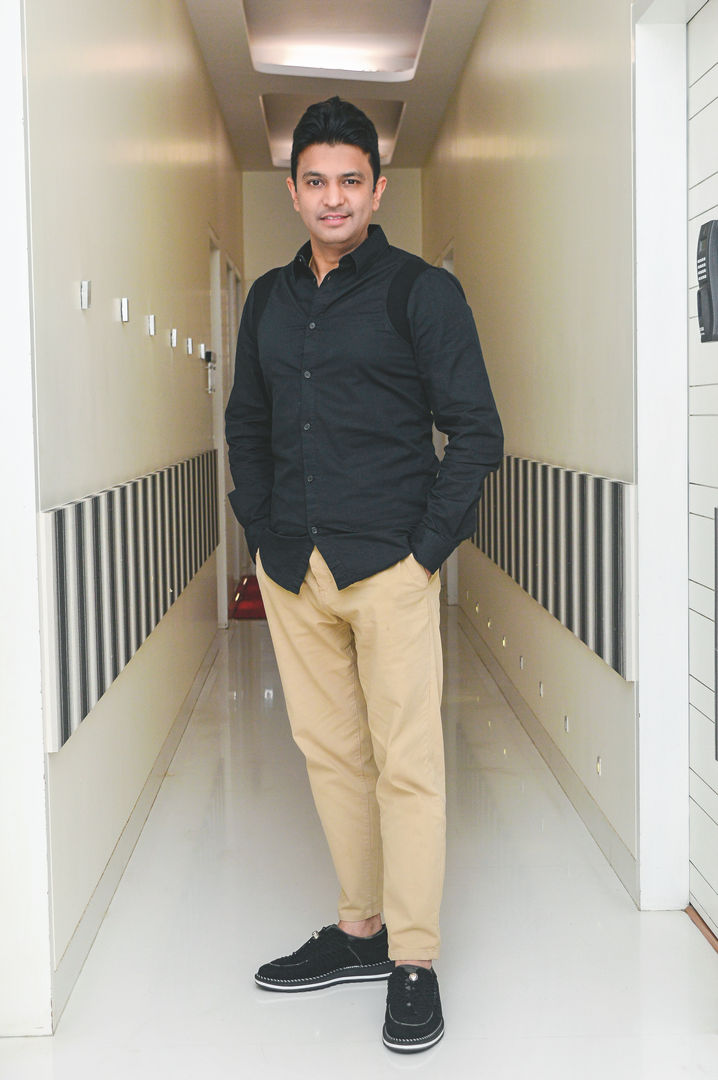 Bhushan Kumar
The credit for the phenomenal success goes entirely to Bhushan, who has not just inherited his late father, Gulshan Kumar's famed ear for music but also his business acumen. Over the years, the music company has transformed into a production giant, making blockbuster films, forging international collaborations, discovering new talent in music and cinema and now, stepping to the realm of web content. So what makes one of most powerful men of Bollywood tick? Excerpts from an elaborate chat conducted in Dubai…
You have shot in the UAE before, does T-Series have more plans for the Middle East?
Not just movies, we have shot many music videos here too. A lot of Bharat was shot in Abu Dhabi and now we have ABCD coming up. It's very comfortable as compared to some places in India where it might take ages to get permission and get other logistics ready.
Musically, we have done a lot in this region. For instance, we have collaborated with Arabic artistes in the past. The Nora Fatehi number (Dilbar Dilbar) was remixed to give an Arabic touch. Such measures were very well received in the Gulf and as is well known, the locals love Bollywood films and music. However, we don't have anything tailored specifically for the Middle East as I believe sensibilities are the same and the music, movies and lyrics are accepted the way they are.
You will be entering the web-series arena. How will you stand out given that this area is so crowded already?
When T-Series started making films, there were already big filmmakers and studios in the game. But we came in, brought great content which translated into successful movies and today, we are doing all kinds of films with the biggest stars. From Salman Khan, Ajay Devgn and Ranbir Kapoor to fresh stars like Kartik Aaryan, Rajkummar Rao and Sidharth Malhotra… we are making movies with all of them. It's the same principle. The platforms commissioning content – like Netflix, Hotstar, Amazon etc – are already buying movies from us. So they are keen to get specifically made content from us with focus on music since that's our core. So far we have been creating great music and using it in a film…it's the same format for web shows as well.
Will it be original or remixed/recreated music?
It depends. See for me, even recreated music – which may be criticized by around 10 per cent of the audience on social media – is tough work. I am focused on the 90 per cent audience that is accepting this music. It's not just a simple remix of an old hit song. There is a lot of effort that goes into it and it's sometimes more difficult than an original number.
A lot has been written and said about T-Series becoming the number 1 channel and most viewed on YouTube. What next after this recognition?
It was never my intention to become number 1 or 2. But because of this we have got a lot of recognition around the world and a number of collaboration opportunities have emerged, including some from the Arab world. I believe it's all because of the audience who have loved and subscribed to our content. A lot of people ask me how this (the YouTube achievement) happened? Is it because of cheap data in India? My answer: even if data is free, would you go to something if you don't like it?
Digital music has revolutionized the game and you were among the first to understand and explore it. How did it happen?
Well, we have to move with the times. We changed from cassettes to CDs to DVDs, Pendrives and then to mobile phones and mobile platforms. You can't remain stuck. But yes, I am still a bit emotional about audio cassettes. Before that, during my father's time, it was LP records that were popular. Even now, there are filmmakers like Sanjay Leela Bhansali who is very fond of LPs because of the emotional and nostalgic value.
Do you personally miss it?
I still remember when I took over the business about 20 years back, we used to sell eight lakh cassettes per day. But then piracy was a big problem. Three or four days of the week used to be spent only in tackling piracy which was eating away our business. Similarly, earlier, we used to sell the units to a wholesaler who would give it to a retailer and there would be a 50 or 60 day credit period…some of them would not pay, the debts would pile up and create a whole new chain of problems. But now, it's more systematic thanks to these platforms like YouTube.  Revenue sharing has become transparent and digital music has more or less killed piracy. So while I miss the days of cassettes, it's great to be in the present.
So what are the challenges now?
The biggest challenge now is to retain your audience and keep them connected to you. Thankfully we have that sensibility to know what works with people most of the time, a trait I attribute to my late father. It's a real blessing because of which T-Series has come so far in creating good content. The biggest challenge is to continue connecting with the audience so that we know what they want and we can deliver on that front.
Yes, I have heard a lot about your 'ear for music'. Do you have a similar sensibility for film scripts as well?
We are still reaching towards that goal. We are making multiple movies and analyzing what people want to watch. So if we make 20 movies, out of which 10 become super-hits and four or five become average, we come to know what kind of cinema people want and what they reject. We learn from our mistakes and thus are reaching the ratio of correct predictions in films the way we do in music. But with respect to films, my team and I can only listen to a script; it's the director's job to execute it. There have been occasions when we don't see on screen what we have heard about the film. That's why good directors are so important. Thankfully, our ratio this year is good. Why Cheat India didn't work but De De Pyaar De, Kabir Singh and Bharat were big hits.
Isn't the film business far more unpredictable than the music industry?
It's not that unpredictable, you just need to understand what people want to watch. I am happy that we have a mixed bouquet on our plate. Pagalpanti which is an out and out comedy. Then sensible comedies like De De Pyaar De, Chupke Chupke (with Rajkummar Rao) and Pati Patni Aur Woh remake, a historical films (Tanaji with Ajay Devgn) and a war film (Bhuj). The idea is – give people what they want so that they are entertained, whatever be the genre. Their minds need to be engaged for the period that they are there in the cinema.
Leave aside what people want, what is your choice of movie and music?
I have no choice.
How is that possible?
Really I don't have any choice! I don't listen to any personal favorite music. I don't listen to any released song of mine also because my time and my mind is fully occupied with songs that are forthcoming. So I don't have any personal favorites. I like what audience like, so I just make for them.
Does the same apply to films?
Yes! Since that's the USP I am following for music, it works for me in films too. I definitely watch English movies occasionally. Otherwise I just watch films to see what have worked. Like Uri and Badhaai Ho in recent times.
How many hours do you work in a day?
I don't calculate as such. But I think it's about 12-14 hours.
And you are constantly thinking and planning ahead…
Yes, even at night. Whatever comes to my mind I immediately execute it.
For a lot of adults today, the 90s music what defined their childhood. And that decade belonged to T-Series and Gulshan Kumar. What music did you love as a youngster, before you took over the business?
That time it was pure melody. I used to love 'Aashiqui' music. I still remember my father was releasing the music of Aashiqui which became a huge hit and a personal favorite. I used to love songs of Phool Aur Kaante and Hum Aapke Hain Koun too.
Among the directors you're working with, who would you say has the music sensibility that matches yours the most?
I can't name them. I have too many relationships. And everybody is very touchy about these things!
Really? Okay, so whose music sensibility do you admire?
Please don't ask me that too, because I can't name one person. Everybody feels, "I know how to make great music" and with due respect, they know to a certain extent. But it's always a combination which works.
How much of your decisions are business-oriented and how much are they creative?
You have to see both as I am running a business and putting investment into it. Sometimes songs cost a crore to make so obviously, there has to be a business angle to it. But yes it has to be a match of business, creativity, sensibility and requirement.
For all the latest Bollywood News and gossip, follow us on Twitter & Instagram, like us on Facebook and subscribe to our channel YouTube. New videos up every day!
Comments