Celebrities
Bewafa: Does This Show Offer Anything New Or Is It An Old Story in New Packaging?
In Bewafa, Ali Rehman's Ahaan is caught between his two wives, played by Naveen Waqar and Ushna Shah, two women fighting for his attention in a frustrating tale
Back in 2014, Fahad Mustafa produced a show called "Dusri Biwi."  This show was his last as a drama actor, though he continues to produce shows to date.  With "Dusri Biwi," Fahad Mustafa stated that the show would shed light on the circumstances in which a man chooses to remarry, humanizing not only the man and his decisions, but also allowing the audience to sympathize with the 2nd wife and first wife alike, creating three relatable characters in a difficult situation.  Did the show pan out the way he intended?  According to this viewer, definitely not.  "Dusri Biwi" proceeded to play on the notion that Fahad's character had no choice but to marry his second wife (this was not true) and also attempted to portray Maha Warsi's character as this pure innocent who needed protection – forget the fact that she was pining over a married man from the get-go.  Fahad's character is seen as happily married to Hareem Farooq and the two are madly in love.  It's bizarre then that he chooses to remarry his co-worker to "protect" her and proceeds to lie to his wife for months about his second marriage, brushes away her anger and complaints over betrayal and neglects her and his daughter for his younger, newer wife.  The show ends with the first wife, after losing her sanity and attempting to murder the second wife's unborn child, accepting her fate and happily welcoming her husband and his wife home with the new baby.
Why are we discussing a show that is five years old?  Well, because that show claimed to offer something new, something that would not demonize the characters – and yet it ended up being a show that tried to put two people who did something questionable on a pedestal and demonized the first wife, the woman who was actually wronged.  "Bewafa" is a show that is also produced by Fahad Mustafa and comes five years later, based upon the topic of, you guessed it, a man with two wives.
At the onset, "Bewafa" also promises to offer something different.  The summary of Bewafa says "Bewafa depicts how a relationship can fall apart because of a wife's extremely possessive and distrusting nature which drives the husband to do exactly what the wife fears the most" (ARY Digital).  Ali Rehman plays Ahaan, while Naveen Waqar plays Kinza.  Ahaan and Kinza seem very much in love in the first episode, though they clearly do have their share of problems.  However, right away, the show's summary alone is placing blame on Kinza's suspicious nature, downplaying the fact that her husband is having an affair and she suspects something is amiss and, therefore, begins snooping.  This is not to say that the character of Kinza is entirely stable – she is a suspicious woman, but this does not excuse the fact that Arhaan goes out of his way to have a "friendship" with a woman he knows his wife has a problem with and then proceeds to marry her in secret.
At present, Kinza has welcomed Shireen (Ushna Shah) into her house, because she does not want her son to grow up without a present father and wants Arhaan under her own roof.  And while Shireen is currently at the "mercy" of Kinza with Kinza calling all the shots, it's clear that this is yet another game of a manipulator biding her time to bring down the first wife.  Shireen is seen acting and attempting to win over her husband, mother-in-law and stepson, hoping to isolate and retaliate against Kinza…..retaliation for being angry that Shireen married her husband.  Unfortunately, at present, this does not seem to be a story that "depicts how a relationship can fall apart due to a wife's suspicious nature."  Rather, it appears to be a story of a conniving woman who has found her way into an already-married man's home and is out to make it her own, eliminating the first wife entirely.  Think "Balaa," but less extreme.  And while this story may sound interesting to some, ask this question:  Do we really need more dramas that pit women against each other?  Is this what women are out there doing in this world – plotting on how to steal husbands?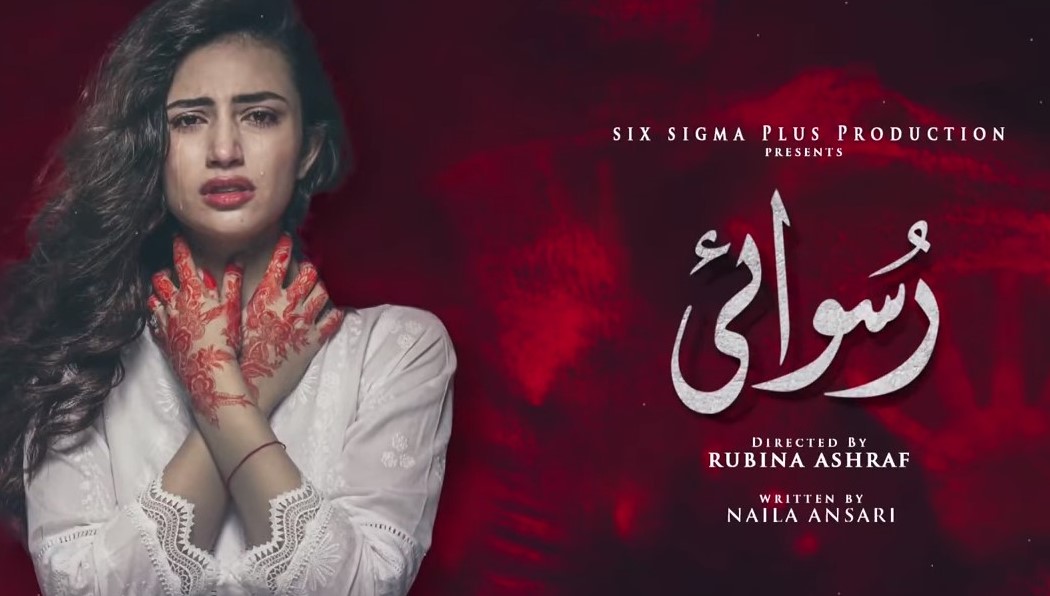 Ruswai
At a time where Pakistani television has real gems on air like "Ishq Zahe Naseeb," "Alif," "Ehd E Wafa," "Ye Dil Mera," "Ruswai," "Meray Pass Tum Ho," "Daasi" and even the recently concluded "Khaas," a show like "Bewafa" comes across as a show following the usual Masala route of depicting women in pain and misery over betrayal and lack of control over their circumstances.