Bollywood News
Bappi Lahiri's 1980s Hit Used For Ayushmann Khurrana's Latest Film
The song 'Yaar Bina Chaiin Kahaan re' first appeared in the Anil Kapoor starrer 'Saheb'
Hours after Ayushmann Khurrana and Jitendra Kumar's version of Bappi Lahiri's chartbuster  Yaar bina chain kahan re - the Bappi-S Janaki ditty from the 1980s Anil Kapoor-Amrita Singh flop Saheb - came out, I asked the imperishable Bappida  what it felt like to feature in the new retro version of his old hit song (in  a flop film).
Bappi with unflagging enthusiasm said, "It was a terrific experience. The song has been re-done in full retro style. Ayushmann was just fantastic. He danced and sang the song with unstoppable enthusiasm. I enjoyed doing the song again."
The song which has been shot for Shubh Mangal Zyada Saavdhan with the core cast Gajraj Rao, Neena Gupta, Manvi Gangoo in retro clothes and dance steps (bell bottoms, bouffant, John Travolta and Bappi Lahiri!!!) is  suffused in the spirit of defiant inclusiveness. Ayushmann Khurrana and his partner Jitendra Kumar dance in everybody's face, as though to tell the world that they are no longer afraid to pull the plug on conventional love songs and use them to construct a case for a different kind of love story.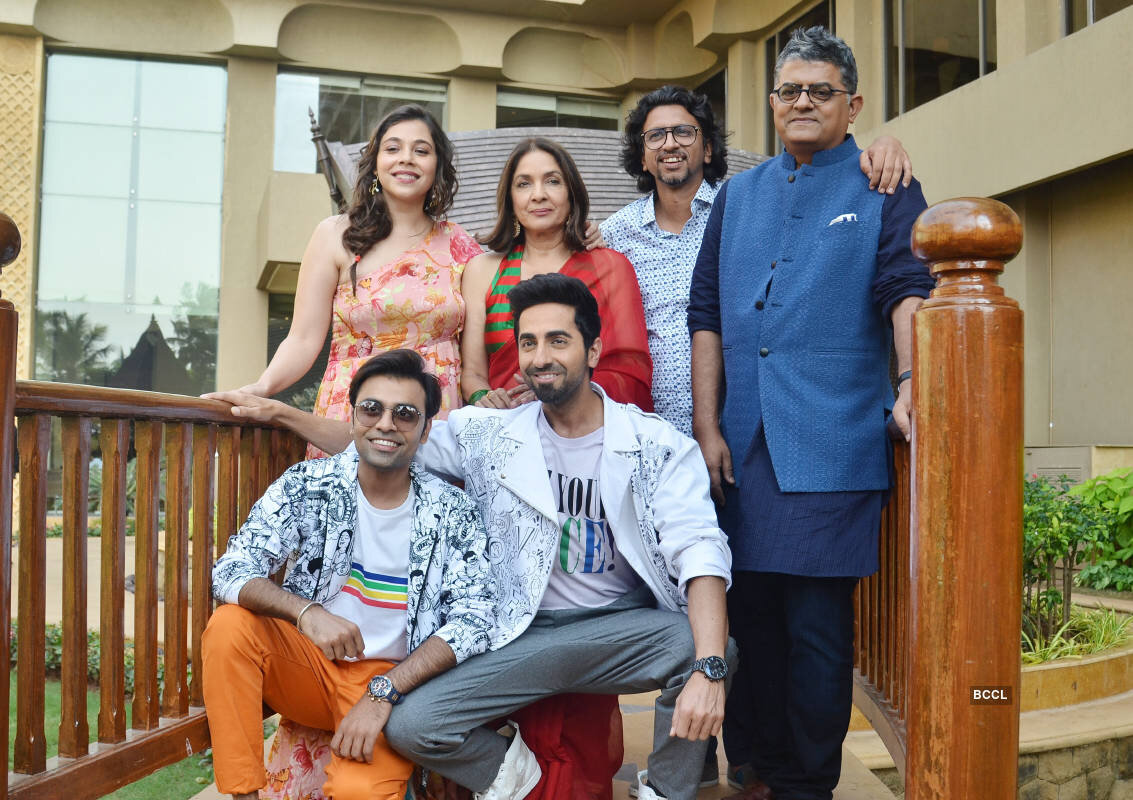 Ayushmann Khurrana with the core cast of his upcoming film Shubh Mangal Zyada Saavdhan
For example, in addition to the original lyrics in Yaar bina, Ayushmann sings Bas yehi apraadh main har baar karta hoon aadmi hoon aadmi se pyar karta hoon, a song by Mukesh in the Manoj Kumar starrer Pehchaan. The lyric had no suggestive tones when it came out. Today, Ayushmann twists and tweaks the original and gives it a different spin altogether.
Bappi Lahiri who makes an appearance in the song actually seems to enjoy seeing his number get a new life. It's called life-remixed.