Bollywood News
Bajrangi Bhaijaan: The Effects of Obsessing Crazily Over Salman Khan!
As the Salman Khan obsession goes beyond the average cine-goer, we bring you the best three ways in which it has been used to spread a message of peace, love and education.
There are stars and there are stars. But every now and then you come across filmstars who for reasons unfathomable become larger than life, commanding a kind of fan following bordering into something that can only be described as a frenzied obsession. One such superstar is none other then 'actor' Salman Khan, who in our opinion is really more star than actor, who after a turbulent legal battle and dramatic court scene is now back with Bajrangi Bhaijaan, another blockbuster which has already crossed the 100 crore benchmark. While we're sure director Kabir Khan is talented, we cannot completely discount the fact that the film's success is largely due to the cult-like fan fallowing that Salman Khan garners!
Riotous fans expressing their love on one hand and Salman's fans considering his home, at Galaxy Apartments, as a temple on another; Bajrangi Bhaijaan opened to a stupendous response at the box-office and his fans, who were eagerly waiting for the film, were even seen performing an elaborate doodh abhishek on the first day of its release outside a cinema hall! But this time the film's popularity seems to have touched different aspects altogether. 
Take for instance the 'Utterly Butterly Amul' girl. The campaign seems to have captured the essence of the film completely!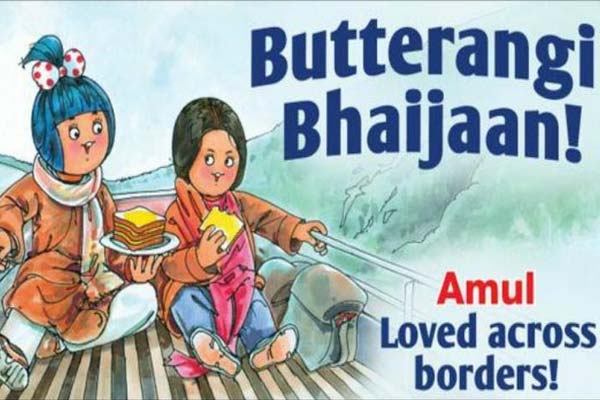 Secondly, a report in Hindustan.com said that the film has once again motivated Pakistani activists to reunite an Indian girl stranded on the other side of the border with her family. Human rights activist Ansar Burney who had made efforts earlier in 2012 to find leads as to where the girl was from met with a dead end everytime, however the film seems to have once again motivated the activists to return the girl to her family.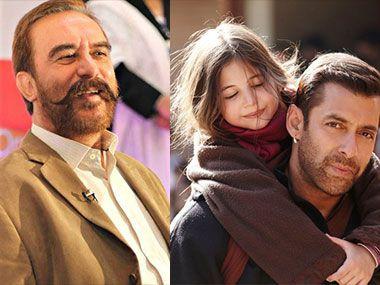 Lastly, it is heartwarming to see that a commercial film like Bajrangi Bhaijaan can be creatively converted to a tool for education! Geography With Bajrangi Bhaijaan is a fun educational book based on the film Bajrangi Bhaijaan which was released in July 2015. A little girl gets separated from her mother at the train station. She cannot read, write or speak. She is lost and helpless. She sees a man singing in the distance. He seems to have a number of followers. They fondly call him "Bajrangi Bhaijaan". She approaches him for help, but since she cannot speak, he cannot figure where she is from. So he starts saying the names of cities, and asks her to raise her hand when he has the right answer. In the process he goes through several towns and cities of India, and some neighbouring countries. The book is beautifully illustrated and every town or city mentioned has some special information about it. A visually delightful book with interesting geographical information.