Celebrities
#BAFTASSoWhite Trends on Twitter Post BAFTA Nominations
After BAFTA Nominations were released, #BAFTASSoWhite began trending on Twitter, pointing out the lack of diversity in the nominations
The BAFTA nominations are out and a lot of people aren't happy. For good reason. There has been a lack of diversity, especially in the categories which laud best performances of the year. Social media was abuzz with the hashtag #BAFTAsSoWhite where different users expressed with how upset they were at their known favorites of the year being snubbed at the prestigious award show.
A user said lamented that Jennifer Lopez, Lupita Nyong'o, Awkwafina or any of the Parasite actors were nominated Murphy.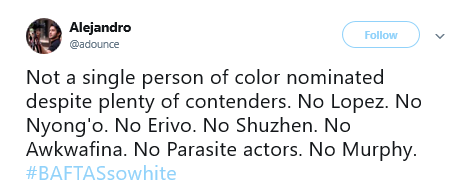 Some said that this wasn't about 'forced diversity'.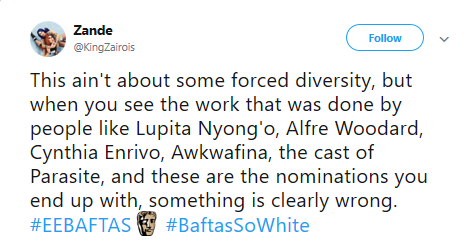 A user expressed her dismay stating that there were no nominations for Us, Blue Story, Harriet and Queen and Slim.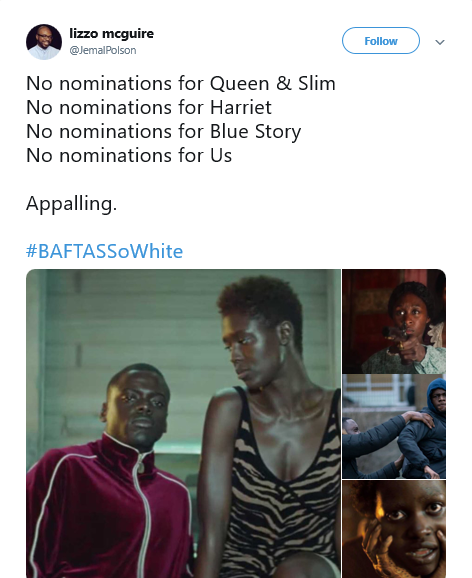 A user pointed out that Denzel Washington and Morgan Freeman had never been nominated for BAFTAs, outlining a racist pattern.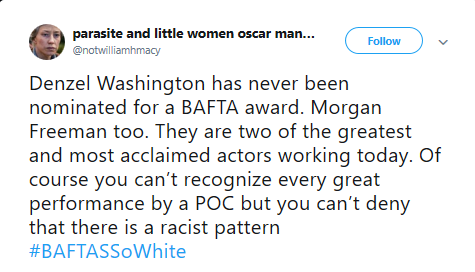 One user expressed her disappointment at how every time a hashtag around the same issue trends for the stakeholders to notice the racism.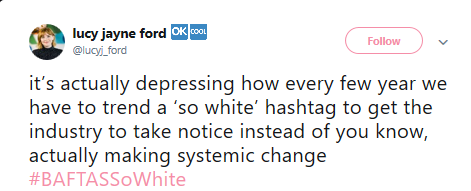 Lupita Nyong'o was especially praised for her performance and some said that she was better than all her fellow nominees.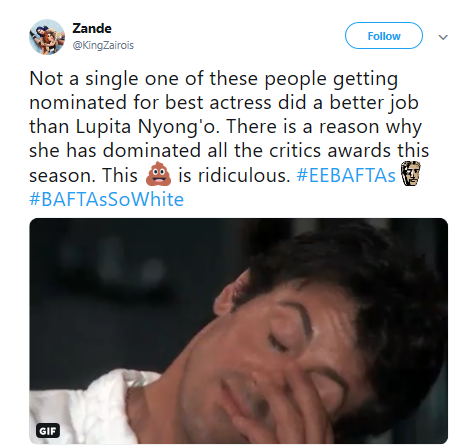 Some shared photos of JLo, Lupita Nyongo and Bong Joon-Ho's film Parasite saying that they were snubbed.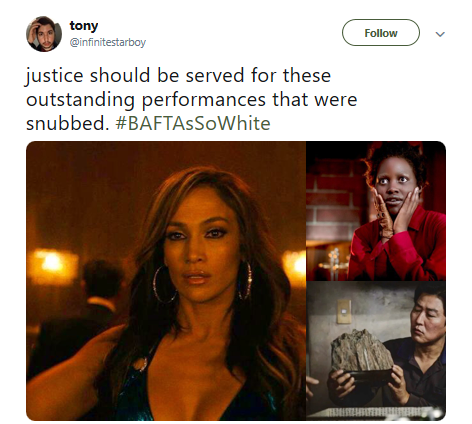 BAFTA talked to Hollywood Reporter after its nominations but some on Twitter questioned the decision asking – 'the films were made and entered and seen – so what's the excuse?'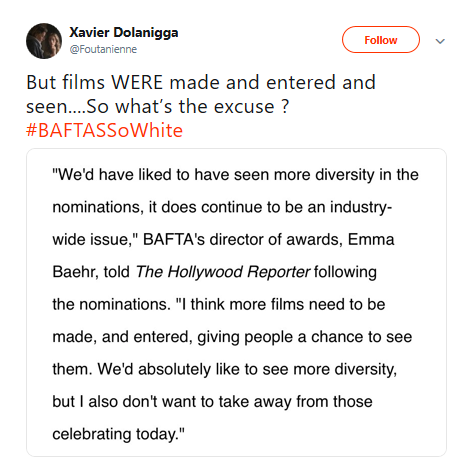 Some poked sly fun at Scarlett Johansson who was in the thick of controversy earlier for being cast in a role that wasn't … well, of a white woman.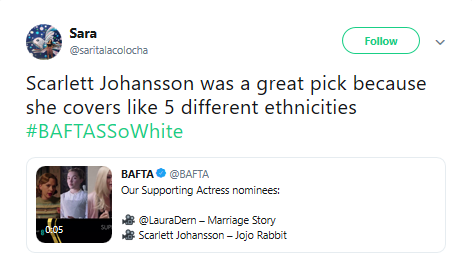 Some even questioned if the names had been changed at the last minute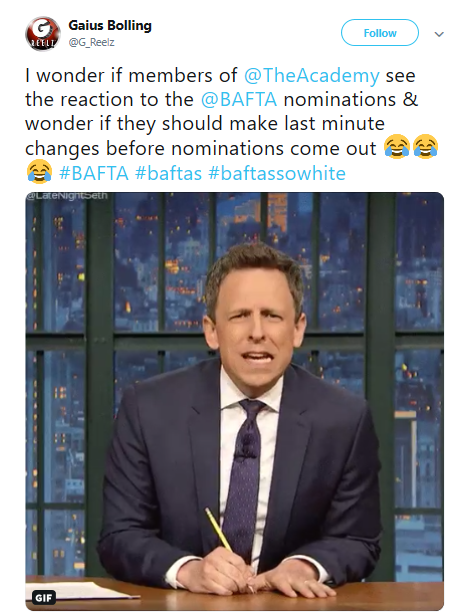 While Parasite was nominated in the Best Film category along with 1917, The Irishman, Joker and Once Upon a Time in Hollywood, Bong Joon-Ho was nominated along with Sam Mendes (1917), Martin Scorsese (The Irishman), Todd Phillips (Joker), Quentin Tarantino (Once Upon a Time... in Hollywood) for Best Director, the technical crew for Parasite was snubbed.
In the leading actress category, Jessie Buckley (Wild Rose), Scarlett Johansson (Marriage Story), Saoirse Ronan (Little Women), Charlize Theron (Bombshell) and Renée Zellweger (Judy) were nominated and Lupita N'yongo's performance in Us was ignored. Lupita had won the New York Film Critics Circle Award for Best Actress for her role as Adelaide Wilson/Red in Jordan Peele's horror film Us.
The Best Actor in a Leading Role was also mostly white. Leonardo DiCaprio (Once Upon a Time... in Hollywood), Joaquin Phoenix (Joker), Adam Driver (Marriage Story) Taron Egerton (Rocketman) and Jonathan Pryce ( The Two Popes ) were there as nominees.
The Best Supporting Actor was also a category that remained white. Tom Hanks (A Beautiful Day In The Neighborhood), Anthony Hopkins (The Two Popes), Al Pacino (The Irishman), Joe Pesci (The Irishman) and Brad Pitt (Once Upon A Time ... In Hollywood) were nominated.  Supporting Actress category included Laura Dern (Marriage Story), Scarlett Johansson (Jojo Rabbit), Florence Pugh (Little Women) Margot Robbie (Bombshell  and  Once Upon a Time... in Hollywood) which is also an all-white female nominee list.
The category of Original Screenplay included Han Jin Won (for Parasite) along with Susanna Fogel, Emily Halpern, Sarah Haskins, Katie Silberman (Booksmart), Rian Johnson (Knives Out), Noah Baumbach (Marriage Story), Quentin Tarantino (Once Upon a Time... In Hollywood). The category of the Outstanding Debut by a British Writer, Director or Producer included Peruvian Álvaro Delgado-Aparicio (Retablo) and Syrian filmmaker Waad al-Kateab with Edward Watts (For Sama), with Mark Jenkin, Kate Byers, Linn Waite (Bait), Alex Holmes (Maiden) and Harry Wootliff (Only You). Suffice to say that despite some nominations for Parasite, the BAFTAS, indeed, remained overwhelmingly white.