Bollywood News
Ayushmann Khurrana: 'I Have Always Started With a Plan B'
Ayushmann Khurrana gets candid about his inspiration, his loves, his craft and philosophy in this exclusive chat with Masala!
Summer of 2012. A young actor walked into the Masala! office with his producer during the promotional rounds of his debut film. The duo made for a charming pair. The producer (a leading star himself) was all confident, talking box-office numbers, cinema and his vision for taking up unique subjects for his production house. The actor, all eager and enthusiastic, echoed his filmmaker's views, chipping in with his own thoughts, ideas and dreams of making it in the industry. Frankly, neither the audience nor we, the media, were too sure about their project – it seemed one of those small-budget, indie films with a bizarre storyline and unknown faces. Few weeks down the line though, we started singing a different tune. Cinephiles embraced the film whole-heartedly, writers couldn't stop raving about the bold subject and fantastic treatment while discerning cinema lovers declared the movie to be one of the foremost steps in changing the grammar of Bollywood.  They couldn't have been more right.
Ayushmann Khurrana
The film was Vicky Donor, the producer John Abraham, and the actor – a TV host, singer and reality show winner, Ayushmann Khurrana.
CUT TO 2019
Ayushmann Khurrana has just won another award for his brilliant performance as a blind pianist in Andhadhun. His name has become synonymous with 'new-age' 'content-rich', 'realistic' cinema. Trade pundits have started whispering about his increased (and very well-deserved) fee hike while glossy magazines have rediscovered a hot new cover-boy. His support for wife Tahira Kashyap as she battles cancer has won him even more fans than before while his progressive cinema has endeared him to liberal men and women alike. Yup. It's a great time to be Ayushmann Khurrana. Pop the bubbly and raise a toast! Or let's just say Badhaai Ho once again!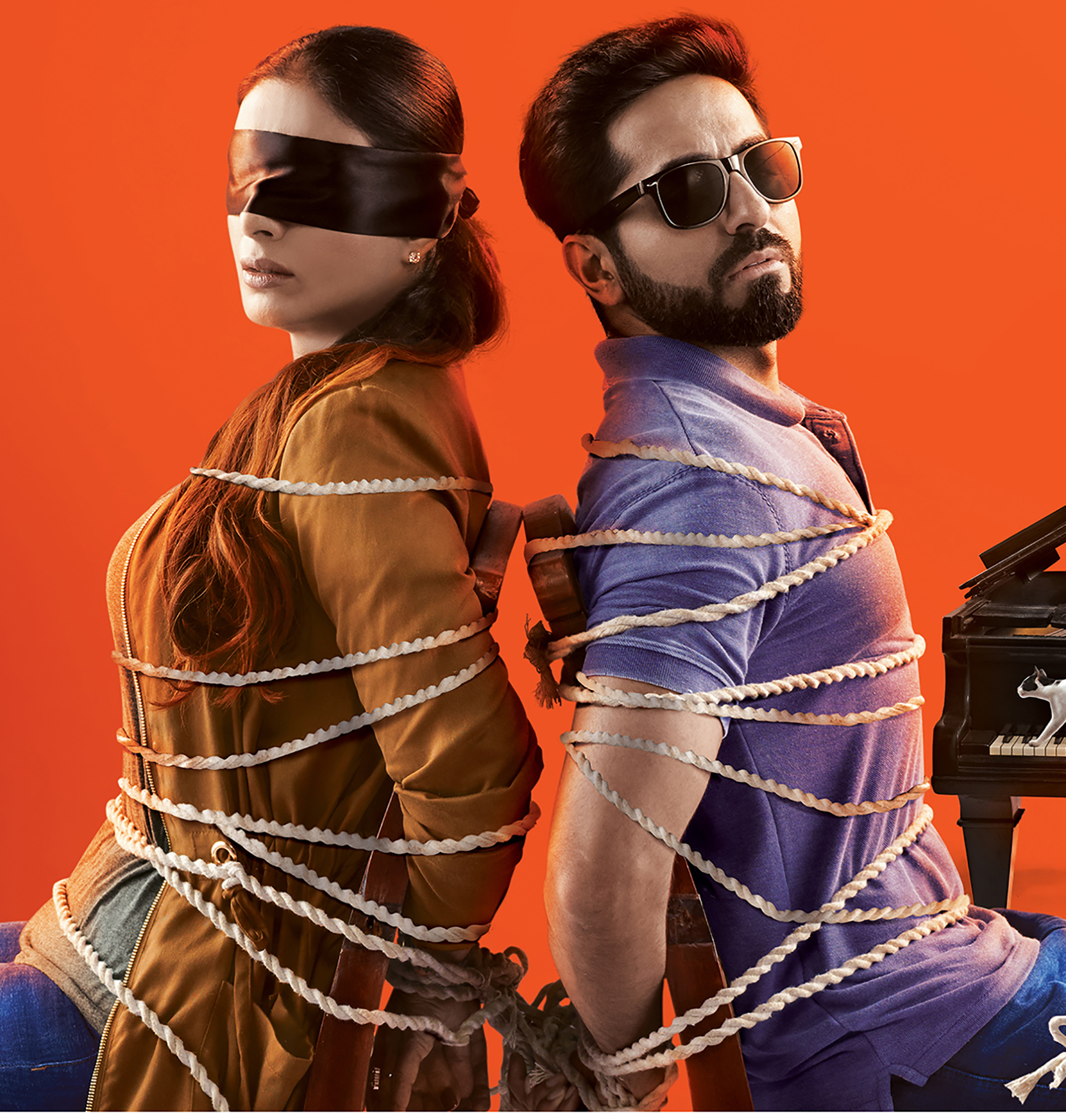 A still from Andhadhun 
Enough and more has been said and written about his winning spree in the last two years. (For those who came in late, here's the list of five back-to-back superhits  – Dum Laga Ke Haisha, Badhaai Ho, Andhadhun, Shubh Mangal Savdhaan and Bareilly ki Barfi – a feat even the once-mighty Khans would envy!). But what sets his record apart is that each of these have also won the approval of the most discerning critics. It is as much a statement on the changed tastes of the average film buff as it is to the temperament of actors like Ayushmann who have, in their own way, continuously pushed the boundaries. "But that was always the idea," says the actor. "The objective was to create a special niche for yourself. The journey started from Vicky Donor which worked well in the commercial space as well, reaching out to the masses in a big way. I just continued in that space and tonality."
Be that as it may but box-office numbers bring pressure. Right? "I think it's good to have expectations!" he counters. "If you see, my films from the past too have always been slow starters. But of course, 2018 was different especially with Andhadhun and Badhaai Ho which took off right from day one."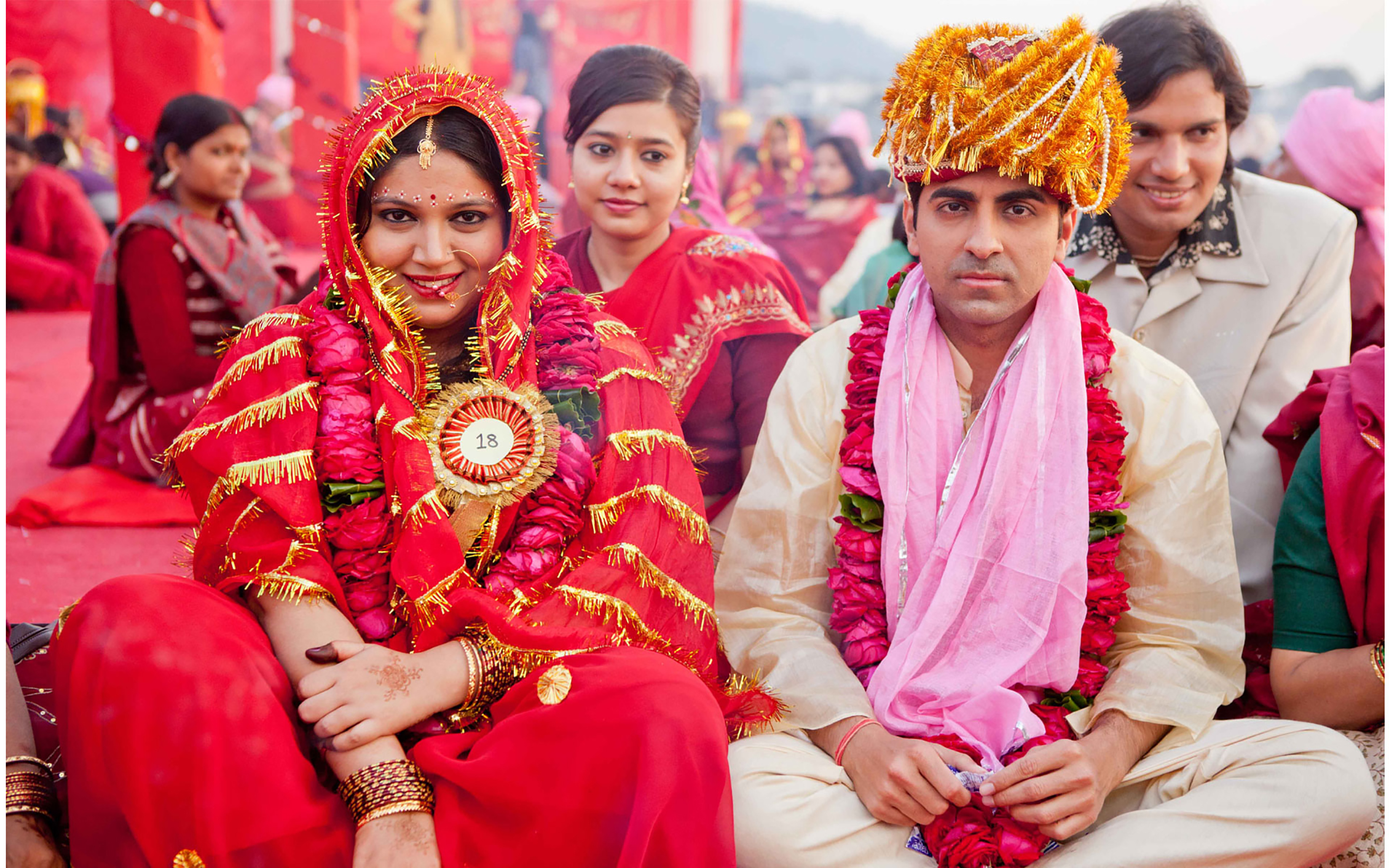 Still from Dum Laga ke Haisha
Even if we sidestep the box office aside for a moment (though of course Bollywood loves stars who can bring in the numbers), Ayushmann's choice of films has been much admired. He seems to have copyrighted the middle-of-the-road, slice-of-life, realistic funny movie scene. But strangely, has it coincided with the death of the larger-than-life masala hero? (Case in point: Thugs of Hindostan, Zero, Race 3). "I would call it the rise of realism, I have always supported realistic films that a common man can identify with," he says. "I don't go around looking for specific stories, I just look for novelty. I don't want a reference point when choosing a film. What I am hungry for is a good concept as ultimately, what matters is a good marriage between a unique concept and entertainment. As actors, you get all sorts of scripts but your choices make your destiny," says the star, counting Shoojit Sircar, Shimit Amin ("he really needs to come out of hibernation") and Shakun Batra among the directors he would like to work with next.
We chat more about his craft. Ayushmann may sound unassuming and casual about his choice but fact is that he goes the extra mile to make the difference. His theatre experiences have certainly stood him in good stead. Drawing from his own experiences growing up in a middle class family to working hard on getting the accents, body language and reactions right for this characters, Ayushmann says acting is all about being one with the milieu. "For instance, the world you see in Badhaai Ho… I have been among such people since childhood. And even if you aren't aware of that space, those quirks… you have to work on it." Just like he worked hard playing a pianist in Andhadhun, practising six hours a day to get the notes and chords perfect. He admits that Andhadhun and Dum Laga ke Haisha were the toughest films he worked on. "The Hardwar accent in Dum… and the piano in Andhadhun were quite difficult to master."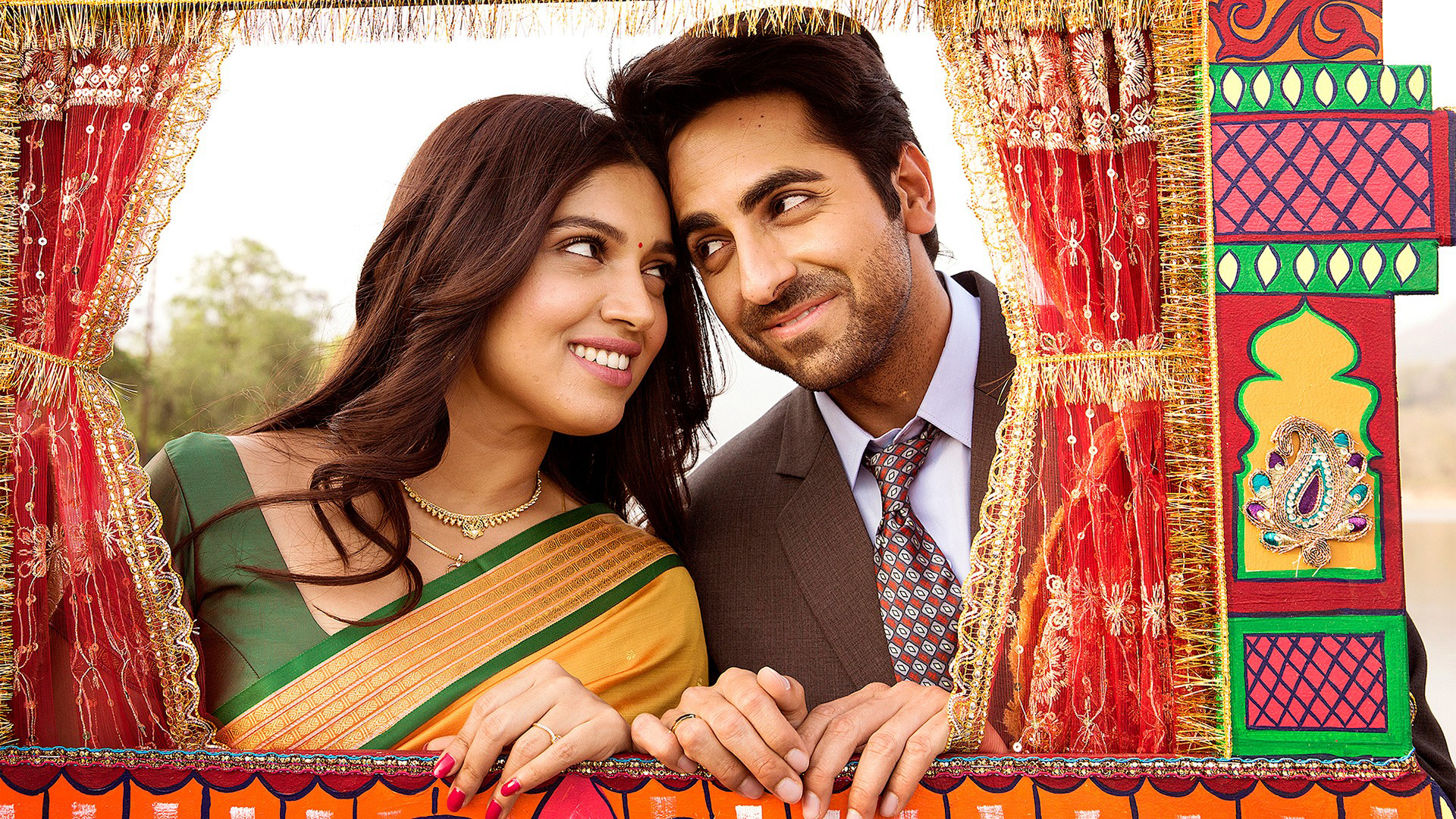 Still from Shubh Mangal Savdhaan
It helps that Ayushmann has a genuine interest in literature, poetry and the like. It may be quite rare for a Bollywood star but his sensibilities have been honed by his reading habits, especially autobiographies. "My mother is an MA in Hindi so we had access to Hindi literature. I believe till the time you do not know your country well, you can't really perform in certain roles. You can be global yet be very rooted," he adds thoughtfully.
Spoken like a consummate, experienced actor, we guess! A look back into his life reveals a versatile career graph. "I have always started with Plan B," he quips when I ask him about his varied interests – poetry, music, radio and film. "My plan was to become an actor and along the way to that destination I studied journalism, did radio, focused on music etc. When you have many plans and are multi-faceted, you become secure in life."
I am curious about his poetry, which he shares occasionally on his social media. What inspires him? "General life," comes the answer. "It could be anything. I mostly write in flights, when I am travelling. I can write in solitude or when people are around; there is no rule to it. At the same time, when you love life, literature and people in general, it's easy to be inspired."
Inspiration also comes from close quarters – like his lovely wife Tahira. Talk to him about his wife and he suddenly softens. Tahira herself is a filmmaker and is all set to make her debut film. Did he ever see himself in a movie directed by his wife? "I would love to! She used to be writer herself and has amazing ideas. If she has something in mind, definitely I would love to be part of it."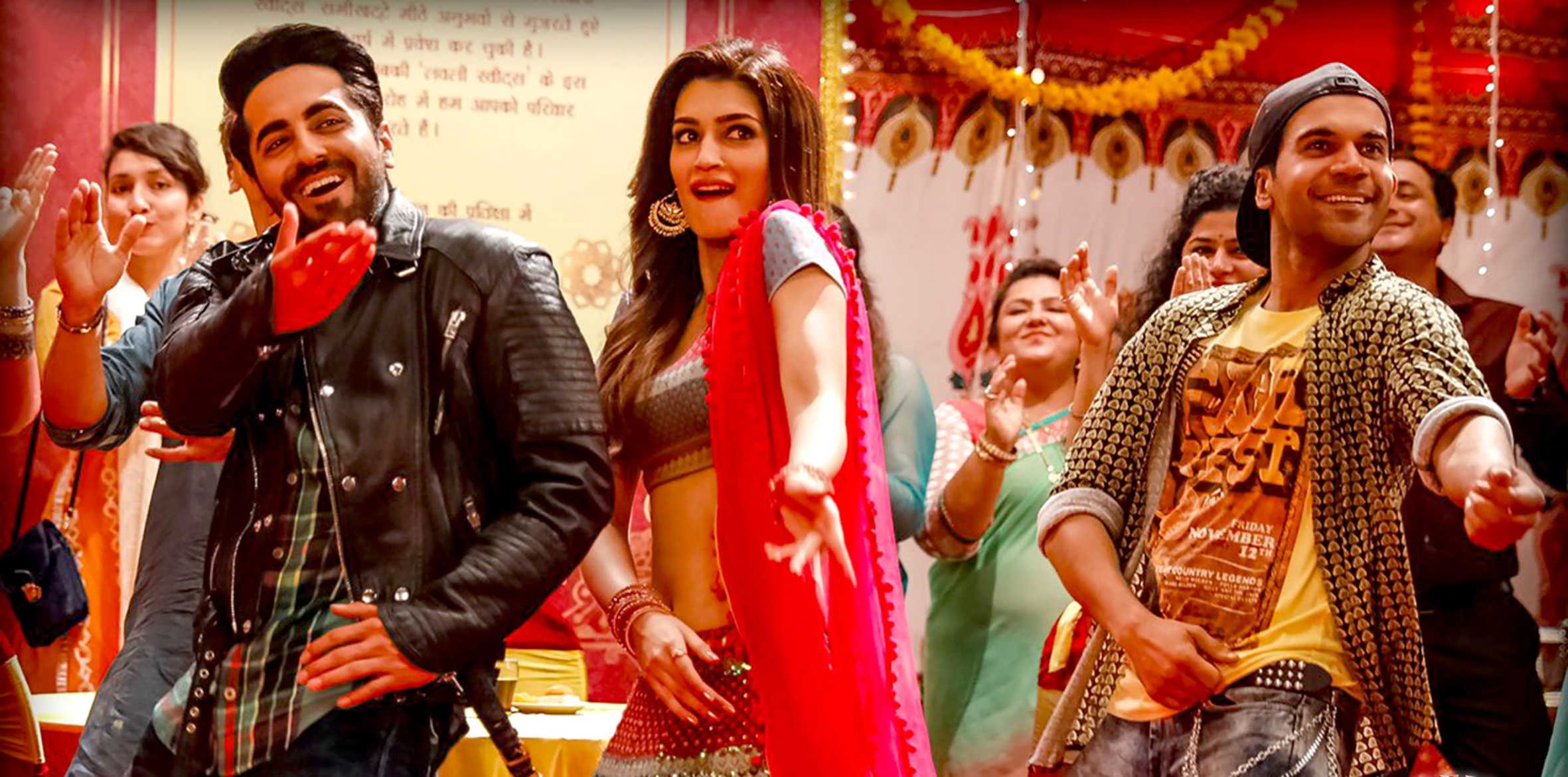 Still from Bareilly ki Barfi
Of late, Ayushmann has also become the poster child for progressive ideas that brave new Bollywood is propagating. From playing a sperm donor in his first film and tackling taboo about old-age pregnancy on screen to proving to be the supportive, doting husband off screen, Ayushamnn is the archetypal liberal-progressive man you would want to emulate. Perhaps that's why it comes across as a shock when he confesses to being a 'chauvinist' earlier. "It has been a slow metamorphosis," he says. "I came from a smaller city, studied in an all-boys school and was quite patriarchal back in the day. I was not very sympathetic towards women as I had no sister or too many female friends. But the transition started when I started dating. It was an evolution which I believe should happen with every Indian man. And that's why I feel you should study in a co-education school too!" he says.
Well, he's come a long way since his boys-school days then. Pushing the envelope with every film, being a natural trendsetter and creating a whole new niche for himself, Ayushmann is on a roll. He will now be seen as a cop in Anubhav Sinha's Article 15, which in his own words, is one of his most relevant movies ever. As we said, it's a great time to be Ayushmann Khurrana.