Fashion
Ayeza Khan, Kiran Malik Fashion Face-Off: Stars Make Bold Statement in Polka-Dotted Saris
Polka dots are the perfect way to enhance any ensemble. Ayeza Khan and Kiran Malik were both spotted in dotted saris and we decided to decode their looks
The fashion landscape is forever changing and as new trends come, old ones fade out. There are some however, that stay put from one season to the next. The year 2019 was a big one for fashion and the industry saw a huge transition towards sustainable fashion. There was lots of neon, bold colours, cutout dresses, exaggerated sleeves, pretty prints and a whole load of power suits in 2019. And as 2020 is in full swing, fashion is about to get bigger, bolder and better. New trends are making their way through and of course, the celebrities are where we first get to see the latest trends.
There are many times when a trend catches on and often, more than one celebrity is spotted wearing the trend, albeit in their own way. Scrolling through our timeline, we came across Pakistani actress, Ayeza Khan sporting some bold polka dots. More recently, Pakistani model and actress, Kiran Malik, was spotted in a similar look at the recent Hum Style Awards and of course, the first thing we thought about was a fashion face-off. We look at how both the starlets rocked a polka dotted sari in their own unique ways.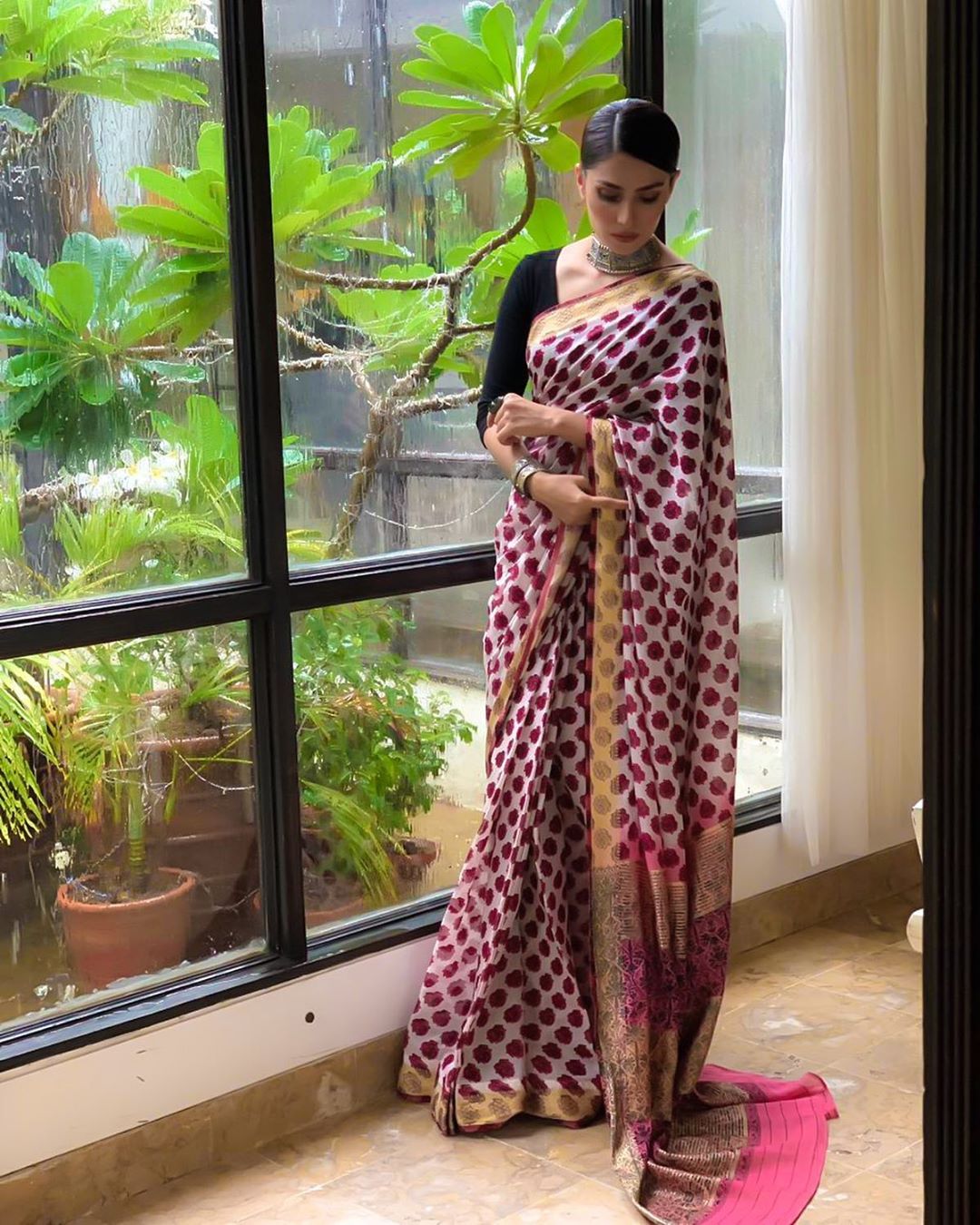 Ayeza Khan
Ayeza Khan is Pakistan's sweetheart and is an avid user of social media. She takes to her Instagram account on a regular basis to share glimpses of her life and her fashion forward looks with her fans and followers. She has recently been making headlines following the conclusion of her hit drama serial, Merey Pas Tum Ho and has also been sporting some feminine, fashion forward looks of late. A while ago, Ayeza Khan took to Instagram and shared a series of pictures of herself clad in a polka dotted sari.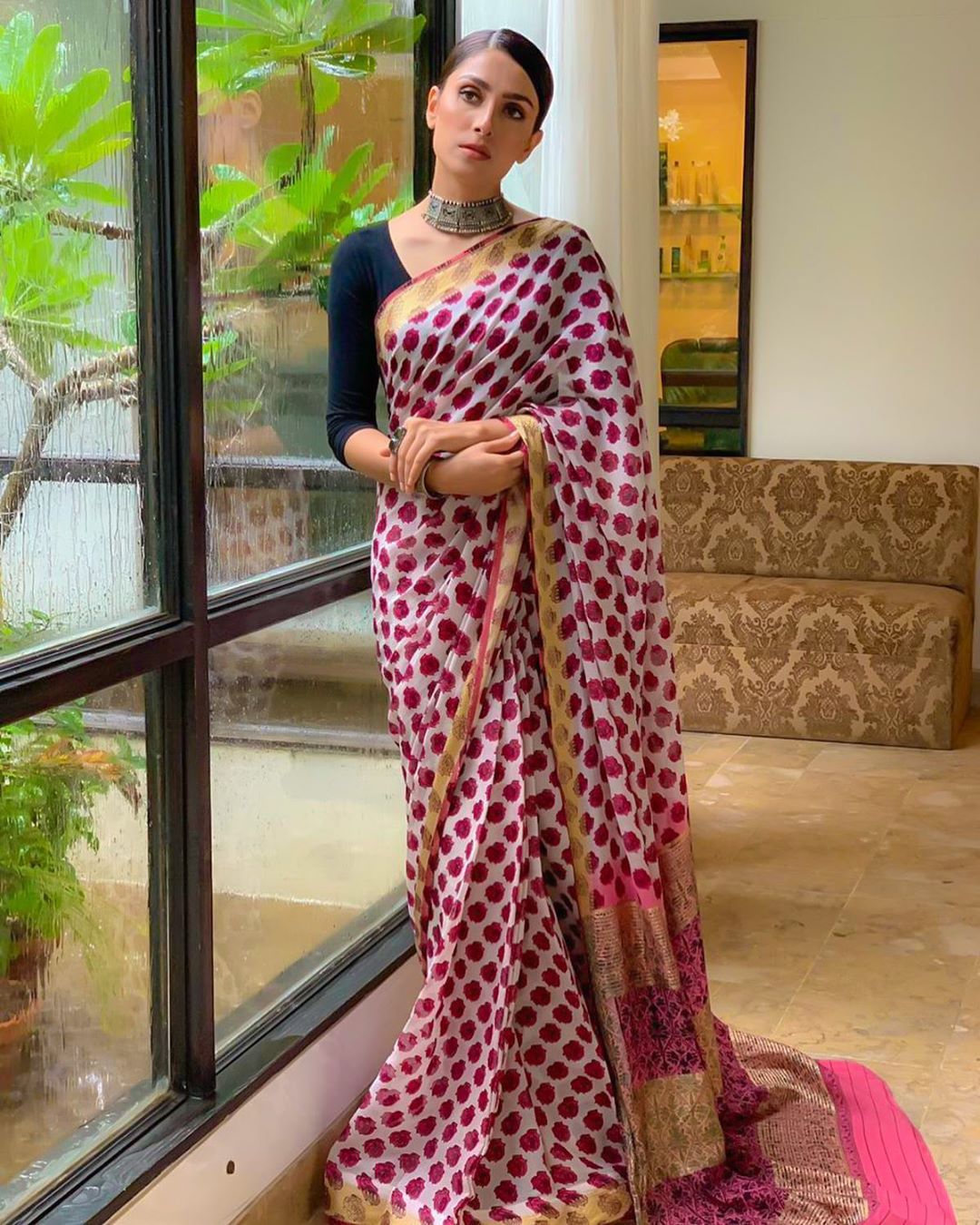 Ayeza Khan
The sari featured a thick pink border and was adorned with red polka dots all over. The sari was teamed with a black full-sleeved blouse and offset with a chunky silver choker. She further accessorized with a chunky silver bangle and a ring. Keeping the rest of her look to a minimum, Ayeza Khan allowed the polka dots to do all the talking. She opted to have her hair parted to the side and tied back in a sleek ponytail. With minimal makeup and a nude look, Ayeza Khan was hitting all the right style notes in this look.
The Hum Style Awards took place in Karachi over the weekend and celebrities came dressed to the nice to grace the red carpet in their stylish best. Actor and model, Kiran Malik too graced the red carpet and caught the attention of the paparazzi and shutterbugs. Kiran Malik was clad in a polka dotted sari by Pakistani designer Ali Xeeshan and it was a modern twist to the otherwise traditional garment.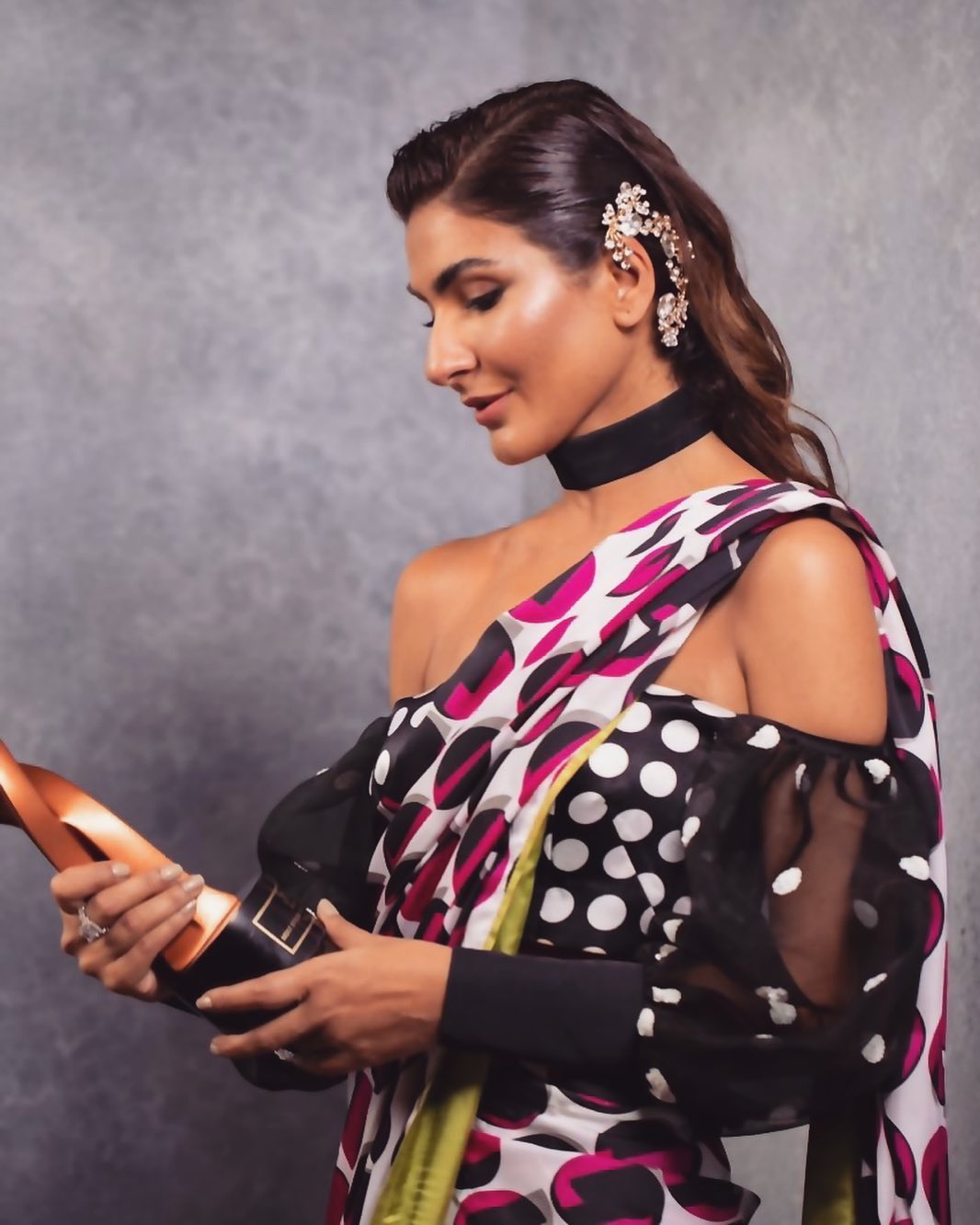 Kiran Malik
Kiran Malik's sari featured fuchsia pink and black polka dots adorned all over a white sari. The sari also featured a lime green satin border which added an extra pop of colour to her look. The sari was teamed with an unconventional off-shoulder blouse which was black, adorned with bold white polka dots. The blouse featured sheer balloon sleeves and thick cuffs. The Pinky Memsaab actress also wore a black suede choker and also wore a statement hair piece in her hair. Her side parted hair was offset against smokey eyes, a lot of bronzer and a nude lip.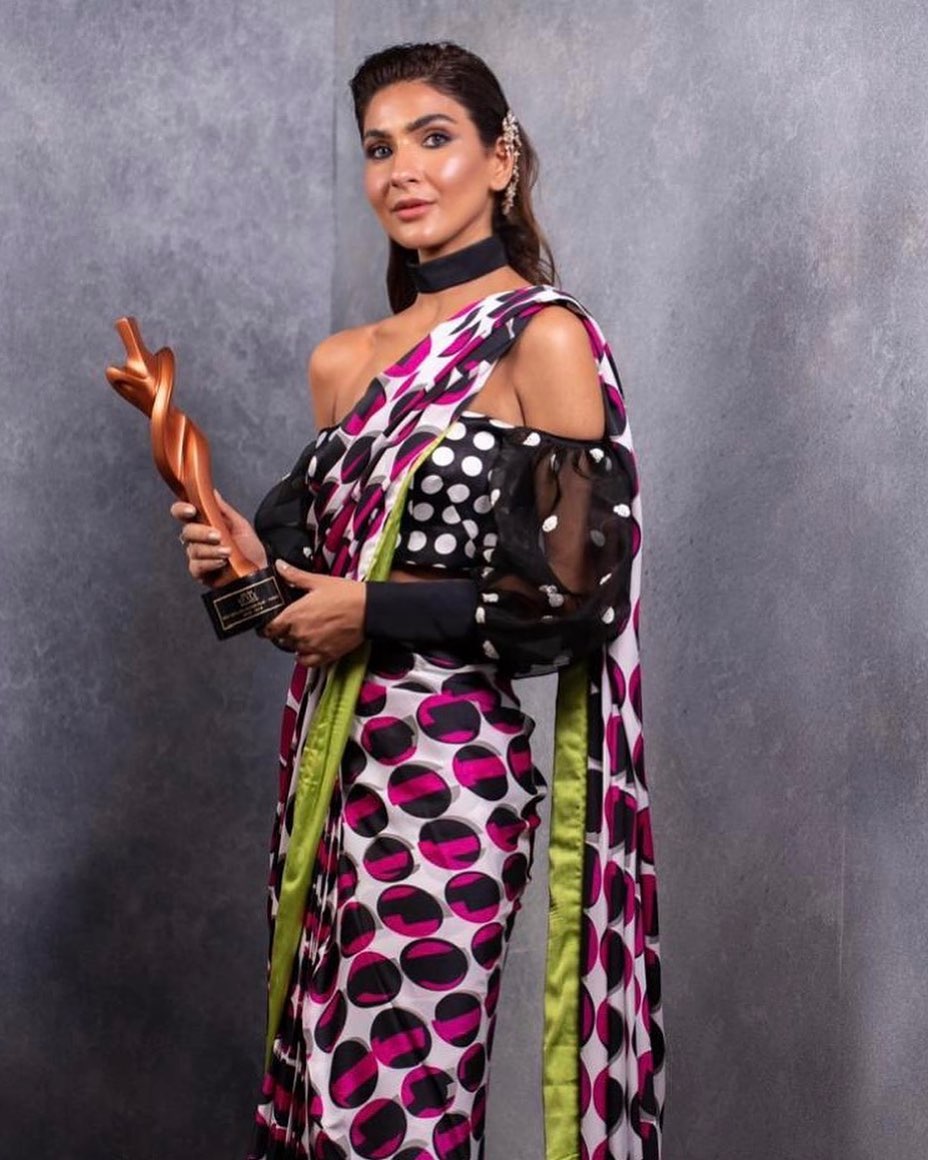 Kiran Malik
With that being said, it brings us to compare both the looks. While Ayeza Khan's look was more traditional and elegant, Kiran Malik opted for a more modern and edgy take on the sari. While both the leading ladies worked their respective looks well, Kiran Malik's look was a little over the top for our liking. The balloon sleeves, the choker, the headpiece and all those polka dots, were a little too much for our liking.