Bollywood News
Arjun Rampal and Gabriella Demetriades Spotted Leaving Hospital With Their Newborn Baby Boy
Arjun Rampal took girlfriend Gabriella Demetriades and their newborn son home on Sunday. The baby was born on Thursday at a Mumbai hospital.
Arjun Rampal enjoyed a proud moment as a father as he lifted his newborn son's carry cot to pose for the paparazzi while leaving the hospital with his girlfriend Gabriella Demetriades. The little one was born in a Mumbai hospital earlier this week on Thursday. He was peacefully sleeping until Arjun and Gabriella started posing and smiling for the cameras that woke him up due to the chanting fans. They both were seen in a casual attire and Gabriella flaunted a denim jacket.
The first picture of their child was shared by Gabriella over the weekend on Saturday that showed Arjun holding the baby boy in his arms but the newborn's face was not visible. Gabriella also recently shared a snap of Arjun and her son a few hours ago before they left the hospital. The snap shows Arjun smiling brightly next to the baby's carry cot while the newborn's face was obscured with a sticker. The post was captioned, "Homeward bound."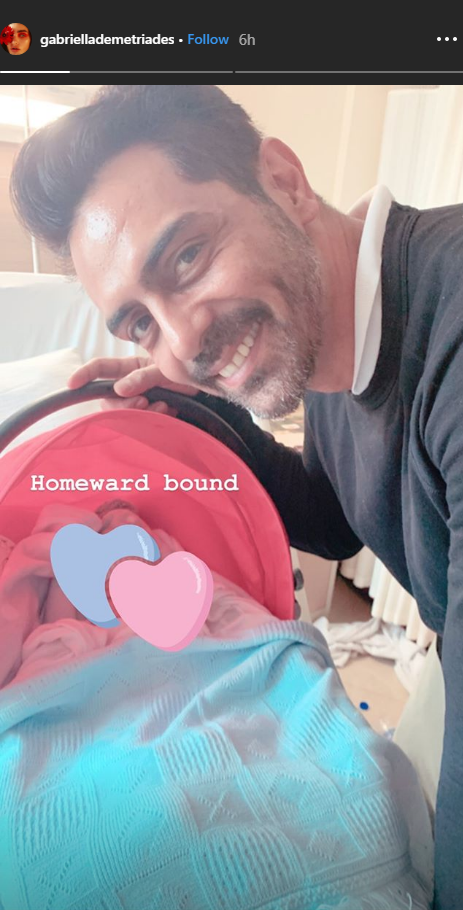 However, the couple has not named their child as yet. Upon being asked, Arjun said, "Not yet. Still thinking." Gabriella had also shared a selfie and teddy bear's picture that was gifted by Arjun. She had been admitted in the hospital a day before the child's birth. Her parents and Arjun Rampal's daughters Myra and Maahika also visited them.
Last year, Arjun separated from his wife Mehr Jesia after 20 years of marriage. Earlier this year, in April, Arjun had announced on Instagram that his girlfriend Gabriella is pregnant. He had shared a picture of her with an a visible baby bump. "Blessed to have you and start all over again....thank you baby for this baby," he captioned the post.
In May, he threw a white themed baby shower for Gabriella and played as the party DJ besides looking after guests and showering hospitality. Gabriella had shared pictures of them posing for group selfies as they enjoyed as they enjoyed the cake.