Bollywood News
Arjun Kapoor's Comment on Malaika Arora's Latest Pictures from Maldives, Check It Out!
Malaika Arora and Arjun Kapoor recently returned from their romantic getaway and the former has been sharing her pictures on social media. Arjun commented on Malaika's pictures hence
Malaika Arora has been making headlines as of late and recently made her relationship with beau, Arjun Kapoor public. Ever since, they have become talk of the town and recently returned from their trip to New York. There's probably not a day that goes by when Malaika Arora isn't snapped heading to the gym, or leaving the gym and manages to turn heads each time she steps out and her pictures immediately grace our Instagram news feeds and spread across social media within minutes. The Bollywood beauty has been rather active on social media as of late and her Maldives pictures are turning us green with envy.
The starlet took to Instagram and shared pictures of herself by the ocean wearing a white mini body con dress which show mostly just her silhouette and the listening ocean behind her.
While no pictures were shared during their time there, she has now decided to give her fans a glimpse of her romantic getaway with Arjun.
One of the pictures has been titled, "silhouette" and Arjun Kapoor said, "Love the insightful writing," he wrote.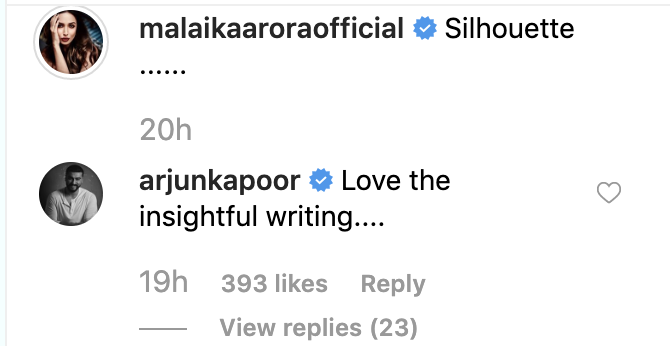 In an interview with a leading Indian daily, Malaika, who was previously married to Arbaaz Khan, said that it felt "amazing" to find love again. "When my marriage ended, I wasn't sure if I wanted to be in another relationship and was scared of being heartbroken. But I also wanted to be in love, nurture a relationship, and this new me gave me the confidence to put myself out there and take a chance. I am so glad I did!" she said.
Malaika went on to add that she was unfazed by trolls slamming her and Arjun for their age difference. "The age difference doesn't really pop up when you are in a relationship. It is about two minds and hearts connecting. Unfortunately, we live in a society that refuses to progress with time," she said.