Bollywood News
How Bollywood A-listers are being Bullied on Social Media
Read on to find out how social media has changed the behaviour of Bollywood celebrities
Damned if you do, damned if you don't – that's the predicament most stars find themselves in these days. There was a time when stars used to scream 'Misquoted' whenever an unflattering statement was attributed to them in an interview. These days, thanks to social media, that problem has been solved. All they need to do is go to their Twitter account and dispute the story and call out the publication or website involved. Arjun Kapoor did that recently when he slammed a film magazine for alleging that he had behaved unprofessionally on the sets.
However, the beast that social media is, often, stars are at the receiving end too. And this time, they deal with a far more volatile adversary – the people! The verdict on social media, on any issue, is quick and instant. An interview, a post, a picture – anything can be fodder for a brutal review.
VICTIMS OF TROLLING
Indeed, there would hardly be any star who hasn't been a victim of trolling. A-listers like Shah Rukh, Salman and Aamir have faced severe backlash for their statements on various topic, especially if they are of a political nature. At the other end of the spectrum are actors who face the consequences of their looks or statements. Case in point: Anushka Sharma whose alleged lip job was one of the hottest topics of debate a couple of years ago. Over the years, stars like Sonam, Sonakshi, Anushka and Karan Johar, to name just a few, have all faced varied degrees of trolling whenever they have spoken up on any topic. While in some cases, the stars give it back as good as they get, a new trend has emerged of late – they simply retreat or go on the defensive, over explaining their stance. Unlike earlier, when they would adopt a belligerent stand against criticism, social media nastiness often sees them retreat into a shell. The question being asked: is this a form of bullying and do stars have no option but to cave in?
KEEPING QUIET IS BETTER THAN FIGHTING BACK
Often, inadvertent actions lead to negative reactions. Ask poor Parineeti Chopra. The Shuddh Desi Romance actress was recently trolled heavily on Instagram after she posted a picture of her holiday in Dubai where she's seen taking a walk on the beach with a man carrying her umbrella. The trolling made news the next day and poor Pari had no choice but to remove the offending video. While she didn't allow it to affect her holiday, one noticed that she posted significantly fewer images than her predecessor Sushant Singh Rajput who had come for a similar Dubai promotion. However, she tried to gamely make up for her faux pas by posting another video in which she was 'holding her umbrella'. She captioned the video as, "All set for Day 2 in Dubai! Yes taken your advice and holding my umbrella, which ain't so heavy Loving my holiday! Thanks!".
ON THE DEFENSIVE 
In Parineeti's case, perhaps one can argue that there was some ground for criticism though we are sure she didn't mean to look elitist. But Shahid Kapoor had no idea what hit him when some statements he made during his Koffee With Karan interview resulted in a huge uproar. Appearing with wife Mira, all he did was narrate his love story and how he fell in love with Mira after his marriage to her. The floodgates for censure opened. Feminists bashed his 'regressive' views (for advocating arranged marriages!) while sites like Buzzfeed did an entire article with comments like "Is it just me or does it seem like Shahid Kapoor is trying way too hard to glorify his marriage to a 20 year-old with zero ambitions?" 
Shahid kept mum but then defended himself in an interview. "A mainstream star having an arranged marriage is unique. It is not everyday that a Hindi film hero goes and marries someone no one even knows of. I am an actor," he was quoted as saying in Mid-Day. "Most parts of my life are up for discussion, by default. It won't stop whether I like it or not."
For once, a star used traditional mainstream media (a newspaper) to defend himself when he was slammed on social media! Ditto for Deepika Padukone whose Ellen DeGeneres interview was panned following which the actress defended her behaviour in a newspaper interview.
Being technologically-savvy and well-versed with social media mechanisms is no guarantee against being bullied. Priyanka Chopra is someone who, arguably has mastered the art of SM conversations. But she found herself at the receiving end a few months ago when she posted a picture of a cover on Conde Nast Traveller where she was seen wearing a top that had the words  "migrant", "refugee" and "outsider" crossed out while the word "traveller" stands out. While mainstream publications didn't comment on her look, social media commentators went hammer and tongs until PC had to apologise for it. She then went into an explanation overdrive as to what the T-shirt actually meant. Not that many people bought it!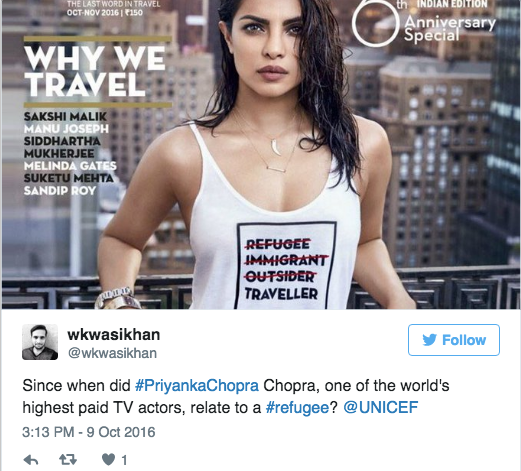 Sonakshi Sinha is another star who often pays the price for being outspoken. Her most famous tryst with social media anger was when she was trolled for taking part in the controversial AIB Roast. A spirited Sonakshi put up a good fight. Another star who never backs down from a fight is Sonam Kapoor who always has a word or two when people get particularly nasty.
STAR'S RESPONSE  
However, defensive or not, there is no denying the fact that social media bullying has changed the outlook of stars. There are people like Karan Johar who command a huge following but as he admitted in his biography, receives maximum abuses for everything he does. Karan sounded rather bitter when he stated in interviews and his columns about waking up to "200 nasty tweets and messages" every day. If Karan sounded pained, stars like Aamir Khan become extra cautious. When the Dangal star defended his young co-star Zahira Waseem when the latter was trolled for being hailed as a 'role model' in Kashmir, his statement was worded rather carefully, without naming any group. Even then he was criticised for not being 'strong enough'.
Either way, it's become difficult for a star to speak up and be honest without inviting the wrath of one section of the audience or another.
Occasionally though there are instances when a celebrity's attempts to manipulate social media falls flat on their face. Recently starlet Payal Rohatgi went on a rant on FB live against Jet Airways and two of their employees after not being allowed to board a flight. The reason: she had arrived late after the gates had closed but an angry Payal made it a communal issue and ranted and raved against the airline in a rather incoherent manner. Her video was thoroughly criticised and people slammed for being in the wrong (arriving late) yet trying to give it a religious twist. And that's why we say, social media can be quite a beast that can even bite you in the wrong place, if you are not careful!