Bollywood News
Anurag Kashyap's Fitting Reply to All Those Slamming Newton's Selection For The Oscar's
The filmmaker speaks up to defend Rajkummar Rao's film!
Rajkummar Rao's Newton was a pleasant surprise at the Box Office and the actor was hugely appreciated for his sincere performance and talent. The film also made its way to become India's first entry for the 2018 Oscar's.
However, it looks like the success of Newton didn't go down too well with everyone. After the film's release, there were few fingers pointed toward the film being a remake of an Iranian movie, called Secret Ballot. The whispers caught more wind once the film was selected for the Oscar's, with audiences questioning how a remake could get that much praise, even beating the likes on Baahubali 2.
The director of the film, Amit Masurkar, rubbished all claims of the film being copied and now another filmmaker has spoken up in support. Anurag Kashyap who is generally known to be opiated, posted a series of tweets, asserting why Newton deserves all the praise it's receiving.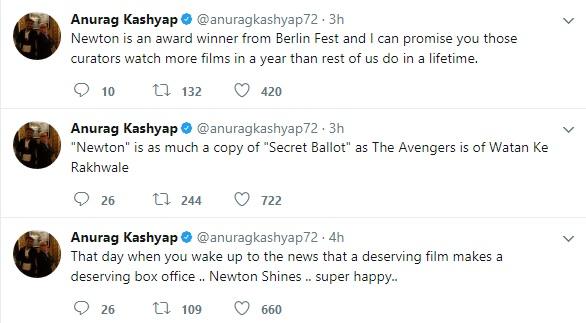 Have you watched Newton yet? What did you think about it?