Bollywood News
Ananya Panday Dazzles in a BTS Shot from Ankhiyon Se Goli Mare
Ananya Panday, Kartik Aaryan, and Bhumi Pednekar recently launched the song Ankhiyon Se Goli Mare in Delhi and received rave reviews
Ananya Panday will soon be seen in the film Oati Patni Aur Woh where she will have the opportunity to share the screen space with Kartik Aaryan and Bhumi Pednekar. The film is a remake of Pati Patni Aur Woh from 1978. Ananya Panday's character was essayed by Ranjeeta Kaur in the original film. Ananya Panday recently took Instagram to share a picture from the sets of the film while she shot the song Ankhiyon Se Goli Mare with Kartik Aaryan and Bhumi Pednekar. Standing against the mirror, Ananya Panday looked dazzling in a golden party outfit as she looked away from the mirror.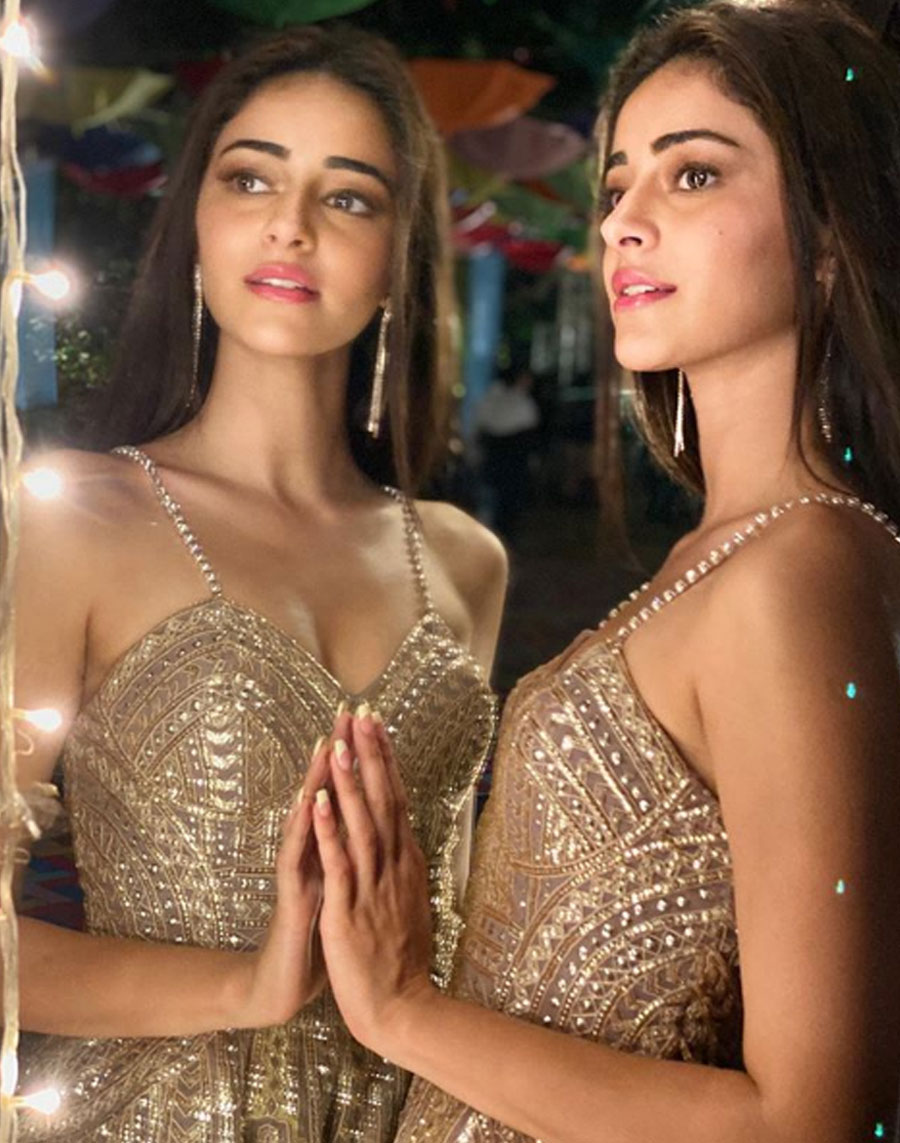 Ananya Panday in Ankhiyon Se Goli Mare
Ananya Panday shared the picture with the caption, 'Can't handle one of me? How about two BTS #AnkhiyonSeGoliMare go watch it now now now!' Earlier, she had also shared a fun video from behind the scenes while shooting the song Ankhiyon Se Goli Mare. She also had a quirky caption to go with it. 'No hair was harmed during the making of this song #AnkhiyonSeGoliMare song out now!'
Ankhiyon Se Goli Mare is a fun and peppy number where Kartik Aaryan can be seen enjoying the party both with his on-screen wife Bhumi Pednekar and his colleague Anaya Panday on whom he has been crushing. Sung by Mika Singh, Ankhiyon Se Goli Mare is a remix of the original song from the film Dulhe Raja shot on Govinda and Raveena Tandon.
In an interview with Pinkvilla, Ananya Panday said that she could never reach the level of Raveena Tandon in the original song. According to Ananya Panday, she had grown up listening and dancing to this song hence it was a great deal for her and her friends. Shooting Ankhiyon Se Goli Mare was good fun for her because she, Kartik Aaryan and Bhumi Pednekar were together in it. Pati Patni Aur Woh is Ananya Panday's second film as an actor.