Bollywood News
Ananya Panday Launches Campaign Against Cyber Bullying, Netizens Have Mixed Responses
Ananya Panday has kicked off her social media campaign, So Positive, that takes a stand against online harassment. While it aims towards building a positive and encouraging environment, quite a few netizens have had less
Twenty-year-old Ananya Panday is the new kid on the block. She has the beauty, brains and boss vibes. The 'Student of the Year 2' star, who is the daughter of Indian actor Chunkey Panday, has launched her social media campaign that takes a stand against cyber bullying. The recently fangled Digital Social Responsibility initiative is titled 'So Positive'. It aims towards building a close knit community, which fights against the evils of online harassment. Sharing the news on Twitter, Ananya – who is Shah Rukh Khan's daughter Suhana's best friend – posted a video on social media and urged people to stop creating hatred on social media platforms such as Twitter, Instagram and Facebook.
"A part of growing up is taking responsibility and as a woke millennial I, Ananya Panday introduce you all to my Digital Social Responsibility initiative 'So Positive'," she captioned the video in which she is seen opening up about her personal struggles with social media bullying. "They wrote you are too thin, you have no talent and you are too tall. They wrote you are flying on your father's money and you are a product of nepotism. They wrote you need implants. They call me 'overacting ki dukan (drama queen)' and a fashion disaster. They wrote about my mom, my dad and even about my younger sister and my friends. They accused me of being a liar," Ananya wrote.
She added, "Just for a moment, I contemplated about who they are. They are nothing just faceless, unidentified and unverified newly created social media accounts... social media bullies and I thought why me? Why would someone who does not even know me pass such nasty personal remarks? In the end, I realised it's not me... it's not only me."
Slamming all haters out there, Ananya revealed she wants to creative a positive and encouraging environment on social media. "Our generation is prone to insensitive remarks. I wonder why civil conduct followed in real life is not followed on social media. Why make social media a dumping ground of so much hate. Why be so negative? Why not just be positive?" she concluded.
Celebrities and fans alike commented on Ananya's posts to show their support for the actress' campaign.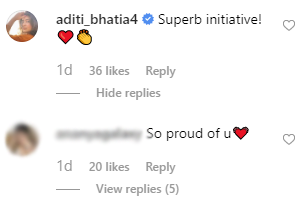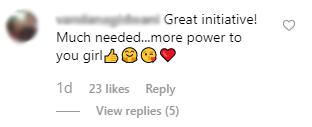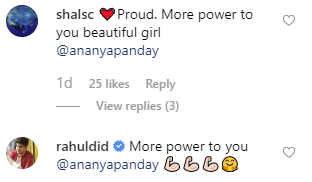 Jacqueline Fernandez commented, "Haters gonna hate! You keep going girl!"

And of course, Ananya's mother Bhavana Pandey also had to show her support for her daughter.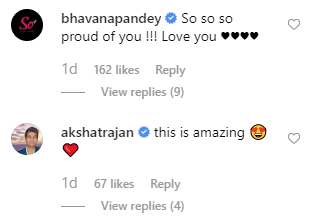 However, reactions to the Ananya's initiative were not all positive. Many netizens commented that the negative remarks Ananya mentioned were often valid criticisms that should have been expected by the actress in such an industry. They felt that the actress was ultimately speaking from a place of privilege.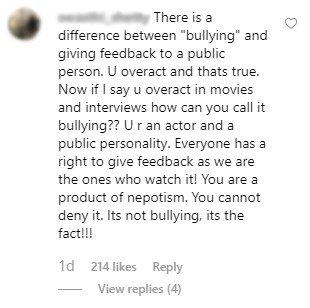 One user pointedly said that Ananya's connections in the industry, with her father already being an established actor, make her campaign invalid.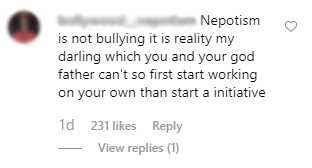 Others have said that being in the entertainment industry requires one to have "a thick skin" and that negative comments are inevitable when you're an actor.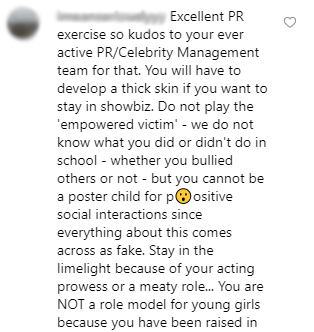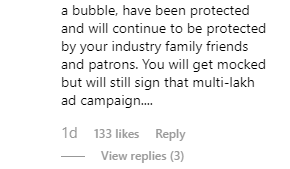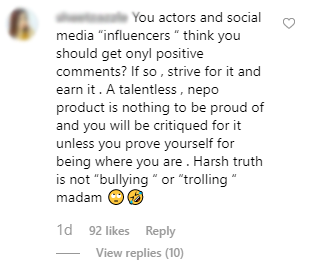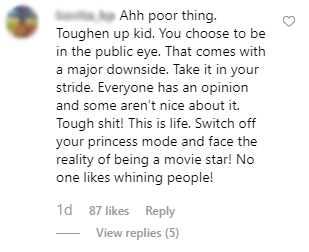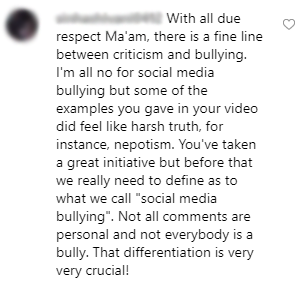 All in all, we'll just have to wait and see how Ananya's So Positive campaign will progress and whether it will have any impact or not on social media users.