Bollywood News
Ananya Panday Has a Witty Comeback for Kartik Aaryan Trying To Troll Her
Ananya Panday will be seen in the film Pati Patni Aur Woh with Kartik Aaryan and Bhumi Pednekar releasing on December 6th, 2019.
Kartik Aaryan, Ananya Panday, and Bhumi Pednekar recently returned from Delhi where they launched their film Pati Patni Aur Woh 's song 'Ankhiyon Se Goli mare'. While returning to Mumbai, Ananya Panday who is usually casual wore a funky pair of denim that looked like two different pairs of jeans. Kartik Aaryan trolled Ananya Panday for wearing 'two pants' and Ananya Panday cheekily snapped back saying, 'You can have two girls. So why can't I have two pants?' While the people around burst into laughter, Ananya Panday simply winked after rendering her Pati Patni Aur Woh co-star Kartik Aaryan speechless.
Ananya Panday was recently spotted at the airport wearing a white singlet with an unusual and funky pair of denim pants in two shades of blue. She wore a denim shirt on the top nailing the denim on denim look. Ananya Panday wore down her hair in loose curls carrying a big bag with the famous cartoon character Peppa Pig. Ananya Panday kept it comfortable with chunky white sneakers.
Pati Patni Aur Woh is all set to release on December 6th, 2019. The cast is busy promoting the film wholeheartedly. Two songs from the film have been released do far and have received great response from the audience. Both 'Dheeme Dheeme' and 'Ankhiyon Se Goli Mare' have a party vibe to them, thereby letting the audiences anticipate that Pati Patni Aur Woh will be a fun ride.
Ananya Panday has mentioned in an interview how fun it was to shoot for the song. She took Instagram to post a video during the making of this song.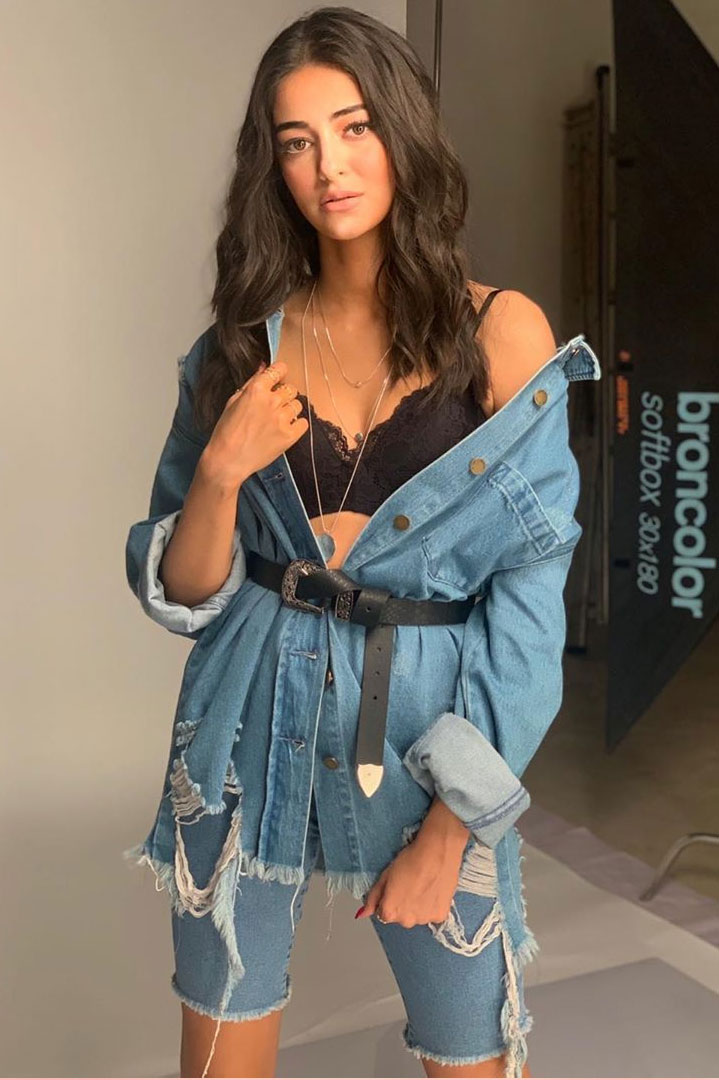 Ananya Panday
Pati Patni Aur Woh is Ananya Panday's second film as an actor. She made her Bollywood debut with Student of the Year 2. Ananya Panday was born to the actor Chunkey Pandey and wife Bhavana Pandey. Acting ran in the blood of her hence she always had a knack to join Bollywood. According to father Chunkey Panday, Ananya was always interested in Bollywood music. She has also launched a Digital Social Responsibility Initiative called So Positive which works for providing a safe and secure environment against cyberbullying and trolling to the social media users.