Bollywood News
Amitabh Bachchan Very Unwell, Misses his Sunday Meeting with Fans
Amitabh Bachchan revealed that being bed ridden, he was not in a position to meet his fans and interact with them on Sunday, a ritual he has followed for 37 years
Amitabh Bachchan has revealed that he is bedridden and not in a position to come out and meet his fans. "...Not doing the Sunday Darshan today... In bed... Pain .. Inform all, nothing to worry, but unable to come out," Bachchan wrote on his blog yesterday (Sunday).
Here's the link to his blog where he posted the short message before retiring for the day.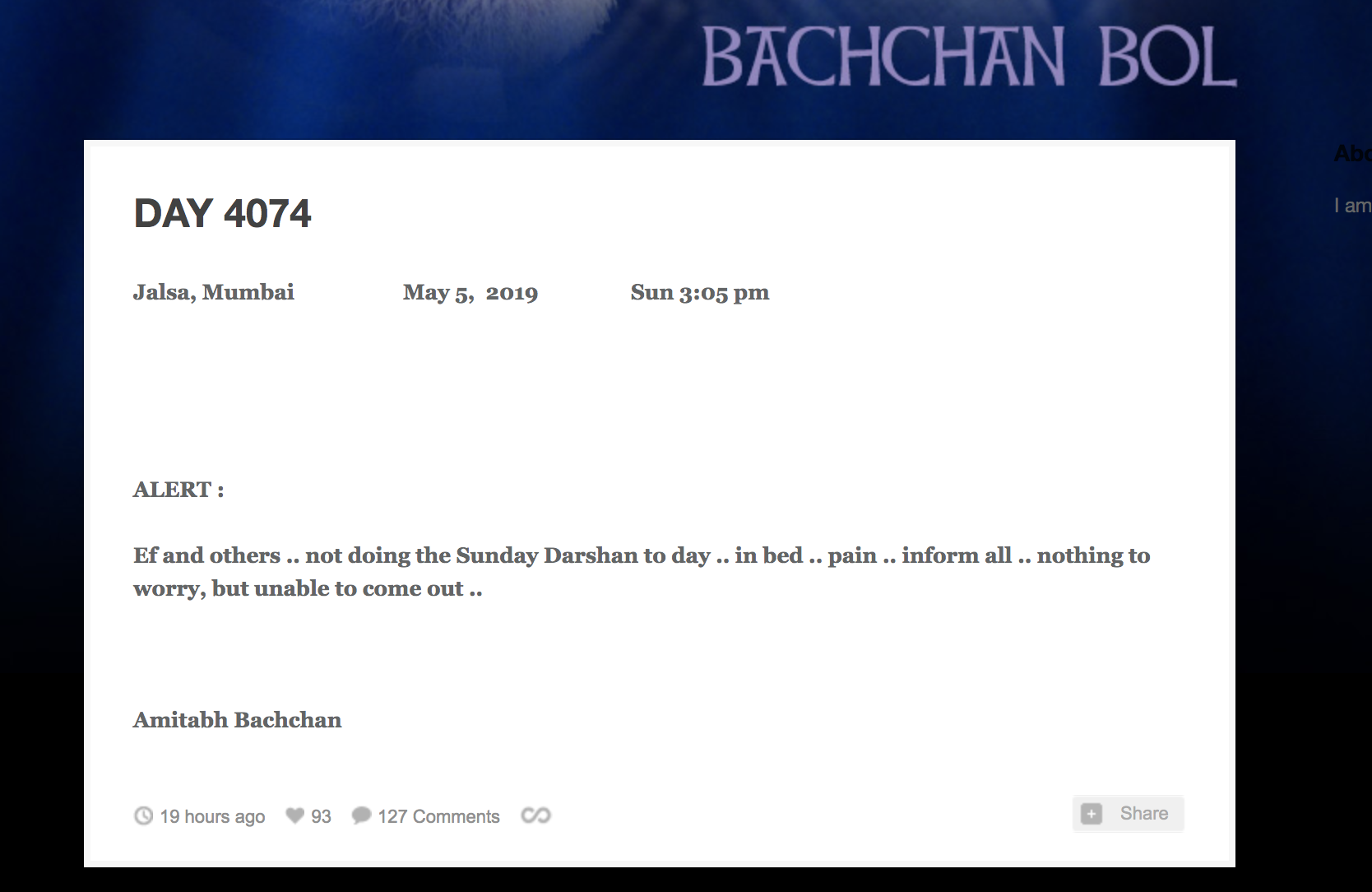 Sources close to the actor said that though the actor is suffering from temporary pain, he will be back on his feet again. "The doctors have advised him rest. He is in excruciating pain and he doesn't want to risk his health at this point. Hence it was a conscious decision to cancel his appearance outside his home last Sunday," a source said.
Amitabh Bachchan also expressed his dismay that not meeting his fans at Jalsa (one of his Mumbai homes) will become a cause of concern for his fans and news media as well.
T 3155 - मैं न जानता था की , एक दिन इतवार को अपने चाहने वालों से, जलसा के द्वार पे, न मिल पाने पर, इतनी बड़ी ख़बर बन जाएगी ! आप सब को स्नेह , मेरा आदर और सम्मान

— Amitabh Bachchan (@SrBachchan) May 6, 2019
This weekly ritual has been followed religiously by Mr Bachchan for 37 years. Fans, including scores of out-of-towners, come from far and wide to catch a glimpse of the iconic star.
The Sunday ritual has sparked off a legion of anecdotes and even a short film was made on it, directed by Anurag Kashyap in Bombay Talkies. In Kashyap's portion, titled Murabba, Vineet Kumar played the son of a dying Bachchan fan who carries a token gift from his dad to his favourite actor at his Sunday darshan.
Speaking about the Sunday interactive session with his fans, Mr Bachchan once said, "It was born out of my wish to interact directly with those  people who love me but have no direct access to me. What started on a whim has become a non-negotiable Sunday ritual for me."
Meanwhile, Big B also extended his Ramadan greetings to his fans.
T 3155 - Ramadan greetings .. love peace and understanding pic.twitter.com/Lj9HPbu943

— Amitabh Bachchan (@SrBachchan) May 6, 2019