Bollywood News
Amitabh Bachchan Gets Trolled On Twitter For Posting Fake Video
Amitabh Bachchan is synonymous for his tweets and social media interactions with his fans and followers. His recent post has garnered a lot of attention and he gets trolled!
Veteran Bollywood actor, Amitabh Bachchan, has been making headlines lately for his poor health; despite which he has been working long hours. The legendary actor has had a fruitful career in Bollywood and has featured in almost 200 films and is also synonymous with the television show, Kaun Banega Crorepati. His career spans over five decades and his vast fan following spreads across borders the world over. Having taken a break from the big screen, Amitabh Bachchan still engages and interacts with his fans via social media and is rather active on micro blogging site, Twitter.
Amitabh Bachchan takes to Twitter almost on a daily basis and tweets about the goings on of the day. He recently took to the social media platform and shared a video which features many women dancing in tandem in the middle of park to some oriental music. The video was first shared by a fan who captioned the video with, "9 girls from China coordinated this dance collectively, their synergy was so amazing that they were ranked in Guinness Book of World Record, even the movement of hair is the same @SrBachchan Ji."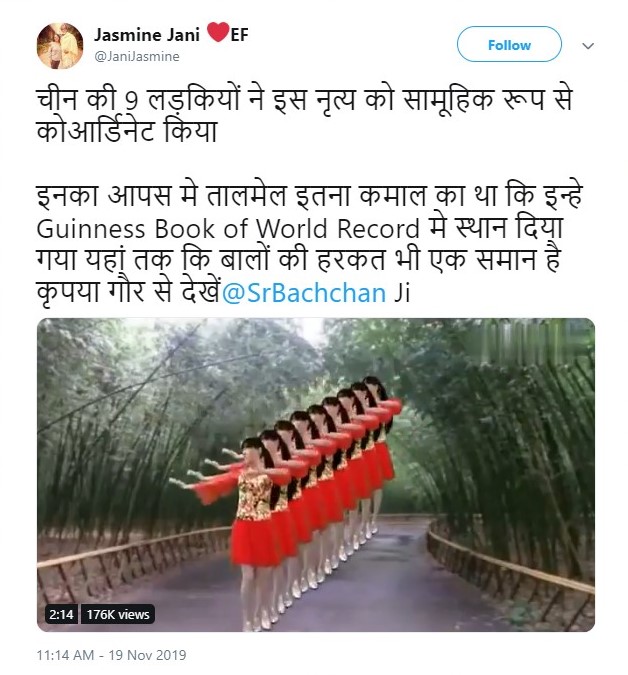 Amitabh Bachchan then decided to share the video on his own page and captioned it with, "wow .. even their locks of hair move in sync .." Here's the same tweet and video:


wow .. even their locks of hair move in sync .. https://t.co/5OxltjyNZz

— Amitabh Bachchan (@SrBachchan) November 20, 2019
Soon after sharing the video, many fans took to commenting on the post and trolled the veteran actor for not realizing that the video was a fake edited video which just appeared to show several women dancing in sync. Here's what some fans had to say after his tweet started to garner attention:

"Its fake video sir..well edited thats all.." said one user, while another said, "Editing hai..It's not sync or talent. It's just a one girl. Tik tok pe aisi videos bhari padhi hai. Stop spreading false news."
Replying to @SrBachchan, one user remarked: "Was watching Agneepath yesterday... Yeh duniya bahot bighdeli hai Gaitonde Saheb.."
It is quite clear that Twitter was having a field day after Amitabh Bachchan shared and commented on the video.