Celebrities
American Music Awards: Selena Gomez Is Back With A Bang In Neon Number
Selena Gomez wowed audiences with her performance at the AMA's last night and fans were left stunned. She arrived in a neon number sporting a new tattoo and we decode the look
Selena Gomez had the hearts of her fans racing after it was revealed she would be opening the American Music Awards 2019; and she did so with quite a bang. As Selena Gomez opened the show, it marked the first time she performed after a brief hiatus of two years. The pop star had taken a backseat due to her mental and physical health. However, as Selena Gomez strutted her stuff on the red carpet and took centre stage at the AMA's, it was nothing but proof that the starlet is back with a bang!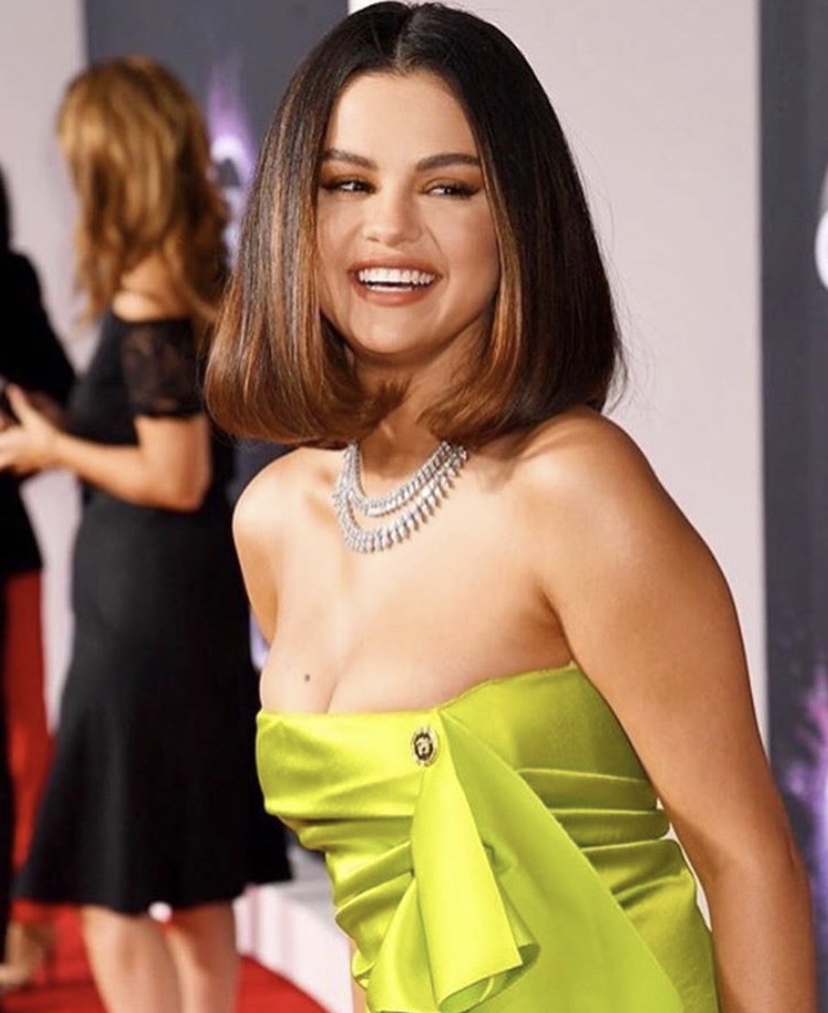 Selena Gomez. Picture: Instagram
At last night's AMA's, Selena Gomez performed two of her latest chart busters 'Lose You to Love Me' and 'Look at Her Now' and won the hearts of her audiences all over again. Selena Gomez arrived at the red carpet in a rather short neon number and we decided to decode her look. Selena Gomez, who is an avid user of social media, took to her Instagram account and shared a series of pictures of herself on the red carpet which have been circulating on social media.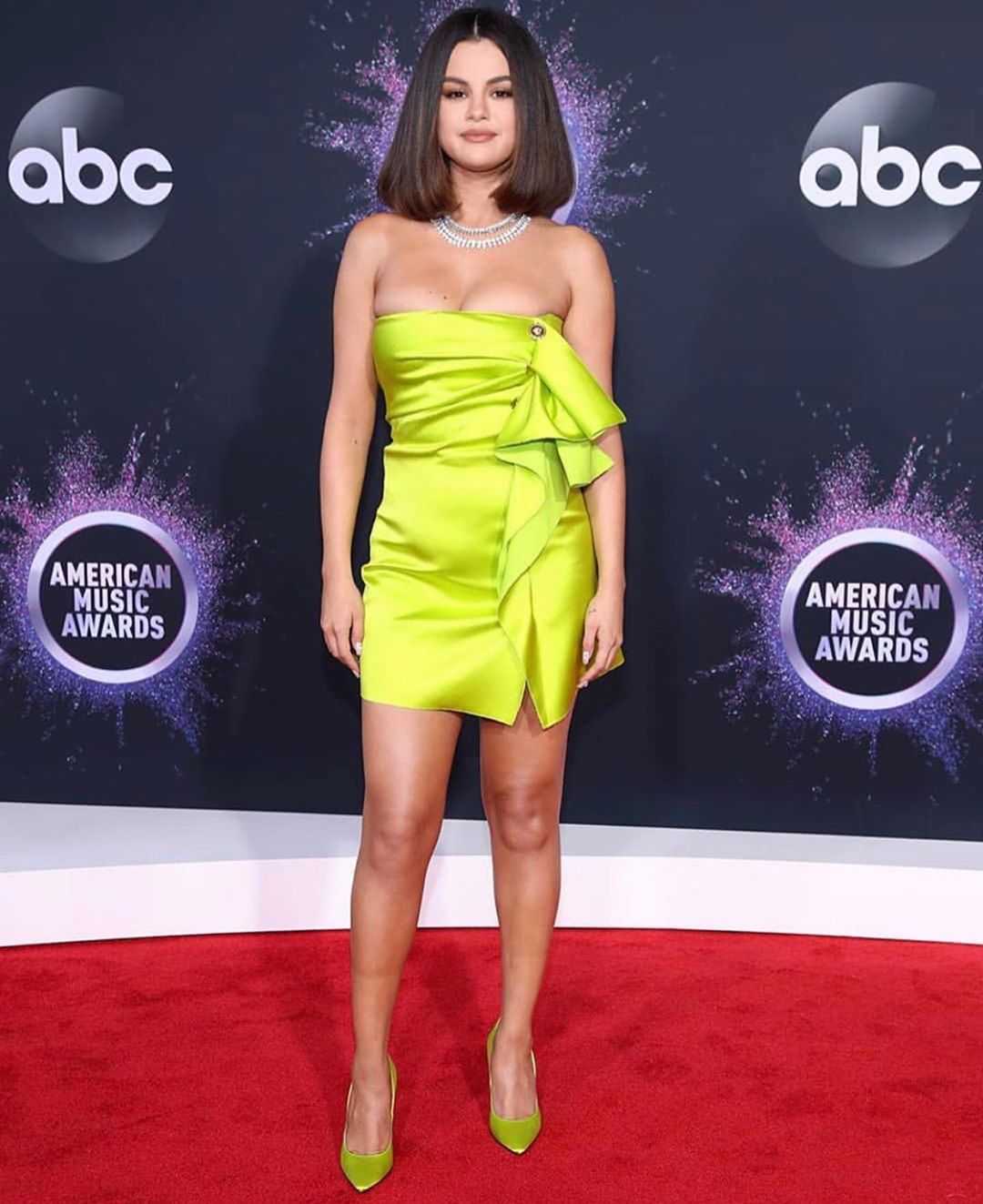 Selena Gomez. Picture: Instagram
Selena Gomez wore a mini silk dress by Versace which featured some loose fabric on the side. The silk dress was finished off with signature Versace gold coin buttons and the dress was teamed with a pair of lime green heels which we can't stop swooning over. Selena Gomez accessorized with a layered diamond necklace by Roberto Coin and nothing else. The Look At Her Now crooner sported a short voluminous bob and subtle eye makeup. She opted for an earthy-hued pout and an overall bronzed look.
While Selena Gomez won over the hearts of her audiences at the American Music Awards, she also drew much attention to something brand new that she shared with her followers on Instagram. The pop star took to Instagram and shared a collage of images which showed a sneak peak of her latest tattoo which she had inked on her left thigh.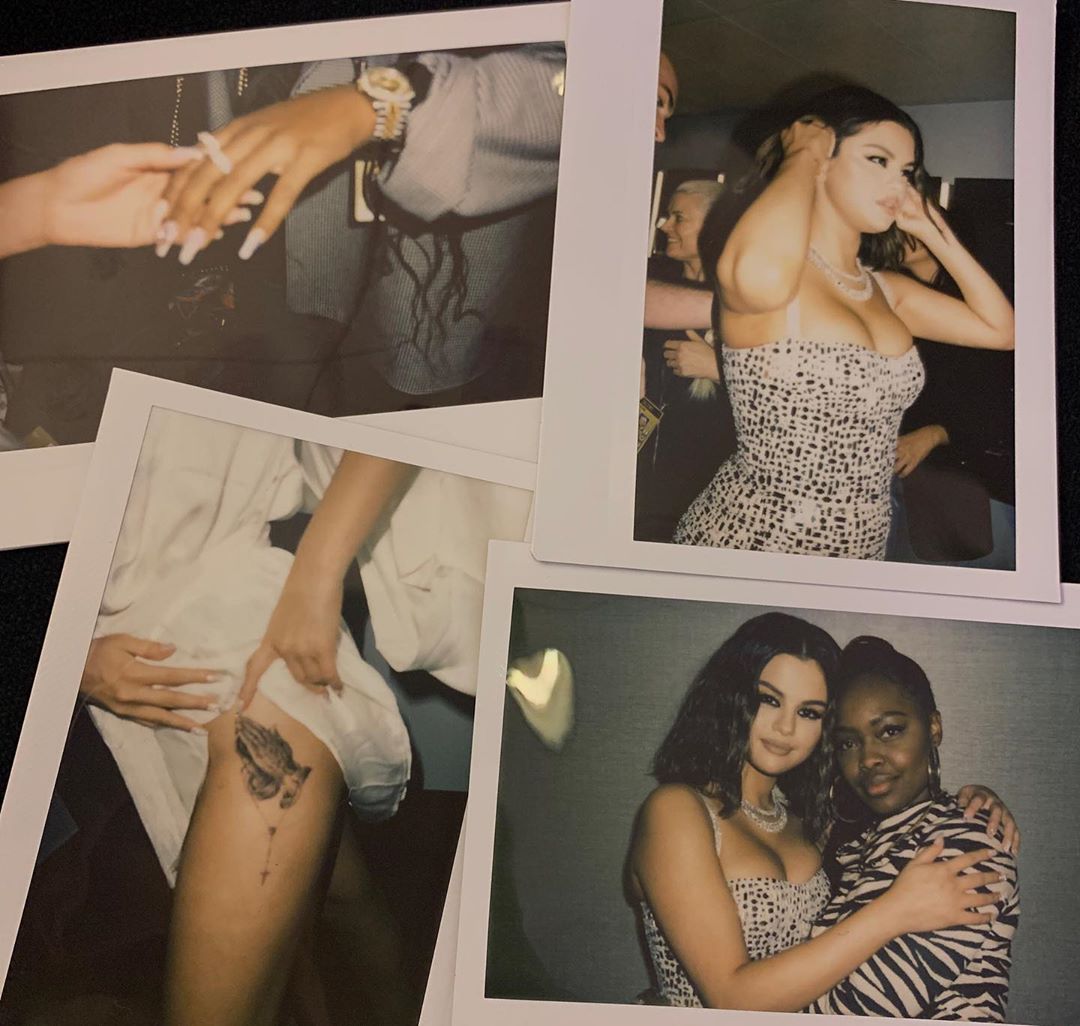 Picture: Instagram
The tattoo showcases two hands clasped in prayer, with rosary beads draped around and cascading down her leg. Fans immediately picked up on the fact that her new tattoo looks eerily similar to ex-boyfriend Justin Bieber's one. Justin Bieber, who has multiple tattoos all over his body, has a similar tattoo just like Selena's on his left leg.