TV/Streaming Reviews
Amazon Prime Original Hostel Daze Review: A Predictable Insipid Fare
Amazon Prime Original Hostel Daze focuses on the lives of three boys Jaat, Ankit, Chirag who become roommates in the most unlikely of circumstances
Movie Name

Hostel Daze

Director

Saurabh Khanna

Actor

Nikhil Vijay, Adarsh Gourav, Shubham Gaur

Rating

Rating 1/5 Stars
The makers of Kota Factory have come up yet another insipid and predictable show, Hostel Daze. When was the last time did you see a show on hostel life that did not allude to porn, ragging, masturbation, crushes, etc? Let us remind you, since the time of American Pie, college comedies have pretty much been all about the the things we mentioned above. There has been no novelty factor to it. 3 Idiots, based on a book written by Chetan Bhagat, also became an aspiration for webseries makers to keep making college/hostel comedies with similar plotlines. Even though the show is only 5 episodes long, it still is too painful to watchful due to the unimaginativeness on the part of the writers. The show focuses on the lives of three boys Jaat, Ankit, Chirag who become roommates in the most unlikely of circumstances. Adarsh Gaurav as Ankit, Luv as Chirag, Subham Gaur as Jat, and Nikhil Vijay as Jhatu, Harsha Chemudu as Ravi Teja, Badri Chavan, Nishi Bist, Jasmit Singh Bhatia, Ranjan Raj, Biswapati Sarkar, and Ahsaas Channa are the cast of the series.
Talking about the performances Youtuber Shubham Gaur is the best of the lot as his Haryanvi accent and antics are hard to miss.  His acting is effortless and brings in the much needed genuine laughs in the show. The rest of the cast have nothing new to offer in their roles. There is no newness in their acting skills, but you can also blame the makers and writers for an unimaginative script.  Ever since college films such as 3 Idiots and American Pie have made it to the screens, it seems almost every filmmakers want to replicate the same in their stories. Every second college film is loaded with plotlines about ragging, hazing, pornographic addiction, curiosity about sex, recurring jokes and gags about female anatomy and innerwear.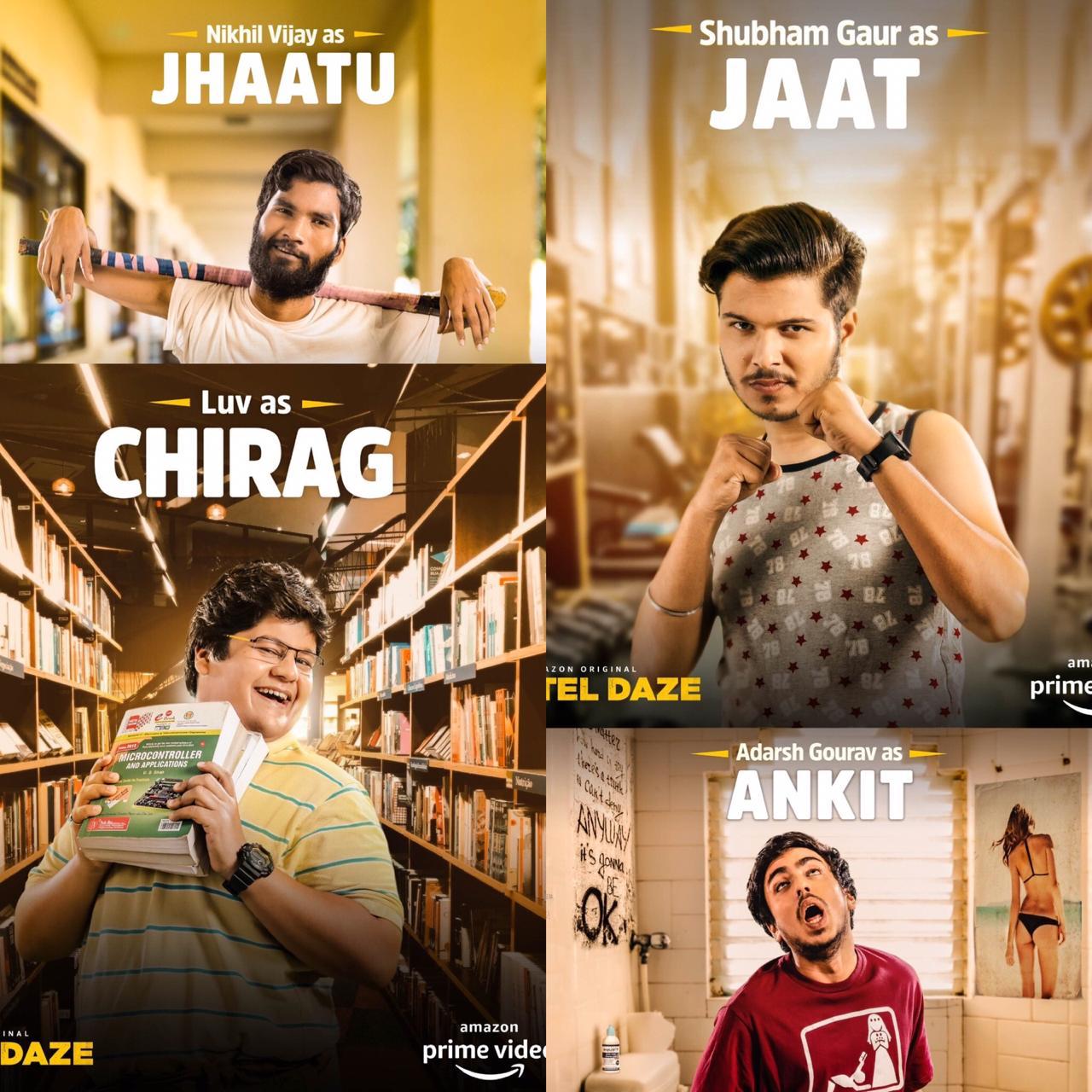 Cast of Amazon Prime Original Hostel Daze
The sad part is even Hostel Daze caters to the male audiences and panders to the male gaze just like its predessors. Ragging is a social evil and we get that, but filmmakers need to stop glorifying it and milk it for college and coming of age dramas. Hostel Daze has actually made a mockery out of ragging wherein the boys are stripped and made to roam around in the entire college and the anti-ragging cell is shown to be disinterested in it as well. Every discussion in the series between the male leads is about sex and porn, the supporting cast too, is shown having a keen interest in sex and porn and that is all that the show has to offer. Director Raghav Subbu, has clearly got a shallow understanding of male bonhomie and bonding. It seems like the writers themselves saw a bunch of male-bonding college movies and came up with their own insipid version. All in all, Hostel Daze is a huge letdown. For TVF who has always been a forerunner in churning out reasonable and sensible content, this doesn't seem like anything up their alley. Our verdict is to skip it than stream it.