Restaurant Reviews
Alice Dubai First Impressions: Fairytale Meets 'Future-tale'
The latest nightlife venue to hit Dubai is enchanting
It's been a while since Dubai had a nightlife venue that offers it all – glamour, great food, fabulous music, theatrical acts and the like. You know the kind of place you need to visit to amp up your energy level every now and then! Adding to the (very) few names in the city that fall in this category, comes a lounge bar and restaurant that is grand and fanciful in every sense of the terms.
Alice makes its way to the Sheraton Grand (where Novikov used to be) and it's straight out of a fairy late. A modern-day, chic and stylish fairy tale if you please! As far as first impressions go, this one does raise your eyebrows and makes your jaws drop a little.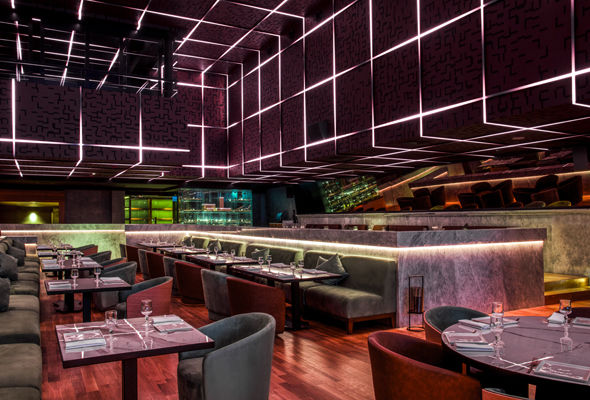 So what can you expect? There is a grand piano that doubles up as a DJ booth, there is a backdrop of a grand book to give that fairytale vibe and which proves to be the platform for the performers, a private dining space that is very cosy, a rather fun bar serving up some super cocktails and our favourite elements – the LED walls and ceilings that take the glam quotient up several notches, changing as they do to the beats of the pulsating music. Also, don't miss the quirky elements straight from 'wonderland' - be it the scary looking distored Cleopatra or the wonky paintings and elevated sofas at the entrance - they are meant to amuse and impress. Yep, Alice (of the childhood book) would have approved! The sensory experience heightens with the performers each of who add to the fairytale ambiance with their outfits and moves. Fantasy meets futuristic hedonism in more ways than one!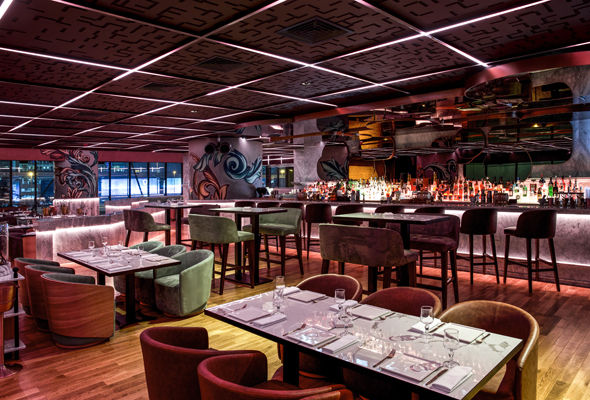 Now, for the food which we got a sneak peek of! Chef Reif Othman has prepared a delightful and very refined menu that serves up modern European cuisine with a Japanese touch. Think Chicken teriyaki pizza with Kizami wasabi, yuzu cream and green peas, teriyaki sauce and fried leeks and the like. Experimental – just like the rest of the venue.
These dishes will be served till midnight post which the area turns into a complete party zone with light shows, performance art and live music. For the weekend, you can order smaller bite sized portions to graze even as you dance the night away. There is also the promise of a night brunch on Monday, a ladies' night (but of course!)
Thus far, it offers quite a complete yet unique experience as you go down the rabbit hole! Can it sustain and maintain the start? Wait and watch.