Fashion
Alia Bhatt and Gigi Hadid Recently Wore Green Pantsuits. Who Do You Think Wore it Better?
Power suits were having a major moment in 2019 and we're glad to let you know they're here to stay in 2020. Here we analyse how Alia Bhatt and Gigi Hadid slayed in a power suit
Power suits were having a huge moment in 2019 and we're glad to tell you that the power suit trend is going to go well into 2020. Not only does a power suit enable you to exude boss lady vibes, but it also saves you the effort of deciding what to wear. Power suits have become a wardrobe staple for the modern muse and if you don't yet have one in your wardrobe then it's time to get one stat! A power suit can also be versatile as it can be deconstructed and worn separately. Pair the blazer with a pair of jeans and a tee, or wear the pants with a ruffled blouse.
Or your best bet is to wear the suit together and leave heads turning each time you step out. Many celebrities were spotted over the course of 2019 rocking the power suit. Some wore them causally with a pair of kicks, while others took the power suit to the red carpet. Whatever your style, a power suit can be styled in varying ways to suit your mood. Now, a green coloured power suit is not easy to pull off but two celebrity divas managed to pull off the look effortlessly. The celebs in questions: Alia Bhatt and Gigi Hadid.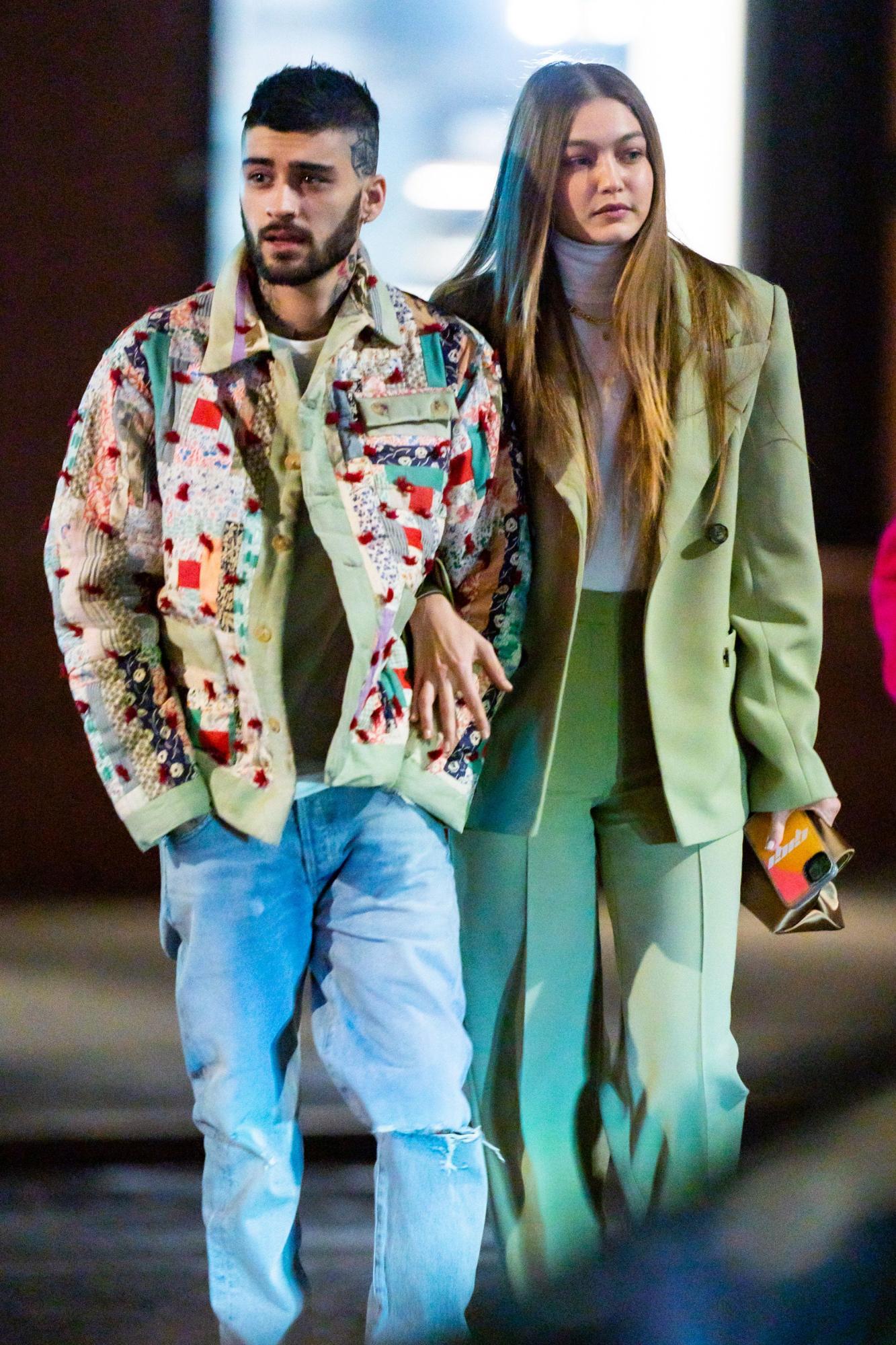 Zayn Malik and Gigi Hadid out and about
Just recently, as news of Gigi Hadid getting back together with Zayn Malik surfaced, the two were spotted heading out and about together. While we couldn't be more happier for the couple, we had our eyes on Gigi Hadid's choice of ensemble. Gigi Hadid is never afraid to experiment and there's very seldom a time when she doesn't rock a look that she is sporting. She knows how to make even the most casual look work in her favour and she does so in the most effortless way.
She was clad in a lime green power suit which featured a pair of loose fitted pants and a matching double breasted blazer. The blazer featured padded shoulders and she teamed it with a white turtle neck top inside. She accessorized the look with tiered necklaces and added a casual factor to the look with a pair of white kicks. Needless to say, Gigi Hadid left heads turning and we want to steal the look stat!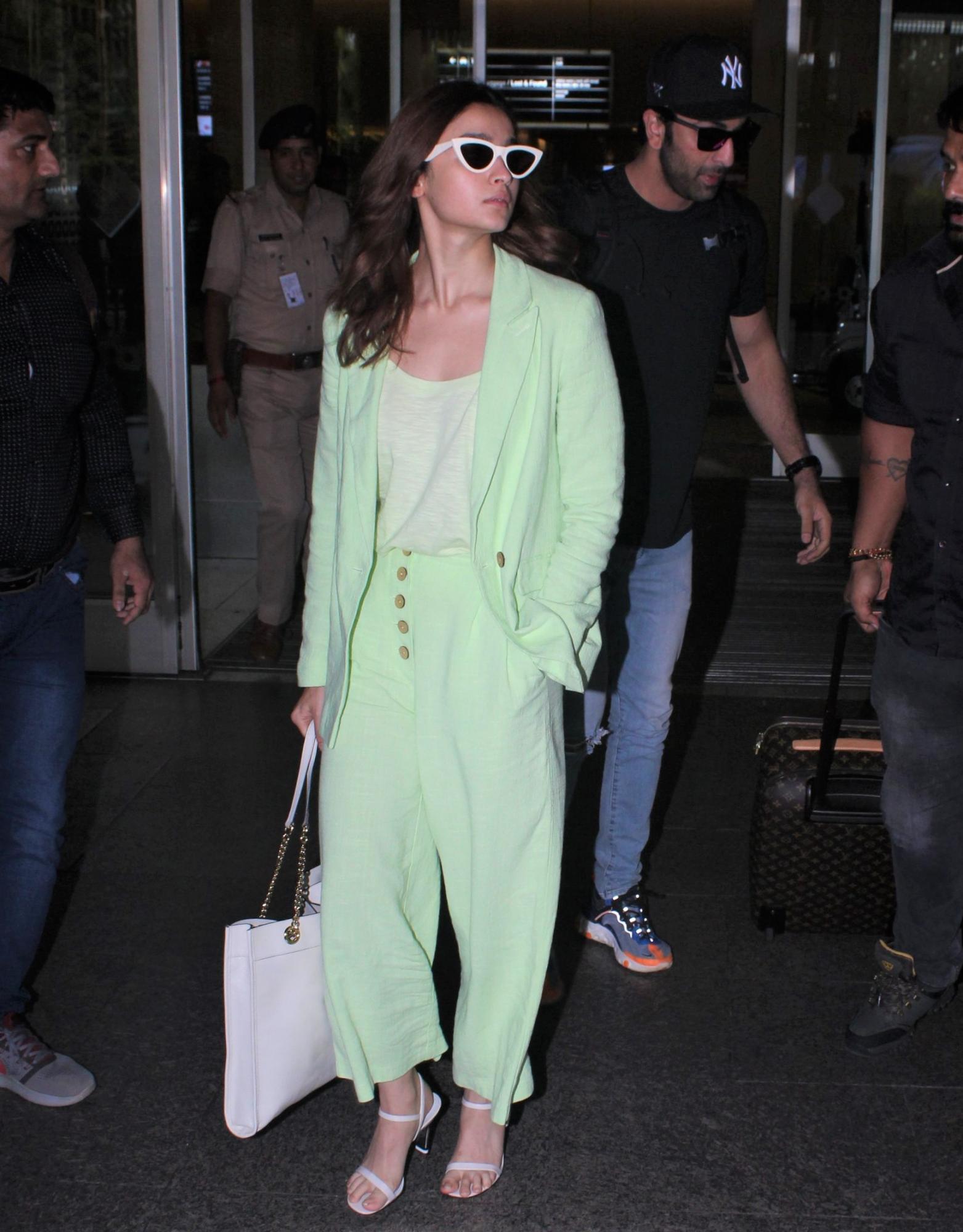 Alia Bhatt spotted at the airport recently
Alia Bhatt too opted for a similar coloured suit and she too is effortless to say the least. Alia Bhatt's linen pant suit in lime green immediately caught our attention when she was spotted wearing it at the airport in Mumbai. The power suit featured a pair of culottes and a matching blazer. She wore the blazer open with a matching tee inside and accessorised with an uber cool pair of white rimmed cat eye shades.
She chose to keep her look simple with no accessories or jewellery. Sans makeup the starlet exuded so much sass and fans went gaga over her look. A large tote is the most important part of travelling, in order to keep your essentials together and at hand and Alia's white tote was doing complete justice to her look.
After analyzing both looks, it can be said that both the starlets slayed in their looks and we're happy to see power suits remaining a trend in 2020. Both Gigi Hadid worked the green cloured power suit in their own way and each of them rocked the look. While both girls stood out in their looks, we think Gigi Hadid is a clear winner this time around. Which one is your favourite look? Tell us in the comments below!