Bollywood News
Ali Zafar Controversy Update: The Singer Serves Meesha Shafi With a Legal Notice
The recent on the Ali Zafar- Meesha Shafi sexual harassment case
Ali Zafar has recently found himself embroiled in a major controversy, involving singer/ actor Meesha Shafi accusing him of sexual harassment. While many fans lashed out at Ali Zafar for his misconduct, two of his colleagues came forward today calling the allegations false.
Ever since Meesha's allegations, Ali Zafar has maintained a low profile, just putting out one tweet explaining his stance on the matter. He said: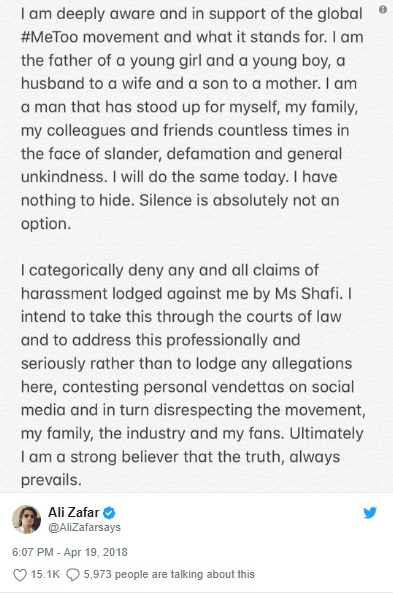 However, now he has decided to take bigger action. According to reports, Ali has sent a legal notice of Rs.100 million to Meesha, in answer to her allegations of harassment. The singer reportedly gave her two weeks to come forward with an apology for what he calls 'baseless' allegations. As per a report on Geo TV, if Meesha fails to issue an apology, Ali will file a defamation suit against her.
We wonder what Meesha will have to say in reply to this. Watch this space for more updates on this case!