Bollywood News
Ali Zafar Accused of Sexual Harassment by Meesha Shafi – Pakistan's Biggest #Metoo Moment Arrives
Meesha Shafi, in a shocking Twitter post that has sent ripples across the subcontinent, said she could no longer keep quiet about her ordeal
In the wake of the tragic Zainab rape case in Pakistan and the recent Asifa case in India, the focus has once again shifted to the incidents of sexual violence against women and children. But in the entertainment industry, the voices against exploitation of women have been rising, ever since the #Metoo movement in Hollywood.
Pakistan had its own #Metoo with the #Meinbhi campaign that brought out sordid stories by influential women about sexual harassment. However, nothing can match what happened today. In a shocking revelation, singer Meesha Shafi has accused her colleague Ali Zafar of sexual harassment.
The mother of two took to Twitter to share her experience with Ali, adding that she was sharing her story to break the "culture of silence" around rape and sexual harassment. Meesha, 36, is a mother of two and her revelations have shaken up the industry.
In her note, Meesha wrote, "Sharing this because I believe that by speaking out about my own experience of sexual harassment, I will break the culture of silence that permeates through our society. It is not easy to speak out but it is harder to stay silent. My conscience will not allow it anymore #MeToo"

The note said, "I have been subjected to sexual harassment of a physical nature at the hands of a colleague from my industry: Ali Zafar. These incidences did not happen when I was young or just entering the industry. This happened to be despite the fact that I am an empowered, accomplished woman who is known for speaking her mind! This happened to me as a mother of two children."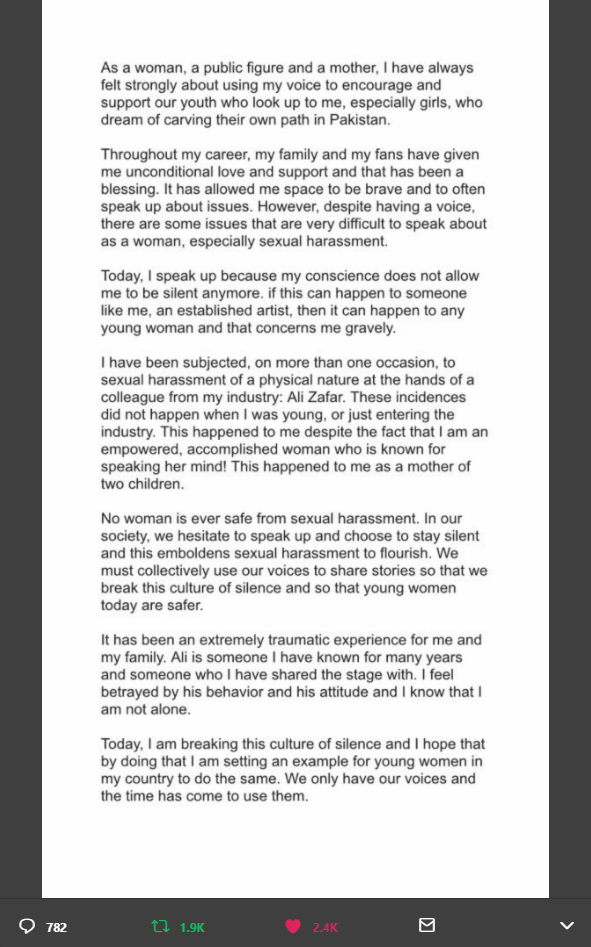 The singer, who was spotted in small role in Farhan Akhtar's Bhaag Milkha Bhaag added that the entire experience had been traumatic for her family. "Ali is someone I have known for many years and someone I shared the stage with. I feel betrayed by his behaviour and his attitude and I know that I am not alone," she said.