Bollywood News
Akshay Kumar Shuffles the Release Dates of his Films in Just a Day
Both Bachchan Pandey and Bell Bottom, two of Akshay Kumar's upcoming films have had their release dates changed
It is busy times for the  superstar. When you are Akshay Kumar,  you can  move your  releases around  as  you like. But  the double  release shift that Akshay pulled off on Monday left a lot of people wondering  about the growing power  of Akshay's box-office clout.  Akshay has shifted not just one but two forthcoming releases within  24 hours.  Firstly his Bachchan Pandey, produced  by  his buddy Sajid Nadiadwala and  directed  by their  Housefull director Farhad Samji, was to come on December 25 alongside Aamir Khan's  Lal Singh Chadha (the official remake of  the  Tom Hanks  classic Forrest Gump). In a gesture of magnanimity Akshay has voluntarily  moved Bachchan Pandey to the Republic Day slot April 22 , 2021. As is well known, December is Aamir Khan's favourite period for releasing his films as some of his biggest hits like Taare Zameen Par have hit the theatres during this period.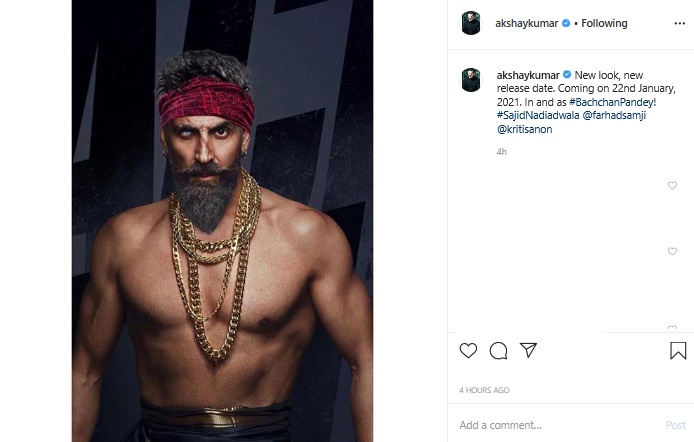 Interestingly, Akshay Kumar's favourite time of the year is January when some of his big hits like Baby and Airlift were released. In 2018, Akshay Kumar found himself in a piquant situation when his Padman, co-starring Radhika Apte and Sonam Kapoor, was up for release on Republic Day. He faced competition from Sanjay Leela Bhansali's Padmavaat starring Deepika Padukone, Ranveer Singh and Shahid Kapoor. Bhansali's film was highly controversial and much anticipated. But a clash with Padman would have harmed both the films' prospects. So in  another gesture of magnanimity  Akshay had removed  Padman from the 'Republic' week  to  facilitate the release  of Sanjay Leela Bhansali's Padmavaat.  Padmavaat went on to become a huge hit and thankfully so did Padman when it released a couple of months later.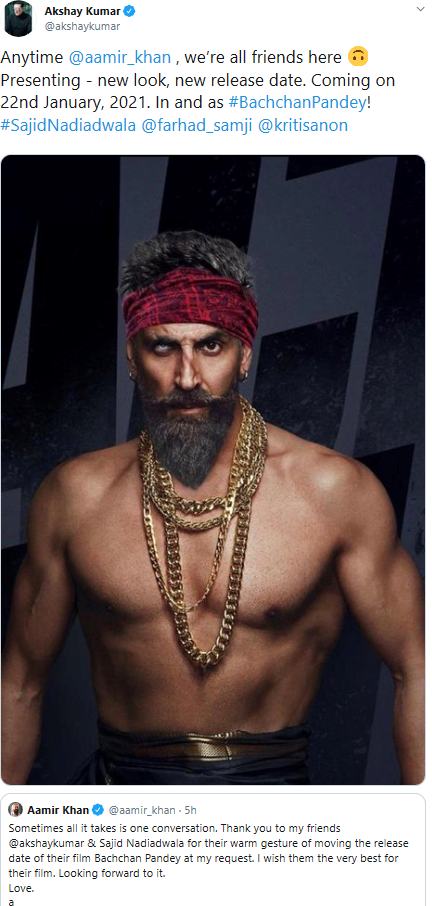 I know there are enough memes out there about me clashing with myself one day but 22nd January, 2021 is not that day #BellBottom will now release on 2nd April, 2021!@ranjit_tiwari @vashubhagnani @honeybhagnani @monishaadvani @nikkhiladvani @EmmayEntertain @poojafilms pic.twitter.com/0Z3f5ZMa3q

— Akshay Kumar (@akshaykumar) January 27, 2020
Meanwhile, another Akshay film, apart from Bachchan Pandey has been reshuffled. Nikhil Advani's stylish and  chic  period film Bell Bottom which  was  to release  on January 22 will now release  on  2 April in 2021. The best part is that all of these  crucial release decisions were taken within 24 hours, leaving the  trade  dizzy with the upheavals. But when you are Akshay Kumar – recently anointed one of the richest stars in the world – shuffling around the release dates comes easy.