Bollywood News
Akshay Kumar Shares 'Love' and 'Luck' with Ajay Devgn for Tanhaji The Unsung Warrior
After Shah Rukh Khan, Akshay Kumar also took to Twitter to share a special message for Ajay Devgn on making 100 Bollywood films. See below.
Akshay Kumar has wished good luck to fellow actor Ajay Devgn, as the latter recently shared the first look of his upcoming film Tanhaji The Unsung Warrior. Both actors started their Bollywood career three decades ago in 1991 and were popular as action stars during the '90s. They have starred together in films like Suhaag, Insaan and Khakee. Akshay took to Twitter to share the poster of Ajay's upcoming period drama film and wrote the following message, "We started our journey in this industry together...30 years ago. And I've seen your graph only grow from strength to strength.And as you are all set to mark your century with #TanhajiTheUnsungWarrior, I wish you nothing but lots of love and luck.Shine on my friend @ajaydevgn."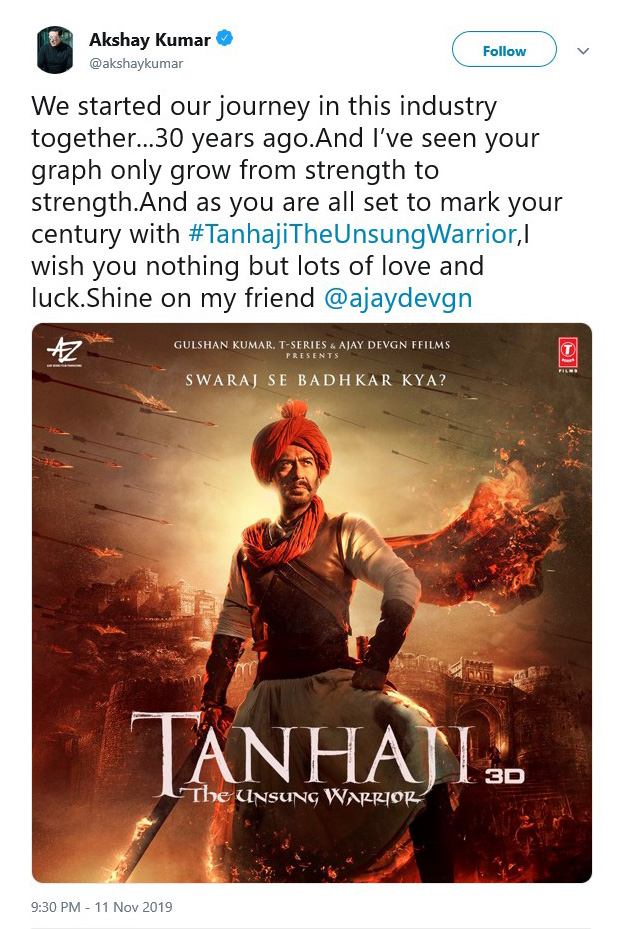 Tanhaji is Ajay's 100th film. A few days ago, Shah Rukh Khan also shared a similar message for Ajay on achieving this milestone. The superstar wrote on social media, "Here's looking forward to another 100 and more films from my friend @ajaydevgn . All the best for this milestone...from striding atop two motorcycles at the same time...you've come a long long way....keep riding...and all the best for Tanhaji."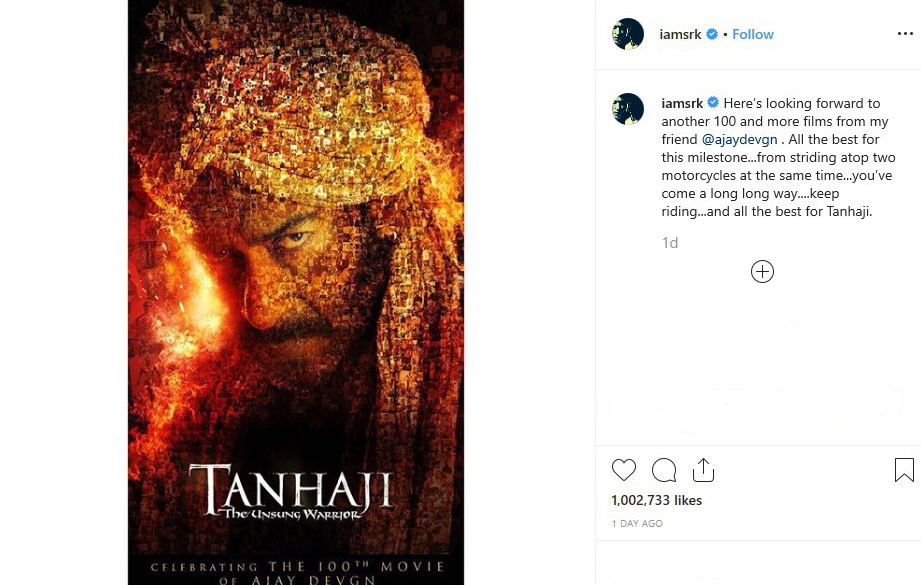 Ajay's wife, actress Kajol congratulated him by saying, "30 yrs & 100 films old. An occasion that definitely calls for a moment. From Phool Aur Kante to Zakhm to Golmaal to Shivaay and now finally Tanhaji! Through all the hard won Fridays I've seen you go through. All characters lead back to you. Proudly wishing you a very happy 100th film birthday @ajaydevgn"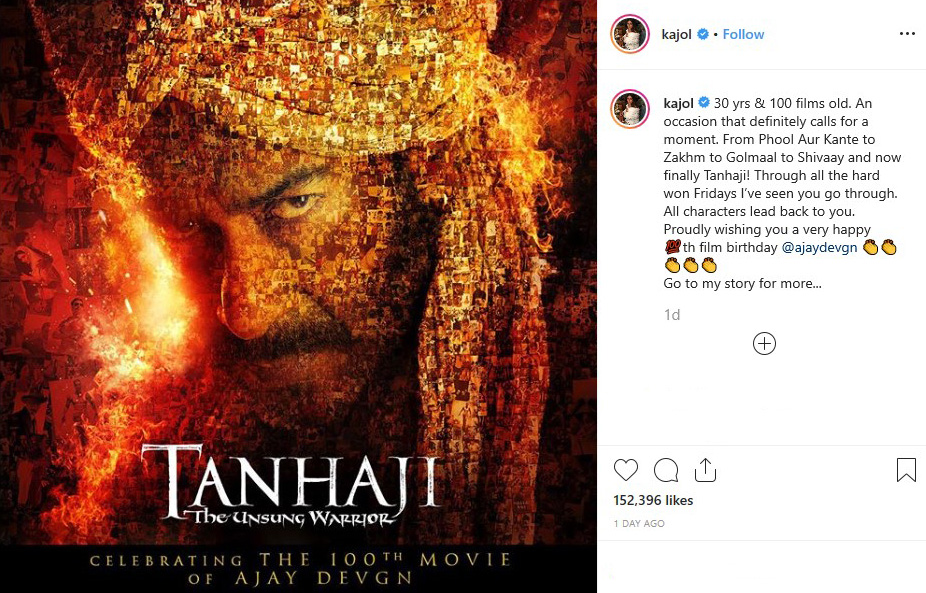 In Tanhaji, Ajay plays the titular role of the 'unsung warrior, i.e., Chhatrapati Shivaji's general Tanaji Malusare, who died fighting on behalf of the Marathas during the Battle of Sinhagad against the Mughals. The film, which also stars Saif Ali Khan in a lead role along with Kajol in a guest appearance, is slated to release in January 2020.