Features
Aishwarya Rai: Return of the Empress
As Ash makes a spectacular comeback to the ramp and the big screen, we tell you what makes her an enduring style icon
She came, she saw and she blew our minds away. As Aishwarya Rai Bachchan glided on the ramp in a burgundy gold embellished lehenga and silk tissue jacket at the Amazon India Couture Week (AICW) for her dear friend Manish Malhotra's The Empress Collection, the audience let out a collective gasp of amazement. At 41, she is still every photographer and designer's dream muse.
It was a momentous occasion – Ash's return to the ramp after a lull of five years. And as we saw that night of the Grand Finale, the ramp had missed her too. In the last few years, despite her sabbatical from the movies, she has been active at international events (notably Cannes) and on the endorsements scene. But 2015 is different.
This year will see the release of her much-awaited comeback film Jazbaa on October 9 (rumour is rife that the premiere may be held in Dubai!). The lead up to the release, therefore, has already begun. Her Couture Week appearance aside, she has also graced the cover of about three fashion magazines recently looking like a million bucks. Indeed, the last few weeks proved that when it comes to iconic looks, there is no one like Aishwarya to inspire and emulate.
ASH'S FASHION JOURNEY
Aishwarya has not always had a successful run at the style stakes. There has been times when she has been criticised heavily by the Fashion Police. She has had her good and bad experiments with various designers. But what has remained constant is her beauty and grace. Check out Ash's fashion chart from the time she burst onto the scene as a model to the present times when she has become one of the most enduring and beautiful icons of Bollywood. Check out how her style has evolved , making her more beautiful and elegant over the years…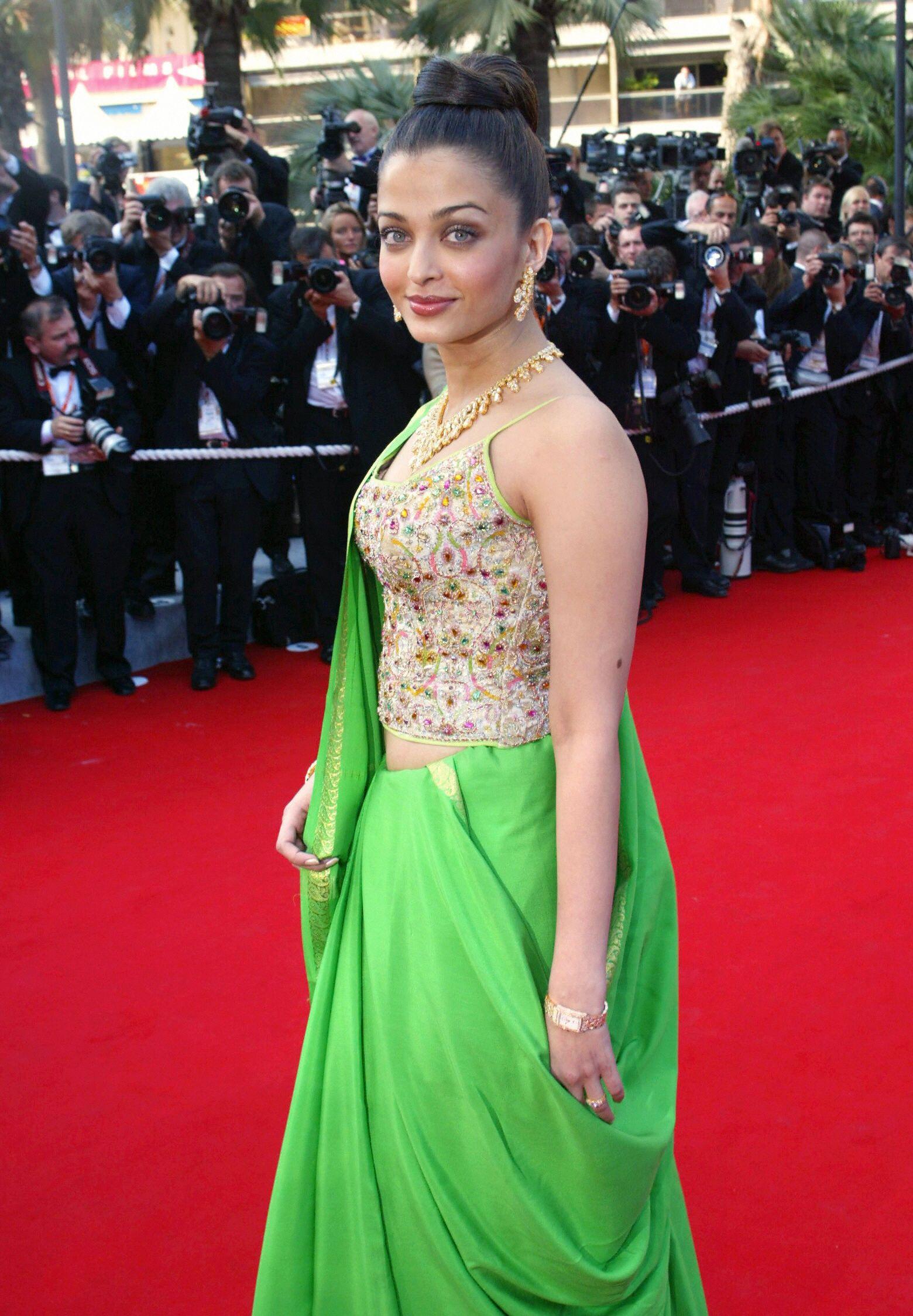 THE BEGINNING: MODELLING & MISS WORLD
Aishwarya became an instant fashion icon when she started modelling. Her light eyes and stunning figure made her a pin-up girl from moment one. Then came the Miss World glory. In the mid-90s – not exactly a great period for fashion - Ash pretty much stuck to her princess-like appeal when it came to clothes. Floral dresses, bright lips, elaborately done up hair… her natural beauty was often masked by her sartorial choices. 
MILESTONES ON SCREEN
As with every actress, Ash's style was scrutinised more when she became an actress.  But there have been some movies where her look became etched in Bollywood beauty and fashion history..
 DHOOM 2
Her bronzed skin, super-slim frame, tiny dresses and golden hair brought forth her hitherto-hidden sex appeal. Ash sizzled and how!
HUM DIL DE CHUKE SANAM
She was the true Indian beauty in this Sanjay Bhansali-directed film. Her colourful saris, traditional bandhni and leheriya ghagra cholis, the gorgeous bindis… she was every man's dream woman.
DEVDAS
This is another look that shines on her filmi fashion CV. Elaborate jewellery, intricately embroidered outfits and a regal air… Aishwarya never looked more beautiful. 
MILESTONES OFF SCREEN
The Amazon Couture Week 2015
The recent couture week will definitely be considered a milestone in her modelling career. We never saw such frenzy in the media and fans alike for her look.
The Cannes Red Carpet
She wowed in a sari the first time she went to Cannes for Devdas. The bright yellow sari and chunky jewellery she sported continues to be talked about. Ever since, she has made the red carpet her own. There have been major mishaps as well when she was criticised for some frumpy gowns she wore in 2003. But from 2004 onwards, it's been a winner all along.
THE INTERNATIONAL ENDORSEMENT EVENTS
Be it a party to celebrate her association with Longines or L'Oreal or the Royal Ascot Racecourse, Ash has never set a foot wrong in her international outings.