Celebrities
Ahad Raza Mir and Sajal Aly's Upcoming Drama, Yeh Dil Mera: Is it a Desi Take on Fifty Shades of Grey?
Ahad Raza Mir and Sajal Aly's upcoming show has been slammed on Twitter for promoting workplace harassment and a poor take on the infamous E L James trilogy
Ahad Raza Mir and Sajal Aly's are pairing up for another upcoming drama serial. Titled, Yeh Dil Mera, is all set to air soon on Hum TV. The reel life and real life couple has worked in two other dramas previously. Their sizzling chemistry was seen onscreen in Yakeen Ka Safar and Aangan. Ahad and Sajal's romance rumours erupted when the couple bagged several accolades for their first show, Yakeen Ka Safar. Since then, the audience has been waiting for them to get back together onscreen. Looks like, the wish has been fulfilled.
#YehDilMera pic.twitter.com/UoXFOyRVY9

— Sajal Ali (@Iamsajalali) October 19, 2019
Well, almost.
From far, Yeh Dil Mera looks like a quintessential lovestory. A cute meet between the protagonists of the show and their eventual romance. But once the teaser - or teasers - begin, a whole new world has been shown in them. Ahad and Sajal coming together for the first time onscreen since their engagement was huge, and naturally there were reactions to the show. However, many have slammed Ye Dil Mera on Twitter, calling out the makers to promote workplace harassment.
And we don't really blame them.
Presenting the first look of drama serial #YeDilMera

Coming Soon only on #HUMTV pic.twitter.com/EiAYc2w5xI

— HUM TV (@Humtvnetwork) October 20, 2019
The teaser shows Sajal, who is shown quite career oriented, landing an interview for her dream job. However, when she goes for the same interview - dressed as if she is on her way to a mehendi probably - she meets Ahad, who blatantly flirts with her rather than asking her relevant questions.
The teasers have sparked a debate whether the makers of the show understand the nature of harassment they are promoting and romanticising. Taking to Twitter, many even compared the show to the infamous E L James trilogy, Fifty Shades of Grey.
Here's what they have to say:
Many thought they were promoting workplace harassment. 
Ek jagah legitimate cases dismiss horahe hain, doosri jagah yeh workplace harassment ko normalize aur romanticize kar rahe hain. Sahi ja rahe ho tum log. https://t.co/8bhNfwSe6g

— Sajeer (@sajeershaikh) October 20, 2019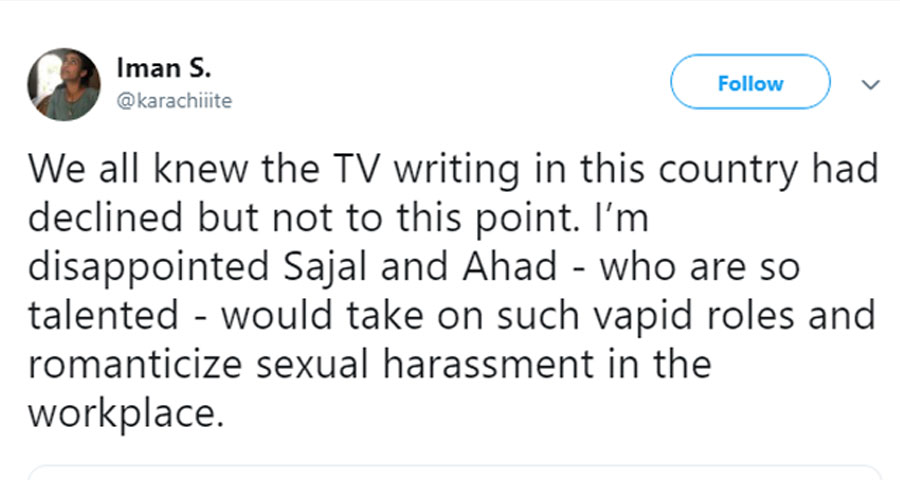 Imagined this happening at any of the job interviews I've had since I was 16 and can confidently say #YehDilMera would firmly not swoon. https://t.co/sMy3e6kvnr

— Rimmel Mohydin (@Rimmel_Mohydin) October 20, 2019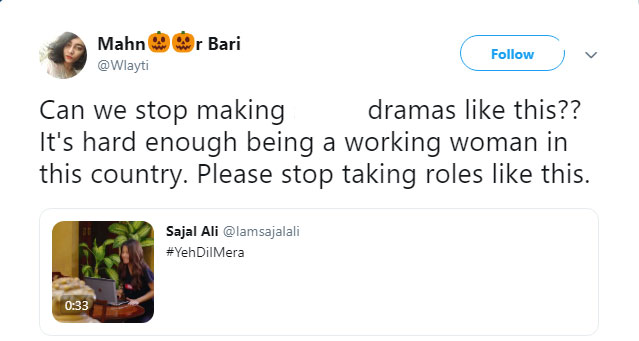 thats how you normalize harassment in office by employers :-) https://t.co/6MJYa8Z0nQ

— Ali (@alyfarooq_) October 20, 2019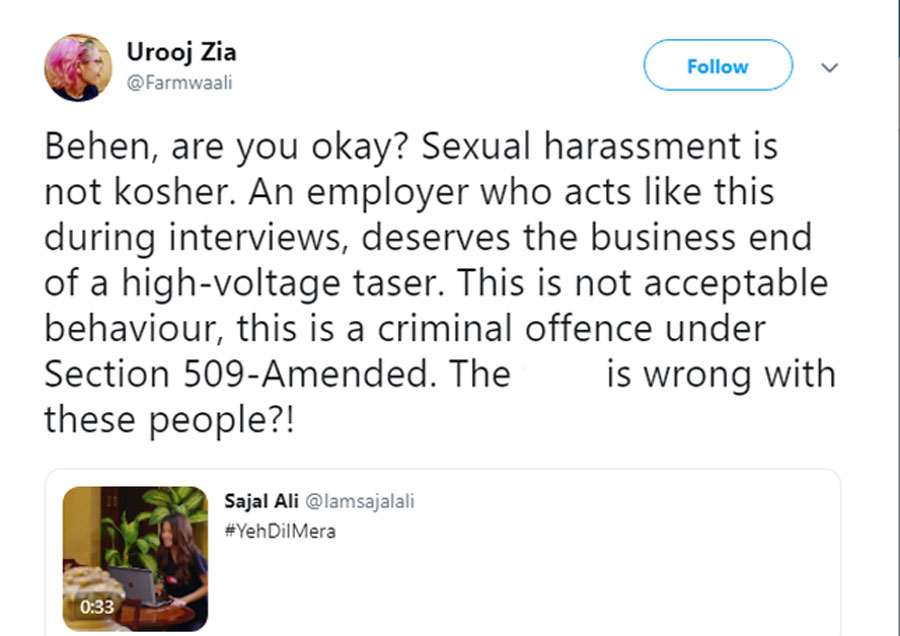 My 45yo boss once told me "aap ne aj tou bara acha colour pehna hua hai". Another, in his late 20s, used to stare at us. Yet another used to flirt, was kinda handsy in a subtle way (media's full of such men). Stop romanticising harassment. This is not cool, not romantic. https://t.co/XtqorfqE0V

— Sindhu (@Sindhu_Abasi) October 20, 2019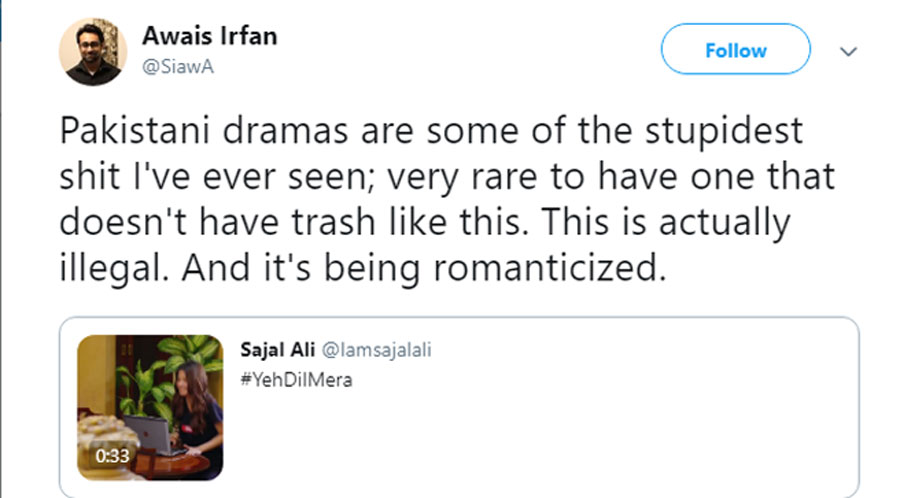 Others shared it looked like a poorly executed Fifty Shades of Grey
ok but what made them think ahad raza mir could play christian grey im- https://t.co/nx2bcXaFyS

— ayesha (@sadbitchrantss) October 20, 2019
hdhdhshwjhsh tTGEY DID NOT JUST RIP OFF 50 SHADES OF GRAY DHSGSGS https://t.co/cjcAlnhwd0

— (the not-so-great) depression (@hassonling) October 20, 2019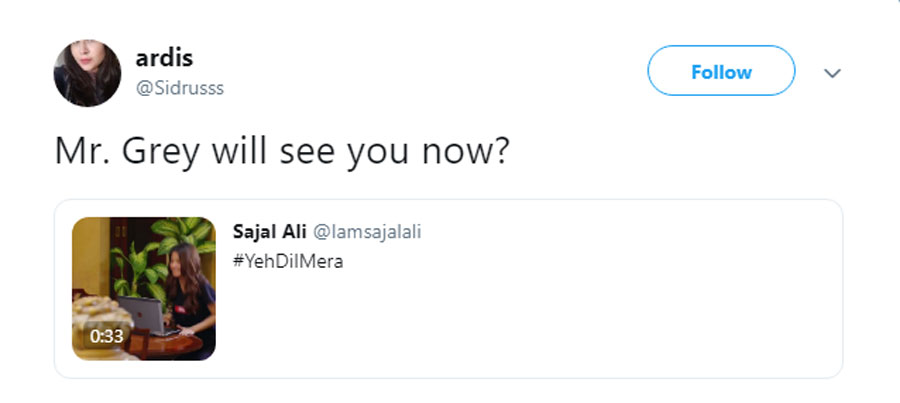 50 shades of grey - Pakistani Version https://t.co/aaBxFhgXgj

— Blue on Blue (@razzblues) October 20, 2019
What were they thinking? The Pakistani version of 50 Shades of Grey? When will they stop portraying male bosses as some sort of demigods who can sexualise & objectify the female interviewee in the drama(s) and who the females need to impress? I've seen it in many dramas now. https://t.co/nCt1IjKJHK

— Aisha (@fieryAisha) October 20, 2019
Albeit the criticism, fans are still extremely excited to see their favourite couple back onscreen. 
OMG Sajal and Ahad are back together with #YehDilMera https://t.co/t7JKTQvijV

— Tiya (@Rocks_Not_Dead1) October 20, 2019
Amazing, Outstanding, lovely
Love u sooooo much #SajalAlyg! https://t.co/uwQTWzKCTN

— Ajmal Khan (@drajmalkhaan) October 19, 2019
Holy moly
Hayiiii My Sahad Heart
YOU TWOO ARE SOO CUTEEE @Iamsajalali @ahadrazamir https://t.co/2R5h6aRRSM

— NKDasTARINI(@narmadakryan) October 19, 2019
wow! can't wait. this looks really good! https://t.co/tS9CDrAAc0

— HawkesBay (Löuche) (@HawkesBay) October 20, 2019