Celebrities
Ahad Raza Mir and Sajal Ali's Reported Feature Film: Curb Your Fandom!
Ahad Raza Mir and Sajal Ali were recently seen on a film poster that made rounds. Apparently, we've all been had. There's no such film.
Sajal Ali and Ahad Raza Mir are a well-loved couple and we get that. We get that fans really really want to see them together. Once they appeared on our screens in Yaqeen Ka Safar and later in Aangan, the fandoms just wouldn't quit pairing the two of them together. We kid you not. There are montages, morphed images, photoshopped videos and gifs with the two of them together and the fans often trend 'Sahad' (a portmanteau of their names) to express their love.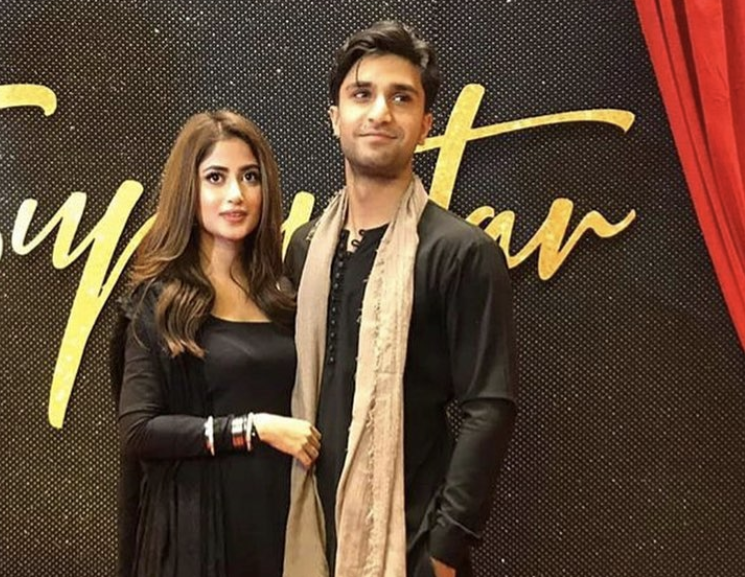 Sajal Ali and Ahad Raza Mir at Mahira Khan and Bilal Ashraf's film Superstar's screening
This time, however, the fans have gone a bit too far.
And social media played its part.
A poster with the two of them reportedly made rounds and it looked like a super professional film poster. It was supposedly announced that Sajal and Ahad are doing a film and a social media channel with the name of Shobiz News had announced this.
However, sources close to Sajal and Ahad have informed us that this is completely untrue.

That's right, guys. Curb Your Fandom, please. There's no such film happening.
The only feature Sajal and Ahad are working on together is a cross-border love story called Dhoop Ki Deewar. The couple has also done some photoshoots and advertisements but as far as feature films go, they have not signed any feature films as yet. Sajal will be seen in Alif, a tv show with Hamza Ali Abbasi. Ahad will be seen in Ehd e Wafa, a tv show to be aired on Hum TV in which he costars with Osman Khalid Butt, Wahaj Ali and Ahmed Ali Akbar. 
Sajal and Ahad got engaged earlier and set the internet ablaze. Fandoms truly went nuts, understandably. However, it's best if fans also curb their enthusiasm and avoid spreading false news around their careers because it might be detrimental. Similarly fan-made posters should also come with a disclaimer, saying that they are indeed fanmade.