Bollywood News
Adnan Sami Khan Trolls Trolls: Claps Back to Pakistani Twitter
Adnan Sami Khan is really not taking any prisoners on his twitter account when it comes to defending India
Adnan Sami Khan was someone I've grown up watching. His song 'Zara Dholki Bajao Goriyon' is still etched in my memory. I've had my share of actual dholkis and weddings where this song was played non stop. His then onscreen heroine and wife, Zeba Bakhtiar, was the epitome of grace and beauty and with Adnan's talent, the two made one of the most talked about couples of the time. But as fate would have it, the two split and Adnan went to India. The rest is, clearly, history.
Adnan, later, became an Indian citizen while his ex-wife and son, stayed in Pakistan. His young son, Azaan Sami Khan, is actively working in the Pakistani entertainment industry.
Just this Eid ul Azha, his son, Azaan Sami Khan, wrote the screenplay of Mahira Khan and Bilal Ashraf's film Superstar and also provided music for the film. Azaan also gave the music for the Pakistani film Parey Hut Love, starring Sheheryar Munawar and Maya Ali. Zeba also acted in various Pakistani films and television shows.
Adnan got married to Roya Faryabi and the two have a daughter named Medina and they live in Mumbai, India right now. "The most important criteria for me in any woman is that she has to get along with my son," Adnan had said when he had decided to marry Roya. He was previously linked with Sabah Galadari and Adnan had said, "While Sabah couldn't get along with Azaan, Roya loves my boy. In fact, they are best friends and I'm often the brunt of their jokes." Roya is an engineer by profession and was working in Munich before she married Adnan.
Adnan often posts pictures of his family and of Bollywood celebrities. He also appears to be a great fan of PM Narendra Modi and shared a picture of his family with the PM when PM Modi won the election this year.
Adnan makes no bones about being a proud Indian citizen. And he has every right to be proud or however he wishes to feel about being an Indian citizen. But things got a little escalated on social media when Adnan Sami Khan took to Twitter to praise Abhinandan Varthaman and Pakistani firebrand anchor Aamir Liaquat quoted Adnan's tweet.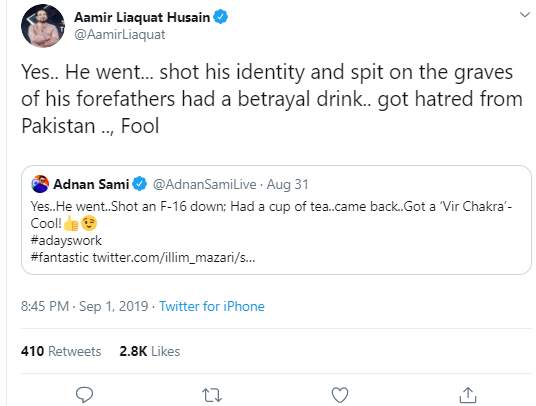 Aamir Liaquat's jibe at Adnan Sami Khan
Adnan was confronted by Aamir Liaquat for defending Abhinandan, the fighter pilot who Pakistan had captured and subsequently returned after India had striked Pakistan in the wake of Pulwama attack. However, as it continued to escalate, more Pakistanis began adding to the diatribes and trolls from both sides of the border joined in. Adnan wasn't about to take this sitting down. So he responded in kind.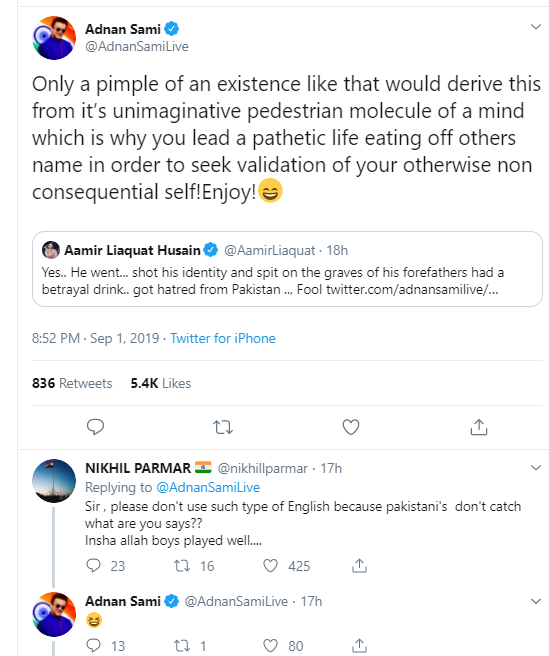 Adnan Sami Khan calls Aamir Liaquat a 'pimple of an existence'.
Aamir Liaquat is a noted Pakistani cleric slash anchor from Pakistan who isn't afraid of getting his hands dirty on Twitter. Adnan's tweet about Abhinandan taking down the F-16 and getting the Vir Chakra also garnered a response from news anchor Muhammad Junaid and Adnan responded to him saying ... well, this.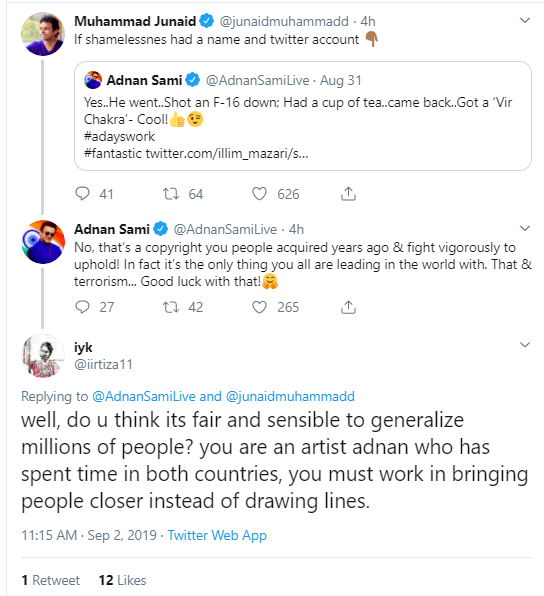 Adnan Sami Khan decided to take down all Pakistanis on Twitter.
He was later asked by Twitter user Irtiza to not create further lines since he is an 'artist' and not to generalize Pakistanis. Adnan responded saying that he would not be taking undue provocation anymore.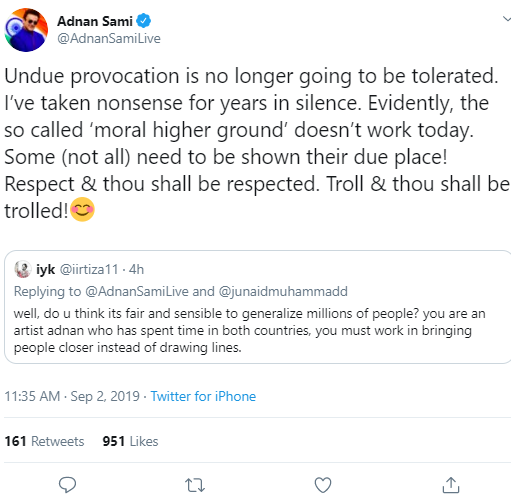 Adnan Sami Khan asked if he was being fair in generalizing Pakistanis 
According to India, Abhinandan Varthaman downed an F-16 while flying a MIG-21 whereas Pakistanis maintain that nothing of the sort happened. In context, the tensions between two countries have been raised even more since India revoked Article 370, removing special status for Jammu and Kashmir. Pakistani governments and officials aren't the only ones warring with Indian government and officials. Social media is a war front on its own.
Adnan Sami Khan's Pakistani background and undeterring loyalty to India causes quite a stir on his timeline. Adnan later retweeted many fans and followers who supported his stance and stated that Adnan knew more about Pakistan than anyone.
While it may create a few temporary laughs, it's continues to be sad that Pakistanis and Indians are constantly at war with each other and artists, who are supposed to be messengers of peace, also become a part of the hatred. Similarly, anchors such as Aamir Liaquat are also often deliberating baiting in their online behavior which lead to some very disappointing images. Here's hoping trolls calm down and peace is restored in the region soon. Maybe we can then all shift to trashing trashy films and movies, instead of each other.