Bollywood News
Abhishek Bachchan Calls Navya Naveli His Partner-in-Kicks
Abhishek Bachchan took Instagram to wish his beloved niece Navya Naveli on her 22nd birthday with an endearing Instagram post.
Abhishek Bachchan is the only brother of sister Shweta Bachchan and vice versa. The two have always shared a close sibling bond despite being separated by a small age gap. While Abhishek Bachchan pursued a career in films, Shweta Bachchan decided to get married young to Nikhil Nanda, the grandson of late Raj Kapoor. She has two children namely Navya Naveli and Agastya. Navya Naveli is currently studying in New York and is a grown-up girl already. The Bachchan-Kapoor girl has turned 22 years old today and Mamu Abhishek Bachchan was enthralled.
Abhishek Bachchan took Instagram to share a photo with his niece Navya Naveli with an endearing caption,
'Happy birthday my Navya. Mamu loves you very much. #MyPartnerInKicks'
Earlier, mum Shweta Bachchan had also wished the birthday girl on her Instagram account. In the picture, Navya Naveli could be seen smiling with her eyes closed during a holiday. In her heartwarming wish, Shweta Bachchan wrote,
'Happy Birthday Nablooz you light up every life you touch, and mine the most. Squeeze you Cheezu ! Love you crazy loads'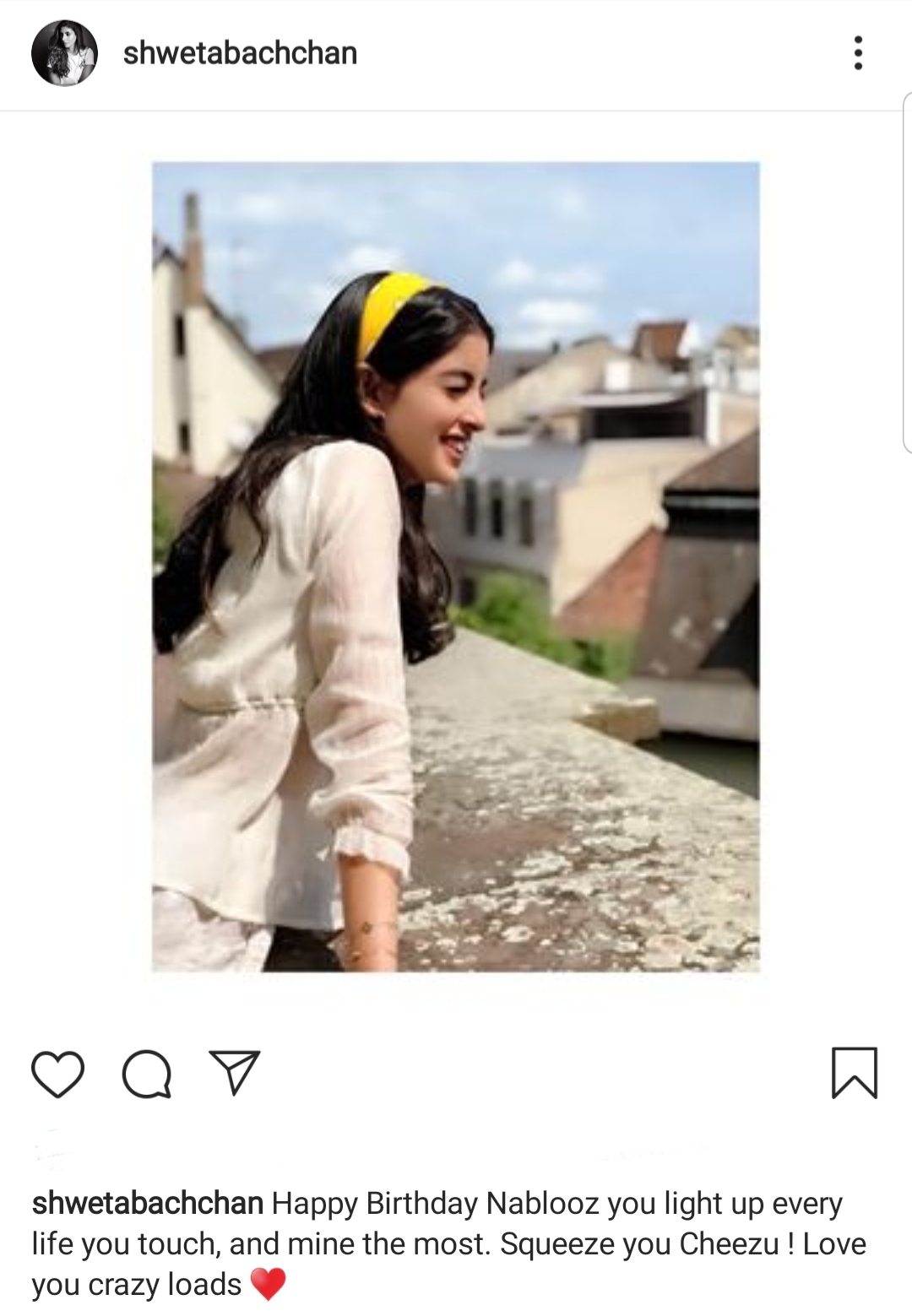 Just one week ago, it was Navya Naveli's brother Agastya's birthday.
Although Navya Naveli is among the most favorite star children and everyone has actively been looking forward to her debut in films, Navya Naveli herself never showed any such inclination. However, she once modeled for her mother Shweta Bachchan's brand. Navya Navel is currently interning at an advertising agency in Manhattan.
According to mother Shweta Bachchan, just because someone was related to famous people did not mean that they had in them what it took to make it big in the industry. She said that Shweta Bachchan should join the industry only if she was passionate about it. Navya Naveli, despite not being in films, has always been the center of the media and people's attention. There were also speculations about her making a Bollywood debut with Shah Rukh Khan's son Aaryan Khan who was also a close friend of Navya Naveli.